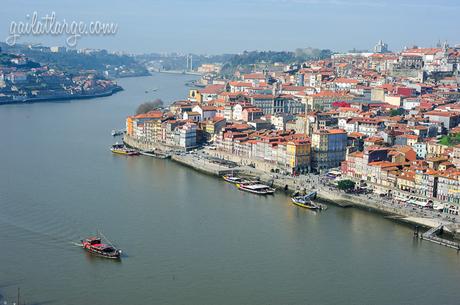 If you're looking for the best panorama of Porto, Mosteiro da Serra do Pilar across the river in Vila Nova de Gaia is where you ought to go. It has the only circular cloister in Portugal, and from there the views of Porto, the Douro River, and the Luís I Bridge are unparalleled. Our current visitors have never been to Portugal before, and Porto is their first city. This being their first day, I thought we would start with the top views and work our way down.
How to get there:
Standing on the Porto side, look across the top deck of the bridge and the Mosteiro is the round white building above. Here's a night shot. In this day shot, you can see the ramp that leads up to the viewing area and the monastery. If you're short on time and already on the metro in Porto, take the yellow line (D) towards Santo Ovídio. Once it crosses the Luís I Bridge (sit on the right side of the metro car for the best view), Jardim do Morro is the first stop. If you cross the bridge on the lower deck, there are roads leading up to the top on the Gaia side. If you're by the river on the Gaia side, you can take the cable car to the top (see the Teleférico website for prices and times).
I added a short video clip at the bottom for a wider panorama.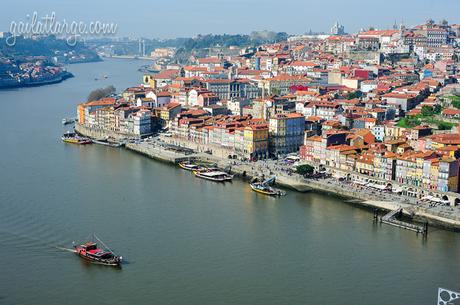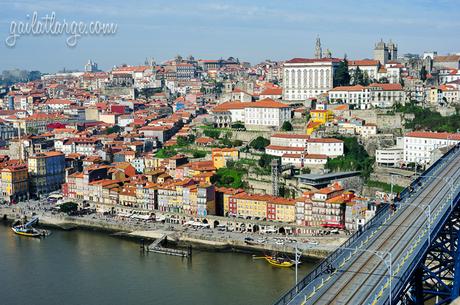 January 26, 2016
Album: Portugal [Winter 2015/2016]
Possibly related posts:
Porto's Luís I Bridge I photograph Porto's Luís I Bridge often, by day and by night, because it has such character. Built in 1886, it carries a great deal of function in a relatively...
Casa da Música (2014) I seem to be on a real kick with the nightshots. Probably because it's winter and the sky plays far less a role, or none at all, in nightshots. Except...
Porto: (More) Miradouro da Vitória It was only a few weeks ago that I posted about Porto's best viewpoint, Miradouro da Vitória, and then the sunshine last Saturday made it look better. (Don't you hate...
Some New Views In Porto One of the great things about hosting travellers/visitors is to see your home city through fresh eyes, again and again. Of course, I can say that near the beginning of...
Porto's Winter Skyline I played tourist today because the weather was just too good to be inside. Is it really January?? This winter is much drier than last year from what I recall,...