So you finally made it, the transition from being in college to being in the adult stratosphere of the full-time job.  Congratulations!  First impressions are everything, especially with a new employer and co-workers, so you definitely don't want to show up ill-prepared.  For the fashion-conscious female there are a lot of choices out there. Do you wear your favorite pumps? How about that new Kylie lip gloss that you finally just got from the most recent re-stock?  What do you eat for lunch if there's no dining hall or food court?  Always remember that modesty is key, but it's important to let your personality shine.
Here is my best advice on how to look, feel, and dress the part for a fashionable and professional impression on your first day at your new job: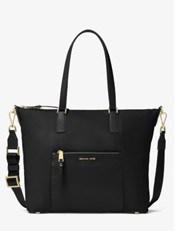 Handbag
First up, what do you carry all of your stuff in?  While in college it was probably a sturdy and trustworthy JanSport backpack, but that might scream "college student" on your first day at work.  Goodbye to the days when pins of your favorite bands and DJs are the main decoration for you backpack, and hello to sleek, chic, fashionable purses.
Luckily, you don't have to break the bank in order to look fashionable and put together on your first day. There are plenty of purses out there that combined usability with fashion. Our best advice is to pick up a high-end purse in a plain color such as black or gray, like this Michael Kors bag, so that it matches all of your potential future outfits.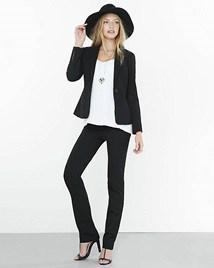 Attire
The next item on your pursuit of being an adult is your clothes. Unfortunately, gone are the days of mesh shorts, a college sweatshirt, and flip flops. However, there are still plenty of ways to look cute and put together, but still comfortable. Labels such as Banana Republic, Express, H&M, and Nordstrom all have great options when it comes to work attire. Not up to the task of paying a fortune for cute work clothes? Look no further than retailers such as Ross, Nordstrom Rack, and Marshalls for some great options.
One of my personal faves is a pant suit.  In my opinion, they command attention and respect with a sense of classic beauty.  With varying cuts, styles, colors, and materials, there is truly an option for every woman out there.  I just love this option from Express because it's fun and flirty, but still maintains professionalism.
Productivity
In college you probably got away with keeping most of your scheduled activities either in your head, in a small notebook, or just simply having your friends around to remind you to go to the library and study for your upcoming exam. But now that you're progressing into a full-time career, you'll have many more things on your schedule to remember.  Scheduling all of my meetings and important deadlines within my Outlook Calendar has been a life saver for me.
You might also want to consider a productivity app such as Evernote to help keep all of your ducks in a row. Since my cellphone never leaves my sight, I'm a big fan of services that connect with my mobile.  Apps such as Google Calendar could also be a good way to make sure that you make it to all of your meetings on time.  Plus, nobody wants to miss a happy hour, especially if it's on the company dime!
If there's just no way you can go without Post-It Notes, save some trees with a little known feature on Windows computers called Sticky Notes.
Snacks
Since you're starting off on your first real job, you will probably be able to afford better snacks than Cup Noodles, potato chips, or the other junk foods that were a staple back in your college days.   Without having to walk across campus to go to class, you might find yourself gaining a few pounds from the lack of exercise of sitting at a desk all day. Take a proactive approach to combatting those "post-grad gains" by eating healthy snacks throughout the day such as raw almonds, dried fruit, or granola instead of the usual junk food.  Personally, I hate to do the meal-prep thing and have really come to love the KIND brand family of snacks.  While the upfront cost of $100 may seem steep for granola bars, if you break it down each bar actually costs less than $1.40, which could end up saving you money in the long run!
Skin
A new job often comes with a lot of stress – after all, you don't want your employer to think they made a mistake in hiring you!  So on your first day, you'll certainly want to put your best foot – and your best face – forward.
We all know that skin care is important, and using the right type of product for your skin type can make a world of difference. Combat your long hours and stressful deadlines with a naturally-derived product like BioClarity.  It's made with the green stuff from plants and the 3 step system keeps my skin fresh all day long.  My skin doesn't dry out from it like it sometimes does with other products and it's really good at cleaning off all my makeup at the end of a long day.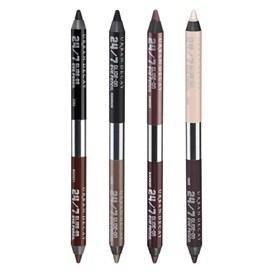 Makeup
Speaking of makeup – always remember that less is more!  Things you'll want to shy away from:
Fake lashes
Large acrylic nails (these can get in the way when you type)
Bright eyeshadow
Dark eyeshadow
Bright colored lipstick/gloss
Dark colored lipstick/gloss
Anything with glitter
Everyone has different preferences when it comes to their own individual style, but especially on your first day, aim for a more natural look:
For your eyebrows, aim for a light fill with a pencil vs a traditional gel
Opt for BB or CC cream instead of a regular foundation
When touching up your lips, go with a lip tint in a neutral hue
If you have any qualms, I recommend playing it safe and go with something from Urban Decay's Naked line.  Even though I've been at my new job for a couple months now, I'm a huge fan of their products and wear them even when I'm not at work!
Footwear
Last but not least is every girl's best friend – shoes! We all know that shoes complete the outfit, but if you're going to be strapped in for 8+ hours every day it's important to think about function over style.
Although some offices may be relaxed enough for you to wear UGG boots or flip flops, it's always a nice touch to look professional. Kitten heels have been my absolute favorites as of late because they have the class and sophistication of a nice pair of traditional high heels, but they don't feel uncomfortable or painful after wearing them for long hours.
These Cole Haan pumps are simply amazing.  They have a modest silhouette, which is great for a professional environment, but the lizard texture adds a nice touch of fun and personality.  Plus, they're under $100!
Author Bio:  Breanne is an East Coast transplant currently living it up under the SoCal sun.  In her spare time she enjoys hiking, stand up paddle boarding, and of course hitting one of the local open-air malls.  You can find her on Twitter @ProperNPink