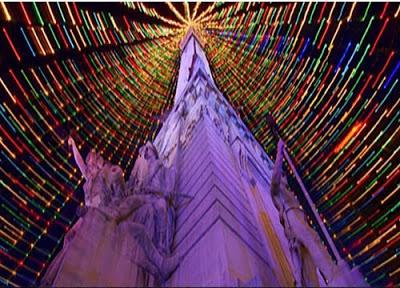 Gathering together is a exciting way to kick off the start of a New Year, and what better place to do it than in Downtown Indianapolis, where there's plenty to experience!
Here are Ten Things To Do:
1. The clock is ticking down and you're huddle with your loved one's awaiting the stroke of Midnight to ring in the New Year. Wait, that's not a ball dropping, as is the tradition in many cities – nope Indianapolis drops a IndyCar! Warm up inside the Hoosier Lottery Countdown Pavilion inside Bankers Life Fieldhouse, plus enjoy full bars and food trucks all night.
2. The Hyatt Regency Indianapolis is hosting a action-packed night of music and celebration. It's not to late to join the New Year's Eve Bash that will feature live performances on three stages with The Flying Toasters, My Yellow Rickshaw, Dance Club, Cousin Rodger, Hanover Chase, DJ Helicon, DJ Brian Jackson, Casino Tables and Pyramid of Enlightenment (Palm Readers). Later, gather together as everyone counts down to the massive midnight balloon drop in the center of the hotel's magnificent 21-story atrium lobby.
3. Hard Rock Cafe New Year's Eve Party kick's off with live music from DJ T-Bone and a dinner buffet with prime rib, shrimp cocktail, roasted potatoes, green beans and more. For a extra special night consider VIP tickets that include a hotel room, dinner buffet and champagne toast.
4. New Year's Eve with ComedySportz at The Athenaeum Theatre. Laugh into the New Year with the most unique comedy show around! There are two celebrations – the first from 7:30 – 9 p.m. and the second from 10:30 p.m. – midnight, which ends with a countdown to midnight, plus two live improve matches where ComedySportz players battle each other for a prize.
5. Check out the action on the court as the Indiana Pacers face off with the Milwaukee Bucks game on Dec. 31 at 7 p.m.
6. Zanna Doo will be at The Rathskeller's New Year's Eve Party, where you can enjoy a hors d'oeuvre buffet and midnight champagne toast while rocking in the New Year.
7. Join the New Year's Eve Limo Bus Crawl and party in style on a limo bus with My Drink On! Tickets for this Crawl include no cover, champagne toast at midnight, party favors, specials and limo transportation.
8. Union Station is the place to be for the New Year's Eve Masquerade Ball. This themed event includes live bands in the Grand Hall, acoustic singers and songwriters in the Iron Horse Lounge and a club-style DJ party in the Illinois Street Ballroom. Plus, there will be photo opportunities, magicians, psychics and face painters.
9. Celebrate New Year's Eve with the children at the Indiana State Museum. Children will have fun getting their faces painted, laughing at the clowns and performers, and there will be plenty of fun for all from 6 – 9 p.m. With a balloon drop at 8 p.m.
10. More family fun can be found at the Children's Museum of Indianapolis as you celebrate the final day of the year with activities, music and Water Clock countdowns at noon and 1 p.m.
By Melody Schubert
Looking for More To Do On New Year's Eve?
Check out the Downtown Indianapolis website for a full listing of current entertainment, celebrations and more to experience!
We hope you have a safe and memorable New Year!





Photo Credits: Downtown Indy, Inc.