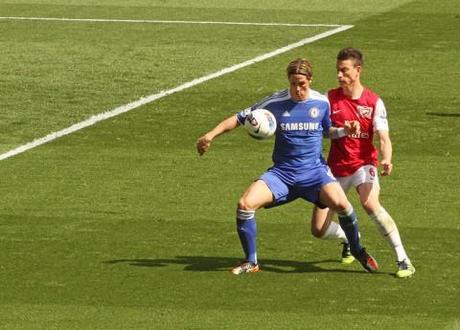 Chelsea's Fernando Torres in action against Arsenal. Photo credit: Ronnie Macdonald http://flic.kr/p/bPs8Bx
The background
Didier Drogba's announcement that he will depart Chelsea this off-season has presented £50 million man Fernando Torres with an opportunity to finally become Chelsea's star striker. The Spanish forward has been largely disappointing for Chelsea since his big-money January 2011 move from Liverpool and been forced to repeatedly sit on substitutes' bench. Indeed, Torres wasn't selected to start the Saturday's UEFA Champions' League. Responding to the snub, Torres acted sulkily in Munich and unleashed an ill-timed outburst just three hours after the final whistle.
Torres' outburst
Torres told Spanish journalist Guillem Balague:  "I have been through the worst moments of my career during the season … I felt they have treated me in a way I was not expecting." "I'm not comfortable, added Torres. "A victory like this one against Munich does compensate, but I want them to tell me what is going to happen in the future." He did not mention that, at one point during the season, he went over 25 hours without scoring a goal.
Torres does have the backing of outgoing Drogba, who told The Independent that "Chelsea are in good hands with Fernando. Of course we will need new strikers but Torres will do the job, he will do it. He will do it, no doubt."
El Niño's childish outburst could be an attempt to engineer a move
"To express his dissatisfaction with Chelsea on the same day as the Champions League trophy came to reside at Stamford Bridge defies belief. While his team-mates were delighting in being crowned champions of Europe, Torres decided to have a 'me' day," sighed Tony Evans of The Times, who said it is time Torres "grew up and proved he's a team player." Evans acknowledged that Chelsea was woefully mismanaged for the first half of the season by Andre Villas-Boas, but argued that Torres can have few excuses for his poor form since able caretaker Roberto Di Matteo took charge. Evans suggested that, with his outburst, Torres could be engineering an "escape route." Where he to leave Chelsea, Evans suggested it would likely be to go to moneybags Malaga or Paris Saint-Germain.
Drogba's 88th-minute equaliser against Bayern Munich was the first goal either he or Torres had scored when both had been on the pitch together for Chelsea. In total, Torres scored just six Premiership goals last season, of which three came in one game against an out-of-sorts Queens Park Rangers.
Torres needs to feel wanted
At The Guardian Sport Blog, Dominic Fifield insisted that on the to-do list for the next Chelsea manager is solving the Torres "conundrum." Fifield said that to get the best out of Torres the next manager must make Torres feel "wanted" and said the 28-year-old "clearly yearns to be loved and does not yet feel pivotal – or even, perhaps, properly accepted – in this team." Drogba's departure "might help, thrusting him higher up the pecking order," suggested Fifield, who also reminded that Russian owner Roman Abramovich "could easily opt to spend lavishly on a Radamel Falcao, Hulk or Edinson Cavani as a direct replacement. How would Torres react then?"