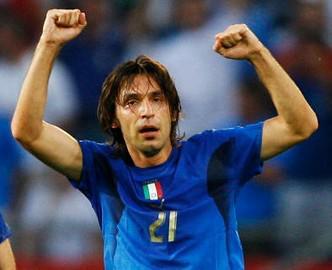 Italian footballer Andrea Pirlo. Photo credit: hsnuhow http://flic.kr/p/fGXpa
The background
Italian midfield maestro Andrea Pirlo's delicately chipped penalty in his team's 4-2 penalty shootout victory over England capped a memorable night for the 34-year-old quarterback who absolutely ran the show in Warsaw. Pirlo's nonchalant chip – named a 'Panenka' after the Czechoslovakia player (Antonin Panenka) who first executed it in the 1976 European Championships final – has sparked a re-examination of the best penalty kicks ever taken. The high-risk Panenka technique is built on the assumption that, more often than not, the goalkeeper will dive out of the way.
"Seen as one of the game's most self-assured acts on the field, with the spot-kick nonchalantly lobbed down the middle of the goal, a Panenka my not take too much skill, but the nerve required is unrivalled," said, Fifa.com
The penalties
Here is The Periscope Post's top five penalties of all-time. Expect both slick and steel.
Panenka's legendary spot-kick saw Czechoslovakia defeat West Germany in the 1976 Euros final.

French legend Zinedine Zidane scored a sumptuous Panenka in the 2006 World Cup Final versus Italy. His outrageous effort clipped the underside of the crossbar before crossing the line and cemented his place as one of the game's all-time classiest players.

Italy has previous form when it comes to chipped penalties. In 2000, Roma playmaker Francesco Totti scored a Panenka in Italy's semi-final triumph over The Netherlands.

It must be remembered that Panenkas can go horribly wrong. Here's Totti again but this time with egg on his face:

A well-executed Panenka is undoubtedly a thing of beauty but sometimes power over placement is the best way forward. Up step Sheffield Wednesday goalkeeper, yes, goalkeeper, Kevin Pressman:

In terms of raw power, Djibril Cisse's net-buster for Greek side Panathinaikos will probably never ever be bettered:

More on football
Joey Barton: Beyond redemption?
Balotelli: The ultimate maverick
Gary Speed's death an accident?