Remember the kid's chant: "I scream, you scream, we all scream for ice cream!" It never goes out of style because ice cream is, hands down, one of the world's favorite treats.
Transcending generations and geographical differences, ice cream's lure is hard to resist for even the hard-core keto crowd. But wait! Whether you are on a keto or low-carb diet, you don't have to forego a creamy frozen treat!
Even if you're dairy-free or vegan, we've got a recipe for a frozen refreshing treat that you can enjoy. We have put together our healthiest versions of everyone's favorite frozen concoctions.
Our top ice-cream recipes:
Chocolate (DD+)
Peppermint and mocha
Blueberry
Lemon
Popsicles lime & berries
Frozen yogurt popsicles
You don't need an ice-cream machine. Making ice cream without a commercial ice-cream maker will take a bit longer, but it's always worth the wait.
How to make keto ice cream
With or without an ice-cream maker
Ice cream can be part of a keto diet as long as you skip the sugar and make sure to use delicious full-fat dairy and coconut products.
No ice-cream machine is needed. Whether it's made in a Mason jar, a freezer-safe container, or a popsicle mold, we've got options!
An ice-cream maker, however, tends to yield a smoother consistency. If you're not using a machine, you can help the texture by stirring it regularly until it freezes.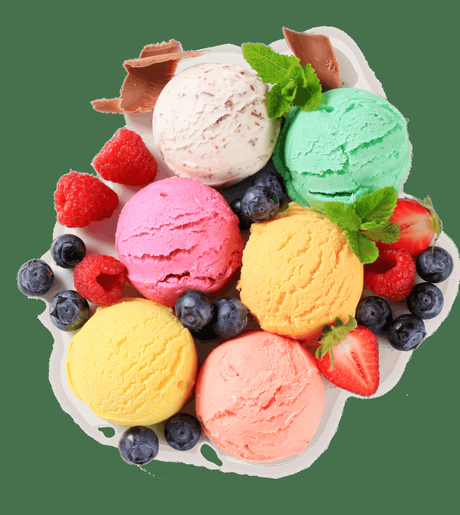 Our top collection of low-carb and keto ice-cream recipes
Keto vanilla ice cream
If you're a classic vanilla fan, try this easy vanilla recipe. While very simple, this version is no ordinary vanilla. It is quite likely the creamiest keto ice cream you will ever eat in your life.
The instructions include creating a simple custard with cream and yolks and then whipping the egg whites to fold into the cooled crust. The texture is ice-cream shop worthy!

Keto Mason jar ice cream
One fun way to make ice cream without an ice-cream machine is to create our Mason jar ice cream.
Parents and children both love the keto Mason jar chocolate ice cream. Not only does it yield a creamy, keto treat, but it keeps the kids busy shaking for at least five minutes.
Have the kids first help make the ice cream mixture, and then put them in charge of the vigorous shaking required to make this version. It's like having exercise with dessert.
One bonus is that each person can customize their individual jar treats. Omit the chocolate for a vanilla flavor, or follow our tips in the recipe to make mocha almond or a rich, coconut almond flavor.

Low-carb chocolate ice cream (DD+)
This smooth and luscious chocolate ice cream is dairy-free and vegan friendly. Containing a mixture of coconut cream, coconut milk and cocoa powder (and a few other key ingredients), this simple recipe is frozen in any shallow, flat-bottomed container. You can enjoy it within four hours.

Keto peppermint and mocha
If you're one of those people who loves ice cream any time of year, we've got a peppermint mocha flavor that's not only perfect for summer but adds a festive touch to Thanksgiving and Christmas, too. And guess what? If you omit the coffee and peppermint flavors for an amazingly rich chocolate flavor.

Low-carb blueberry ice cream
Low-carb blueberry ice cream is bursting with flavor. The lemon and cardamom are an unexpected addition that will give your taste buds an extra treat. This recipe is not only dairy-free, but vegan friendly as well.

Keto lemon ice cream
For a refreshing citrus flavored ice cream, try our fresh and luscious keto lemon ice cream. The lemon in this frozen treat makes it the perfect keto recipe for summer.

Low-carb popsicles with berries and lime
Another alternative when you don't have an ice-cream maker is to use popsicle molds. This recipe with lime and berry is versatile enough to inspire you to create your own flavors depending on what seasonal fruit is available.

Low-carb frozen yogurt popsicles
Yogurt and heavy cream can be combined with frozen fruit to make truly decadent low-carb popsicles. The fruit provides the sweetener and their flavors melt into the rich combination of cream and yogurt. This is a summertime treat everyone can love.

Waffles and pancakes
Keto-friendly ice cream with warm waffles or pancakes
A true dessert favorite for children of all ages. Throw out old bottles of sugary syrups and top waffles or pancakes with a scoop of keto ice-cream instead!