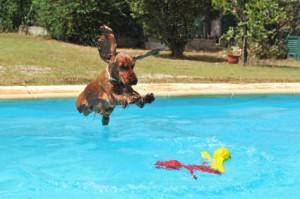 There's no reason to go on vacation without your beloved pets, especially when there are so many getaway spots around the world that are pet-friendly. If you can't bear to go away without your pet, consider one of the following locations for a relaxing retreat.
1. San Francisco, California, USA
San Francisco is a wonderful vacation destination for dogs and their humans, too. The city has some of the best dog playgrounds in the country. Golden Gate Park, for example, is more than a thousand acres of lush green with four areas where dogs can run around without their leashes. San Francisco's Ocean Beach, Fort Funston, and Baker beach are just a few of the city's off-leash beaches. There are also many hotels in the city that are pet-friendly. The Four Seasons and the Palomar are just two great examples. After checking into your hotel with your pet, there are lots of pet-friendly attractions that you can visit. Fisherman's Wharf, the Embarcadero, and Coit Tower are only a few of the city's attractions that are open to pets, and all are accessible by pet-friendly cable cars. If you find that your pet has needs while in the city, San Francisco's Pawtrero Hill Bathhouse and Feed Company is a great place to find food, treats, and toys.
2. Amsterdam, Netherlands
The Ibis Amsterdam City Stopera hotel allows up to two dogs in a guest's room for a five Euro fee per dog per night. The hotel is just minutes from Rembrandtplein and Waterlooplein, Dam Square, and the Stopera Opera House. Sarphatipark, one of Amsterdam's beautiful parks, has a playground just for dogs beside a small pond. De Bakkerswinkel restaurant provides outdoor seating for pet-owners.
3. Kuala Lumpur, Malaysia
An annual carnival featuring dogs and their humans, Dogathon was started in 1997. This 1.5 mile run was begun to help Pro-Kasih – a program that supports catch-and-release spaying and neutering to aid in controlling the country's stray dog dilemma. The carnival offers events and games for pets as well as their owners. If traveling to Kuala Lumpur with your pet, keep in mind that all pets will need to observe a one-week compulsory quarantine period at the government quarantine facility.
4. Stockholm, Sweden
Stockholm's Grand Hotel Intercontinental permits guests to have two dogs of any size in their rooms without any pet fees. The Sheraton Stockholm Hotel, Hilton Stockholm, Elite Stadshotellet Vasteras, and Pensionat Oden City hotel are also pet-friendly. The Vasaparken, a beautiful, pet-friendly park located in Vasastaden, will allow your dog some leash-free exercise.
5. Singapore, Singapore
This city has turned out to be a highly popular destination for expats and their dogs. With many leash-free dog parks available, dogs can run around and socialize with other dogs to their heart's content. One of the biggest and busiest dog parks in Singapore, the 24-hour Bishan Park Dog Run has easy access in the city and the park is fenced in. In this dog park, large breed dogs and small breeds are separated for safey.
Heather Johnson writes for HoneymoonDestinations.org, the best honeymoon research and planning website. Discover some great honeymoon ideas today!