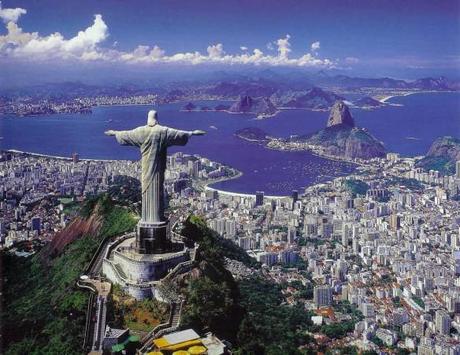 Rio is undoubtedly the heartbeat of Brazil, combining the hustle and bustle of a busy and vibrant city with the backdrop of stunning mountains and lush tropical fauna.  There is always an impromptu Carioca street party and the beat of the favela funk is the soundtrack to the city.
I spent two months soaking up the culture of this fascinating place, but quickly realised it was quite an expensive place to live. With the forthcoming 2014 World Cup and 2016 Olympics being held in Rio prices are steadily rising with the influx of tourists.
So I have provided 5 top things to do that won't pull at the purse strings and are essential to seeing the real Rio de Janeiro.
1. Cristo Redentor (Christ The Redeemer)
This iconic statue is a 'must see', the stunning views from the Corcovado mountain are simply breathtaking. There are frequent tram rides that can take you right to the top but can be quite expensive, however I would advise you to take one of the cheaper buses or, if you are able to get up early enough to avoid the sun, you can walk up the mountain for free in the cooler part of the day.
2. Lapa
I know I'm cheating slightly but I'm splitting these into two because there are two very different attractions:
a) Visit the Lapa steps
You may have seen these coloured mosaic tiled steps in famous music videos or in films but it doesn't beat seeing them up close. Single handily started by a local resident called Selarón in the early 90's, he decided to brighten up the area by tiling this huge staircase and hasn't stopped since. He has now become a celebrity in his own right, selling his own artwork to fund buying more tiles. People from all over the world heard about it and sent him more tiles so he could carry on. It's free to walk around but Selarón's artwork and painted tiles can also be bought from his small shop half way up the stairs, perfect for an alternative souvenir. If you're lucky you may get a chance to chat to him, or watch him hard at work on this incredible labour of love.
However, it is not advisable to go to the Lapa steps at night as it is slightly off the main area and is known to have some of the more hostile locals hang out as night falls.
b) Enjoy a caipirinha and party in Lapa on a Friday night
The heart and soul of any party always starts on the streets of Lapa! Situated under the famous Lapa arches with food and drink stalls flooding the area, the locals show off their samba moves to the drums that boom throughout the neighbourhood, it's hard not to get into the spirit.
However, a word of warning; no matter how well you think you can handle your drink, no more than three caipirinhas should be consumed in a night, the locals are very generous with their measures!
3. Visit the Jardim Botânico (Botanical Garden)
This was one of my highlights of Rio. This vast yet tranquil garden really reminded me that even though I was in one of Brazil's busiest cities, I was still in a tropical climate. The stunning Royal Palm groves lead you into the main avenue of the garden, which then branches off into various different areas displaying some of South America's weird and wonderful plant life. You can take a walk through the Amazon Garden, through the Orchid House and into the Japanese Gardens and then enjoy a refreshing drink or snack in the café tucked away towards the back.
There was a small entrance fee of $R5 but the sheer size of this garden means you can spend a whole day here getting lost amongst some of Brazil most tropical foliage.
4. Take the tram in Santa Teresa
At under $R1 you can take a tram into the cobbled streets of Santa Teresa where you can stop off, sip a beer and watch the world go by. One of my favourite bars was a place high up the hill called Bar Do Gomes, being one of the oldest bars in the city, founded in 1919. It feels like time has stood still, there's a real sense of nostalgia that the waiters and locals have been there through the generations. And, of course like most local bars in Rio, the camaraderie that goes with them is always entertaining even if you don't speak Portuguese!
5. Sunday Ipanema Hippie Market
After a busy week of sightseeing, sunbathing and samba dancing what better way to wind down the week than walking around Ipanema and looking at what some of Brazil's budding artists have to offer.
There's arts and crafts stalls, jewellery and clothing lines, which are all ideal places to pick up authentic souvenirs or gifts. Street performers gather around the square to entertain passers by, musicians also can be found next to their friend's art stalls strumming away on their acoustic guitars.
By Harriet Davis