The thriller genre has always topped my interest list. With the advent of Indian web series, we are being introduced to many amazing crime stories in recent times. Previously ZEE5 has given us one of the best thriller web series in the form of Abhay. Now Abhay is back with season 2 that promises to be much darker and more twisted.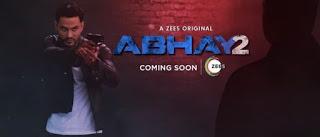 Image Source: ZEE5.com
What was Abhay Season 1 all about?
 Before we start discussing why we should catch up with crime series Abhay 2, let us recap what Abhay Season 1 was all about. 
Abhay, a fierce and no-nonsense cop with a dark past of his own, specializes in gruesome crimes by dealing with criminals with very twisted minds. These criminals are mostly psychotic with acute signs of Schizophrenia, and happy to play a cat and mouse game with the police by often challenging the force. This Psychological thriller is all about how Abhay, with his extreme diligence, captures these dangerous criminals. 
The season finale was one of the cleverest plots I have ever come across in Indian web series. I will come to it eventually.
Top 5 Reasons to Watch Abhay Season 2
 Now that I have shared a glimpse of what Abhay Season 1 had to offer, here are the top 5 reasons why we should not miss watching Season 2.
 1. Abhay, the character: We have seen many protagonists in the form of a serious cop, but Abhay is different. He is a handsome, overtly serious and a no-nonsense cop who has his own philosophy of dealing and punishing criminals. He has lost a lot in his personal life and is a very protective father, often haunted by his own dark past. Now the Season 2 on ZEE5 will find Abhay with his new set of rules and his own philosophy of justice on crime and criminals.
 2. The Menacing Antagonist: A thriller web series is incomplete without the presence of a powerful antagonist. Abhay Season 2 on ZEE5 will present a very menacing and extremely dangerous antagonist and none other than Ram Kapoor plays the part. The promos show the talented actor at its creepiest best with a crooked smile and evil eyes. From his portrayal, this is going to be one of the most celebrated villainous performances in Indian web series.
3. The other Cast: The first season of Abhay saw Iranian actress Elnaaz Norouzi as the deadly and drop-dead gorgeous Natasha. She will be seen in Season 2 as well. The other cast members include a very talented team of Anupriya Goenka, Sandeepa Dhar and Deepak Tijori.
 4. Kunal Kemmu vs. Ram Kapoor: Kunal Kemmu was an absolute revelation in Abhay season 1. He simply breathed the character of the sincere policeman with no drama and all work machismo. This season also focuses on his more savage and dominating persona. Challenging his path of righteousness and rules is the cruel villain in the form of Ram Kapoor. It will be an absolute delight to watch the 2 amazing actors face to face on a screen. I am sure it will be cherished as one of the most anticipated moments in Indian web series.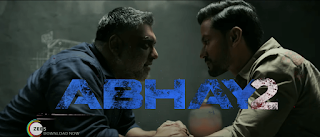 Image source: ZEE5.com
 5. Treat for Thriller lovers: I am an ardent fan of psychological thrillers. I like when a story simply plays with my mind and I am sure there are a lot of individuals who also share my interest. So Abhay Season 2 will be a treat for audiences like us, who love to watch thriller web series- the darker and more complicated, the better.  
 So, these are the reasons why Abhay Season 2 on ZEE5 should not be missed at any cost, especially if you enjoy watching thrillers.