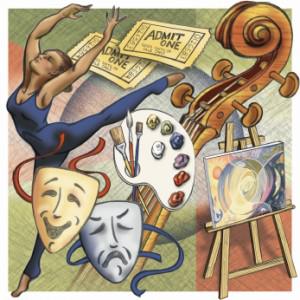 From Michelangelo to Picasso, many of the world's famous artists have been influenced by music when creating their masterpieces. Many musicians today are referred to as artists and various artists have been moved by the poignant and influential vigour of music when drawing or creating beautiful art.
With this in mind, I tested the influence different types of music had on an artist when they were creating a piece of artwork. So, I ran and tracked down five artistic friends and tested out my latest experiment in the name of art. Here are five examples showing the type of work artists create when listening to certain musicians.
1) Musician: Nirvana
Genre: Aggressive Rock
Artist: Daniel Brooker
Daniel was influenced by the band Nirvana when painting a colourful collage of the High Street in Nottingham. Daniel worked with earthy red colours and used dark blacks. He was compelled to make wild violent brush strokes and work in colours that imitated his solemn mood. A piece of art I think Kurt Cobain would have appreciated and understood.
2) Musician: Enya
Genre: Folk, relaxation
Artist: Jane Fielding
Jane worked with digital media to design her artwork. She discovered a greetings card website to aid her with ideas for the subject of personalised thank you cards to thank her own Dad who paid for her University course. Jane said she was calm and reflective when creating her piece. Jane took digital photographs of her mum and then printed them off and mounted them on to card. Afterwards, Jane used light blue and brown acrylic paint to paint over the photographs of her mum based on Picasso's style. Overall, the finished piece created a soothing, serene message.
3) Musician: Bob Marley
Genre: Reggae
Artist: Daniel Billings
I'm not going to lie, but Daniel hates reggae and was not too pleased when he learnt he was to listen to Bob Marley when creating his artwork. Daniel chose to use black crayons and acrylic paints to craft a sketch of Nottingham's historic 16th Century castle Wollaton Hall. He began rather positively using bright vibrant colours such as green, oranges and yellows, but by the end Daniel swapped them for dull earthy shades juxtaposed with large violent brush strokes. Generally, Daniel created a destructive and hostile disposition for his painting, but I feel this is more about Daniel's dislike for reggae than anything else.
4) Musician: Tom Yorke (Radio Head)
Genre: Melancholy
Artist: Barry Matthews
Barry created a clay sculpture depicting Nottingham Forrest's historic football manager Brian Clough. He felt the music was melancholy and calm and by already being a massive fan of Radiohead it made him reminisce about his holiday last year when he listened to Radio Head in a swimming pool in Italy. Barry said he felt influenced to create an emotional, optimistic, robust portrait of Brian Clough, happy and pleased with the Champions League cup.
5) Musician: Dido
Genre: Melancholy
Artist: Zoe Dearlove
Zoe created a unique and highly creative way of documenting how the artist Dido influenced her art work. Zoe doesn't particularly like Dido and therefore hoped to generate an optimistic message listening to a singer she disliked. Zoe was inspired by the website Music Magpie, where customers can sell CDs for money and so thought of a way to creatively recycle a CD and create a work of art. Jane carefully boiled the CD and then cut individual characters out of the disk. Once finished, she then used colourful paints to go over each segment and then stuck them all down on to silver card. The characters spelled the message "YES" and the paint she used was mainly warm autumn oranges, yellows and passionate reds. Overall, while Zoe disliked Dido she turned her negative association with the artist in to a positive one by recycling the disk in to a piece of art!
Conclusion:
From my experiment, I found that music and art can affect each artist differently. A sad depressing song for one artist may make another feel joyful or reminisce about a particular happy memory. I love reggae but some artists may hate it. Just ask Daniel who has refused to ever listen to Bob Marley again!