HAPPY HALLOWEEEEEEEEEEEEEEEEEEEEEN!  Have you seen the last three posts yet?! WHY NOT?!
Have you sorted your costume yet?! What are you going as? Are you trick or treating? Or watching some of these movies? Too many questions? Sorry.
Day One
Day Two
Day Three
Day Four
Here's what else you've missed: If you're not going out this Halloween (very smart of you) and you're just planning to have a few friends over why not watch one of these horrors! I'm doing a post every day for 5 days of my top horror movies! Some of you may not find my top picks very scary but… well, I'm a wuss.
I've saved the best… worst? …best? …worst 'til last! Well it's certainly the worst in my case!
I.T
Stephen King's a bad man. He made a film. There's a clown in it. It's bad. Bye.
I can't bring myself to Google the plot or any pictures for you guys. I'm really scared of clowns. Really bad. Basically there's a clown called Pennywise who can take on the form of your greatest fear but he's a clown for 98% of the movie. It's horrible. And he has balloons sometimes. Here's a picture of some bunnies in a teacup 'cause they're cute and not bad or scary at all.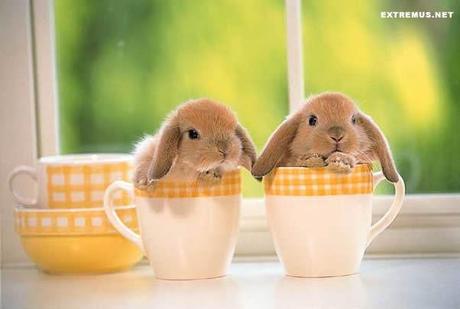 Have a great halloween guys! I'm torn between hiding under my bed until tomorrow and going and watching films and eating pizza… which is just a usual Friday night for me!
Remember: if someone in a van pulls up and tells you the van's full of candy – this is still not okay.