Do I really need a baby laundry detergent? Isn't the detergent I use for the family laundry is good for everyone including babies?
I am sure the above questions came to your mind when you read the title of this article. Do not worry, am here to explain those queries and the need to have a baby washing powder.
We all know how sensitive a baby's skin is and how easily it can get irritated by chemicals, fragrances, etc. Therefore, parents are careful when selecting baby care products.
The same way choosing a laundry detergent esp. made for babies clothes are important because regular detergents can leave residue on clothes which can cause them skin irritations or allergic reaction.
Further, the fragrance of the detergent on their clothes can make them suffer from skin reactions. Hence washing their clothes with baby washing liquid is the wise method.
Baby laundry detergents are chemical-free and safe to use. Also, their clothes have a lot of tough stains like milk, food, spit-outs, and blow-outs which require a lot of effort to clean. So these detergents will help to remove those stubborn stains and will save your time and vigour.
Benefits of using Baby laundry detergents
Baby friendly

Gentle and safe

Removes tough stain

Fragrance-free

Hypoallergenic

Free of dyes or colours

The same detergent can be used to wash all the family laundry, so no need to shop extra.
Now here are the Top 5 Baby laundry detergents in India that are easily available and best for the babies' sensitive skin.
1) Mother Sparsh Plant Powered laundry detergent for babies
The brand name itself connects with the mother's touch and the product is made from nature hence known as 'Plant Powered'.
This liquid mild detergent is free from any types of chemicals and is safe for newborns.
As it is powered by plants and also has bio-enzymes, it helps to remove different kinds of stubborn stains on kid's clothes and maintain the softness & hygiene of baby laundry.
Mother Sparsh Plant Powered laundry detergent  is derived from the goodness of Aloe extracts, Neem extracts, and Eucalyptus oil which have anti-bacterial properties that help to eliminate microbes, germs & bacteria caused by spoiled food, dirt & other factors. It is one of the best detergents for baby clothes.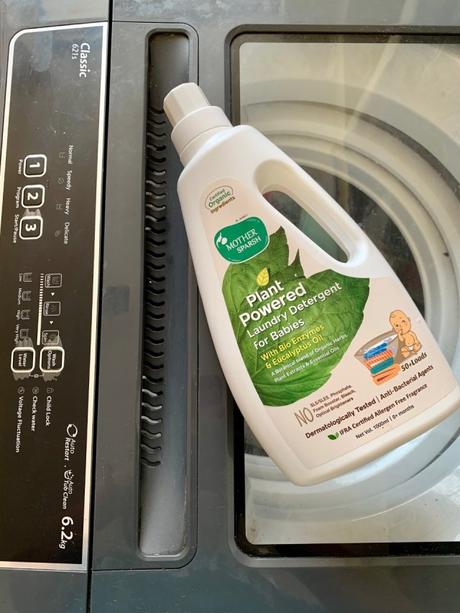 Benefits of using Mother Sparsh Plant Powered laundry detergent for babies:
It is powered by plants added with Bio- enzymes & Eucalyptus oil that makes this detergent completely safe and natural.

Removes tough stains and bad odour- Due to antibacterial properties (neem & aloe extracts) helps in eliminating stubborn stains. It leaves fresh & soothing fragrance due to essential oil ingredient.

Allergen-free fragrance due to Eucalyptus oil.

It is gentle on hands/ clothes and environment.

Free from harmful toxins like SLS/SLES, phosphate, parabens, sulfates & bleach.

The formula is suitable for newborns.

Dermatologically tested & environment friendly.
*MRP: Rs 649 for 1000ml
#mothersparsh #plantandpure #PlantPoweredRange #AllergenFree #SafeForBaby #SafeForSkin #babydetergent #naturaldetergent
---
2) Himalaya Gentle Baby Laundry Wash
This clinically tested product is infused with the power of herbs that are effective yet gentle on your baby's clothes. It has an antibacterial property that helps to remove tough stains and eliminate bad odours without leaving any detergent residue on clothes.
Key Ingredients: It is enriched with the goodness of Neem, lemon, geranium which have antimicrobial properties that help to remove odour and sanitize baby's clothes. It also has soapnut extract that helps to remove stains and clean the kid's clothes effectively.
Key features:
1.Himalaya baby detergent is biodegradable making it safe for your baby's clothes and environment.

It is free from harmful chemicals

It is made up of naturally- derived cleansing agents and antibacterial herbal actives.

It helps to maintain the softness of the kid's clothes and

leaves

a fresh fragrance.
*MRP: Rs 495 for 1000ml
---
3) Chicco Baby Laundry Detergent
Chicco claims that their baby laundry detergent is gentle and effective just like the mother's love. It is dermatologically tested and environmentally friendly making it safe to use for your baby's clothes.
This product ensures the removal of all types of stains and keeps the fabric hygienic and delicately fragrant.
Key Ingredients: It has the power of 5 key enzymes that makes it 5 times more powerful and acts as a germ fighter.
Why choose Chicco Baby Laundry Detergent?
It has anti-bacterial and anti-fungal properties that kill 99% of germs.

No harsh chemicals

It is gentle and safe on your baby's skin and clothes

5 key enzymes are effective against all types of stains and germs.
*MRP: Rs 499 for 1000ml
---
4) Mee Mee Mild Baby Laundry Detergent
This detergent for baby clothes is environment friendly and the formulation is fortified with triple enzymes that break down the tough stain without much effort and keep your little one's clothes fresh & germ-free.
This laundry detergent is carefully made considering the delicate skin of your baby and is safe to use on their clothes.
Key Ingredients: Fortified with triple enzymes, it removes all kinds of stains and dirt from your toddler's dress.
Key features:
Free of artificial colors and harsh chemicals

It has anti-bacterial property that keeps babies clothes free of bacteria

It has a whitening effect on clothes

Provides fresh fragrance on clothes

pH balanced – so gentle on hands and fabrics

Removes stains effectively
*MRP: Rs 799 for 1500ml
---
5) LuvLap Laundry Detergent
This is made up of natural ingredients making it gentle on the baby's skin but tough on stains. This washing baby clothes is environment-friendly and maintains a neutral pH balance that helps to keep your toddler's skin and dress safer.
Key Ingredients: The aloe essence composition in this detergent instantly decomposes harmful substances.  It is formulated with natural ingredients that make this product safe for use.
Why choose LuvLap Laundry Detergent?
It has an anti-bacterial formula that keeps your children's clothes free from bacteria.

No artificial colors and non-toxic

100% biodegradable

Gentle on skin and tough on dirt

It has an advanced cationic softening factor that keeps the garment soft and dry easily.
*MRP: Rs 549 for 1000ml
---
These were the top 5 Laundry Detergents for babies in India. These detergents will surely ease your laundry time and you don't need to bother about those stubborn stains anymore. These detergents for baby clothes are effective for hand washing and machine washing. Let me know if you have used any one of them or have any other suggestions.
PIN THIS POST!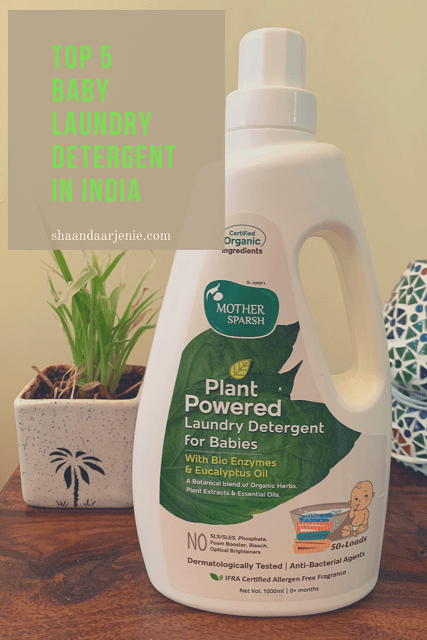 ---
---
You May Also Like To Read:
Top 5 sensitive wipes in India
Baby Colic–causes, symptoms and what you can do about it?
Why New Moms should go for Mother Sparsh Water wipes
Top 5 best baby powders in India
5 Best natural baby massage oil in India
Top 5 Natural Baby Face Creams in India 2021
*Disclosure & Disclaimer: This post is sponsored by Mother Sparsh. Kindly consult your paediatrician before using the product. The content in this post is purely meant for educational purposes only. This post contains affliate links