If the pleasures of life could be reduced to a few simple objects, the bicycle would top that list. For some, it symbolizes the freedom of recreation. For others, it is a livelihood.
In our 'green' world, the bicycle has the status of a low-level deity. Politics aside, perhaps this elevation is for the better. Those of us with childhood memories obscured by the mists of adulthood can still remember that frustrating, beautiful day where we first learned to balance on two wheels. The bicycle is ennobled by nostalgia. We call this movie fodder.
Outside of film, the bicycle is a vehicle for freedom, speed, aggression, leisure, independence, and so forth. Within film, the bicycle is a symbol for these things. Characters in love ride bikes side by side along garden paths; characters in enmity do not. Could 'Kitchen Table Thieves' be as stirring or affecting as 'Bicycle Thieves'? Would people cry at a movie about, say, a stolen bar cart or bedskirt?
Of course, with bike movies, as in a bike race, you have your winners and your losers. The optimist interjects: the glass is half full; you're still on a bike. Therefore, in answer to the optimist, I present the ten best bike movies of all time. In all of their seriousness and strangeness, they stand out from the rest. Sometimes having a bike can be rough. Just ask Pee Wee.
10. Pee Wee's Great Adventure (1985)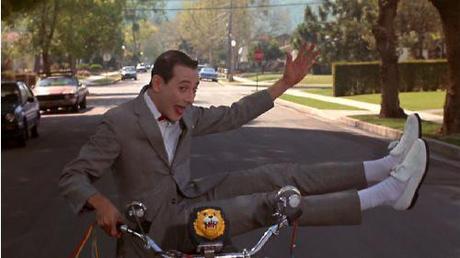 Here we have the timeless Tale of the Stolen Bike, as interpreted through the eyes of a Paul Reubens LSD flashback. Of course, if Pee Wee would have had anything else stolen, we could still be assured 1.5 hours of headache-inducing vicissitudes, but there still stands the eponymous question of our arrested youth: What's missing from this picture? It's just me . . . WITHOUT MY BIKE! Bring your popcorn and your 'party favors.'
9. American Flyers (1985)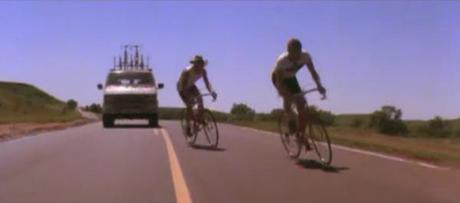 This movie is Breaking Away's weird step-cousin. It has the emotion of a small town wonder with all of the stunted dialogue of a last-minute screenplay. Here you have the inevitable 1980′s archetypes: the brooding, mustachioed, Russian villains; the muscle-bound, blonde-haired bad guys; the tawny hero; etc. You also have a rare occurrence a 1980′s PG-movie: topless woman. They just don't make movies the same in 2011. Think of American Flyer as an obscure artifact, and don't be surprised that it ends on a freeze-frame.
8. Quicksilver (1986)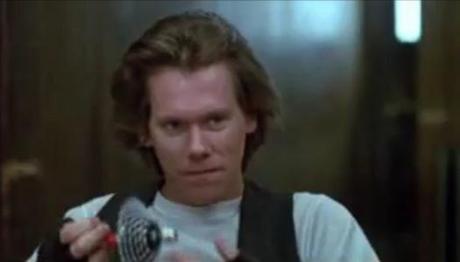 It's a Kevin Bacon vehicle, but unlike My Dog Skip, it's surprisingly tolerable. Kevin Bacon plays an in-it-to-win-it stock market newjack. The movie opens with him in the back of a taxi, braving the streets of New York (read: San Francisco). A bike messenger sides up to the car, and the race is on. The bike messenger wins the opening credits race, and Bacon abandons the white-collar for an honest life as a bike messenger. Inevitably, he runs into the bad guys, and drugs are involved. Along the way, Bacon meets a pretty-but-conflicted girl, and, with the help of his recovered stock market luck, good/Bacon triumphs in the end. There is a great freestyle/trick scene in the movie, and another freeze-frame ending.
7. Beijing Bicycle [Shiqi sui de dan che] (2001)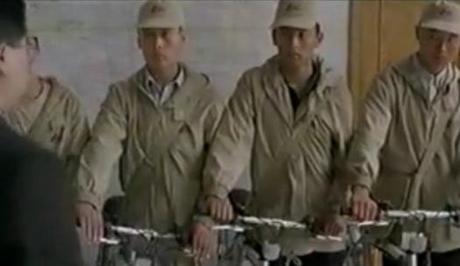 This is a modern Tale of the Stolen Bike, and explores the indelible and complex relationships between the bully and the bullied. It's set on the streets of Beijing. Liangui gets a hard-to-find job as a bike messenger, leasing the bike. The bike is then stolen by another boy who wants to impress a girl. Like the movie's obvious forebear, the story inevitably spirals into heartbreak, though it leaves you with a slight glimpse at the hope of redemption. Who knows what will happen when the sun comes up?
6. Race Across the Sky (2009)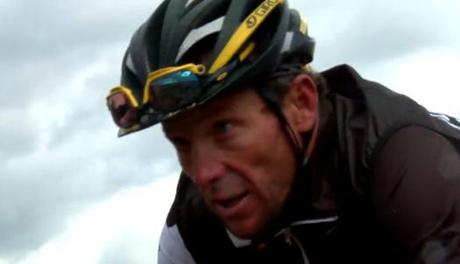 Another race documentary, this one about the Leadville Trail 100, a hard-nosed, backwoods mountain bike race in Leadville, Colorado. Here you get the dramatic mountain views, the glass-eyed mountain-biker jawlines, and all of the associated triumphs and defeats. This documentary has its literal ups-and-downs, and is inspiring and/or frustrating to people who ride mountain bikes.
5. Death of a Cyclist [Muerte de un ciclista] (1955)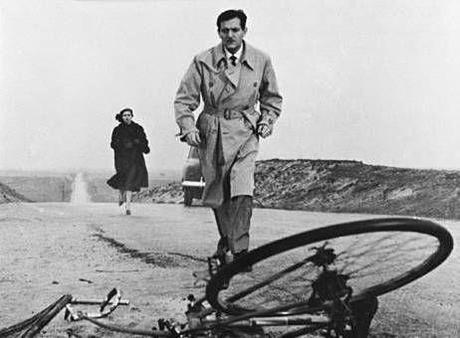 A wealthy, provincial couple in the midst of a lustful, mid-life affair drives onto the open roads of the Spanish countryside. In a heated exchange, they lose sight of the road and strike a wandering cyclist. A cover-up wrought with steep angles and Hitchcockian sexual anxiety ensues. Death of a Cyclist is one of the best-kept secrets of 1950s Spanish noir cinema. Does there have to be a moral to the story?
4. A Sunday in Hell [En forårsdag i Helvede] (1976)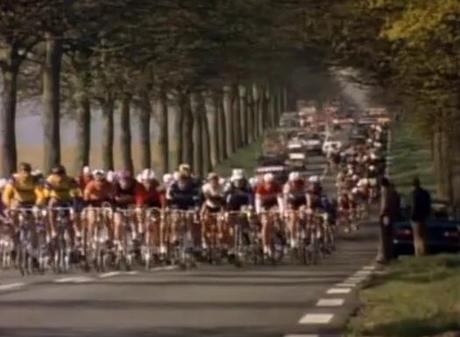 Jorgen Leth, who you may recognize as the director opposite Lars von Trier in 'The Five Obstructions,' is the director of this brutal, 1976 documentary about the Paris-Roubaix. The film documents the infamous race, which has taken place annually since 1896. The die-hards will say this is real cycling, as it runs white-knuckled over the rough Belgian cobbles. Meanwhile, you can enjoy it from your couch with a beer in one hand a bag of chips in the other. This one isn't on a lot of bike-film lists, but on VWMF, it is.
3. The Sacrifice [Offret] (1986)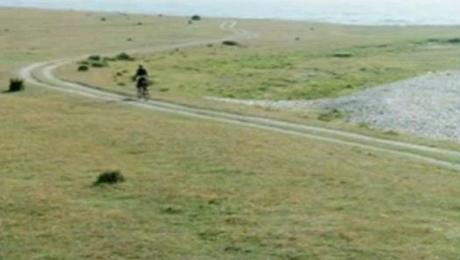 As with Tarkovsky's entire canon, this is a film about everything. Existence, sex, fear, dreams, paranoia, isolation, despair, hope. The bicycle plays a peripheral but important role as a device. Upon it the postman rides, soliloquizing about Nietzsche and meaninglessness. He leaves it in the weather. He rides into the fog towards his home over the bleak Swiss hills. It leans against the weathered wall of the dacha. Jets fly somewhere beyond the clouds.
2. Lady is the Boss [Chang men jen] (1983)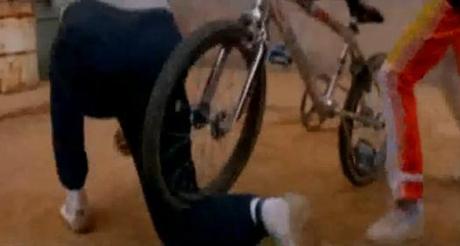 It's 1983, the golden age of Kung-Fu, Female Empowerment and BMX. In this film, you learn how a BMX bike can be utilized to crush an opponent's windpipe. This Shaw Brothers' standard is a movie is worth watching, jam-packed with screaming and posing and genuine ass-kicking. Wall-rides, tail-whips, and whipped tails.
1. Bicycle Thieves [Ladri di biciclette] (1948)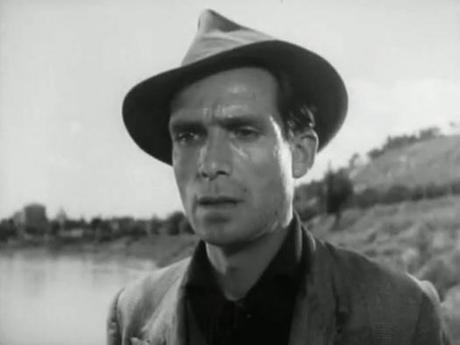 What else could it be? Not only is this a good bike film, but it's also one of the best films ever made. It's relentless, heartbreaking and emotional, doing what all movies should aspire to. Bring a box of tissue and be good to your neighbor.
Benjamin Van Loon  8/31/11