Women are passionate about shoes and many of them have large collections of the same. There are different styles in which women's shoes are available in the market. Among them ballerinas need special mention. These shoes are considered as ultimate wardrobe staple and range from contemporary to classic. Available in wide varieties of colours, designs and patterns, these shoes can be worn for all reasons and seasons.
Mentioned below find top 10 foldable ballerina shoes for women: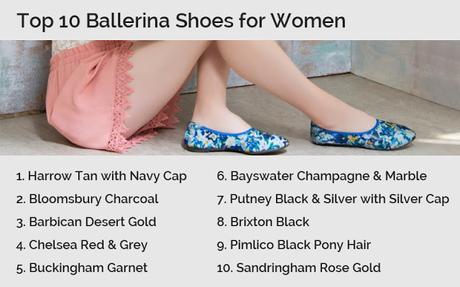 1. Harrow Tan with Navy Cap: -

Made from 100% premium leather, the base color of the Harrow ballerinas is in tan, while the toe cap is in contrasting navy blue color. The shoe is handcrafted and can be folded easily in the small pouch and carried conveniently in a bag. The rubber soles make the shoes strong and tough.
2. Bloomsbury Charcoal: -

Just taking a look at this black ballerina is enough for understanding that the shoe will be super comfy. The contemporary, fresh and new silhouette of the shoe makes it highly attractive. The shoe has seamless fit and there are no pressure points in the same. the insoles are doubly cushioned for ultimate comfort.
3. Barbican Desert Gold: -

Click Here to Buy
This pair of ballerina is surely a show stopper. Some wonderful textile goes in the making of this shoe. It either shines with golden or silver hue, depending on the angle of the light falling on the shoe. The leather insoles are double-cushioned and offer great comfort. The rubber sole imparts flexibility to the foldable shoe.
4. Chelsea Red & Grey: -

Click Here to Buy
The combination of animal print and color pop makes the shoe look outstanding. This red suede and gray snake-print textured toe area ballerina can be easily worn to a casual party. The shoe is made in Italy and is made from 100% premium leather. Along with being soft and supple, these shoes are highly flexible as well. They can be easily worn as daily wear shoes.
5. Buckingham Garnet: -

Click Here to Buy
Designed for smart lifestyles and sophisticated parties and events, this pair of ballerina is sure to take your breath away. The pumps come in garnet shade and have double –edged, black ribbon bow with the emblem CR engraved on the buckle detail. Made of premium leather, the shoe looks truly classy and elegant. Along with great looks, the shoe provides superior comfort as well.
6. Bayswater Champagne & Marble: -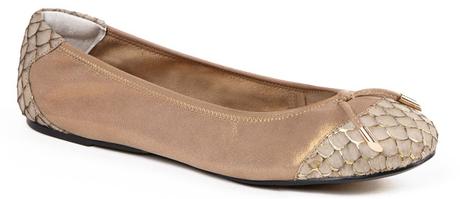 Click Here to Buy
Women who love ultra chic ballerina pumps will surely like this pair. The flats are made from handcrafted leather – precisely champagne leather and marbled fish leather in the toe area. This area has gold highlights and is hand painted. This is a subtle gold bow right below the toe area to make significant impact. The shoe is luxuriously made – both the insoles and the upper leather material.
7. Putney Black & Silver with Silver Cap: -

If you want fashionable flats for parties, this shoe will definitely cater to your requirements. The shoe looks elegant and sophisticated with the textures, which are made in black and silver color. The silver toe cap adds to the appeal of the ballerina pump. The shoe uses individually hand-crafted 100% pure leather for optimum comfort. The insoles are cushioned and padded for additional comfort.
8. Brixton Black: -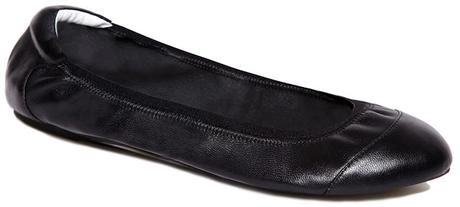 Click Here to Buy
This is the classic, capped flat ballerina in absolutely black leather. The shoe looks simple, but has a kind of elegance and sophistication attached to the same. Great quality leather is used in the making of the shoes and is therefore comfortable. Comfort is also offered by padded Achilles heels and double cushioned insoles.
9. Pimlico Black Pony Hair: -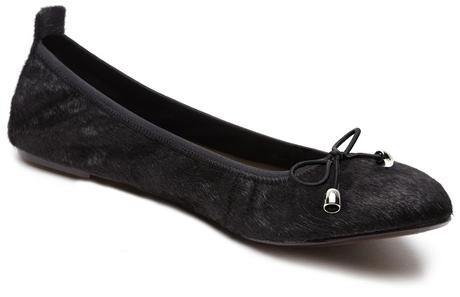 Click Here to Buy
This is an extremely chic black ballerina pump, made with soft pony hair leather. The shoe comes with a bow and silver toggles. The toe is slightly pointed and there is a wedge heel that remains concealed. This shoe is specially crafted for women, who are super busy and are always on the go. Style and comfort go hand in hand in this shoe.
10. Sandringham Rose Gold: -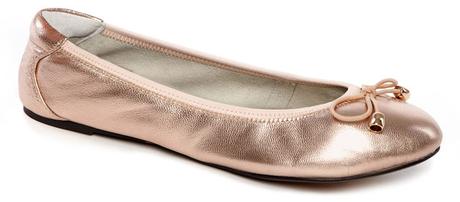 Click Here to Buy
This flat pump ballet looks amazingly cute, particularly because of the rose gold color. The shoe is simple and elegant yet chic. The foldable ballerinas have gold toggle details and a hand tied bow. Made with high quality soft leather, this shoe is great for everyday wear.