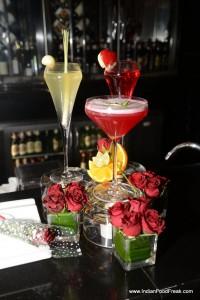 Work hard and Party Harder is an adage we often hear only in references, but recently I experienced this in its true spirits when I was invited to a valentine's bash organized by Deutche bank where the central attraction was a performance by the British Retro Pop Group – Tootsie Rollers. The event was organized at the Sofitel hotel in BKC which in my previous visits during weekday lunch hours had highly disappointed me with its dull buffet line up at its overly hyped Pondicherry Café. I went to the event solely to watch the performances by the group Tootsie Rollers with absolutely no food expectations whatsoever, and I am so glad I was proved wrong.
I was graciously welcomed by my hosts and lead to the bar where I noticed that they had quite a good line up of premium drinks, unlike many other events I have been to.  The bartender insisted that I should try their elderflower tootsie cocktail- a red wine topped with elderflower foam which I found quite interesting but decided to stick with my usual simple red wine.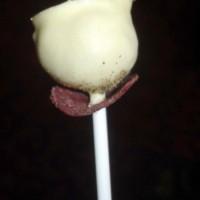 The pass around snacks had the usual chicken tikkas and veg crockettes but the one thing that stood out and is worth mentioning is the Foi Gras Lollypops. White chocolate covered foie gras balls on a stick with a small salami slice at the bottom was an explosion of flavours in my mouth. The balance of sweet, savoury and umami was in perfect harmony and I found myself grabbing a few more before we headed for the show.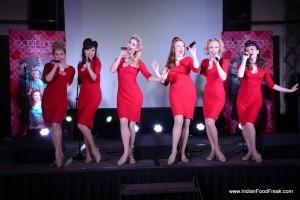 Tootsie rollers in their maiden performances belted out a few retro numbers in their signature style and had the audience swaying on their music. Their acapella style of singing mixed with contemporary music tracks was an absolute delight for the audience; wish they could have done a longer show.
With the stomach growling for hunger we headed for the buffet spread with little trepidation.  The sight of the buffet was enough to clear my mental cobwebs. A massive salad bar, a biryani counter with huge copper vessels carrying veg and chicken biryanis, daal makhani and daal tadka, a complete grill section with Bratswurst, sausages, Jumbo prawns, steaks, chicken and the works. A live pasta counter with lots of different pastas and a whole section of sides which I can't even remember except for the silky smooth buttery mashed potatoes.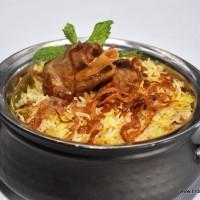 A die hard carnivore, I couldn't resist trying the biryani which was long grained, aromatic and quite flavor full and thereon headed directly for the grills where I had my heart's content of prawns, brats, tenderloin and sausages. Though I stuck to only meats and salads but I could see the crowds going for their seconds, and thirds of their fill of pasta. The desserts, however were quite usual and nothing out of the ordinary.
To conclude I seriously believe that the organizers and the hotel F&B pulled an amazing act with the Tootsie rollers event and compliments are in order for the food and beverages served at the do. The event and most definitely the amazing foie gras lollie has made sure that I would visit their hotel once again and try the goodies out soon.