If you like schnitzel (breaded pork), you'll love a similar Japanese dish called Tonkatsu.
The boneless pork cutlets are breaded in Panko, deep-fried in oil, topped with a fruity Tonkatsu sauce, and served with shredded cabbage (or some steamed rice).
It's crispy, it's meaty, and it's easy to make.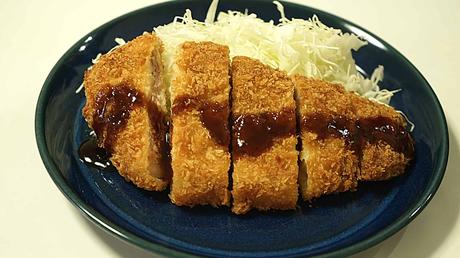 Tonkatsu is quick and easy to make, it doesn't require many ingredients, and it's a true budget saver. It's made with affordable pork cuts, so it's a great food for simple family lunches, dinners, and meal prepping.
Once you take a bite out of the crunchy pork, you're going to demand to have some more!
Make your own crispy tonkatsu pork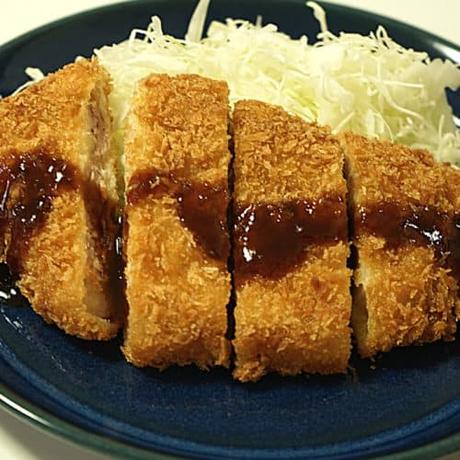 Print
Tonkatsu pork recipe
This recipe requires boneless pork loin cutlets. It also requires a wok or frying pan, Japanese breadcrumbs (Panko), eggs, and a lot of cooking oil. Then for seasoning, you need some basic condiments and the special Tonkatsu sauce. Below the main recipe, I will share a quick and easy way to make homemade tonkatsu sauce.
Course
Main Course
Cuisine
Japanese
Keyword
Pork
Prep Time
15
minutes
Cook Time
10
minutes
Servings
4
Author
Joost Nusselder
Cost
$7
Ingredients
1

lb

boneless pork chops

1

cup

vegetable oil

½

cup

all-purpose flour

1

large egg

beaten

1

cup

Panko bread crumbs

salt

pepper
Instructions
Heat the oil in the wok.
Tenderize each pork cutlet, then season with salt and pepper.
Put each pork cutlet in flour and cover both sides.
Then, dip in the egg. Cover both sides.
Place the cutlet in panko, making sure to cover both sides well. Press the meat into the bread crumbs to coat.
Work in batches and fry about two porks chops at a time in hot oil. Let them fry for approximately 3 or 4 minutes.
Place the fried tonkatsu on paper towels, and then once you're done with all cutlets, fry them again for 1 minute to make them extra crispy. This is the best way to get that extreme deep-fried crispiness, but it's not a necessary step.
Notes
Add some moisture to the panko to make it airy and help it stick to the cutlets better. You can use a spray bottle to spray the breadcrumbs lightly.
Double-frying the pork is the secret to making the best tonkatsu. The first time you deep-fry, the meat cooks on the inside. But the second time, it makes the panko super crispy and tasty.
It's important to choose tender cuts of meat. You should tenderize the meat with a meat pounder to make it as thin as possible. This process also tenderizes the tendons, which are often too chewy.
If you find that the panko burns too fast, fry on low heat (around 320 F) for a longer time. The lower temperature also makes the pork retain more of its tasty juices.
How to make Tonkatsu sauce at home
If you've never tasted tonkatsu sauce before, it has a sweet, savory, and slightly tart flavor. The sauce is made with fruits, vinegar, and spices.
Luckily, it only takes a couple of minutes to make at home with 4 ingredients, so there's no need to spend money on the bottled version if you don't want to.
Here's what you need:
¼ cup of ketchup
¼ cup of Worcestershire sauce
2 teaspoons of soy sauce
1 teaspoon of white or brown sugar
Making it is straightforward: simply mix the ketchup, Worcestershire sauce, soy sauce, and sugar together. It's ready to use immediately.
Also be sure to check out these other 9 best sushi sauces you must try! List of names + recipes!
What is Tonkatsu?
Tonkatsu (とんかつ, 豚かつ) is a Japanese deep-fried breaded pork dish, usually made from either pork loin, or cutlet.
At first glance, the dish may seem very similar to Viennese schnitzel. However, the main difference is the breadcrumbs.
Tonkatsu is made with Japanese panko, a special breadcrumb made from crustless white bread. The flakes are larger, and the texture is light.
Don't have Panko Breadcrumbs? 14 Substitutes you probably have
The second difference is that tonkatsu is deep-fried, not pan-fried. It has to be fried quickly in hot oil.
Since the pork is fried, it's usually served with a light side dish comprised of vegetables, usually raw shredded cabbage.
Tonkatsu pork recipe variations
Since tonkatsu pork is a simple recipe, there's not a lot of variation. While there are many "katsu" foods, tonkatsu is breaded pork cutlets.
But, there are tons of other types of katsu, including katsu sando (a sandwich filling), menchi-katsu (deep-fried minced meat), fish katsu (Korean deep-fried fish fillets), and of course, the world-famous katsu curry.
However, people like to change up the sauce.
Instead of using tonkatsu sauce, you can substitute it with oyster sauce, Worcestershire sauce, and even ketchup.
If you combine those three ingredients and add a teaspoon of caster sugar, you'll get a sweet sauce similar to BBQ sauce.
Another sauce option is a mix of apple sauce, ketchup, vinegar, soy sauce, and mustard. This gives that classic sweet and sour flavor to the pork.
When it comes to pork cuts, you can use either pork fillet (hire-katsu) or pork loin (rosu-katsu), which is slightly fattier.
Keep in mind that tonkatsu is made with pork. If you use beef or chicken, it's no longer the same dish, and it's called Chicken Katsu or Gyukatsu (beef).
Look for high-quality meat cuts that don't have too much connective tissue because then it's too chewy.
How to serve Tonkatsu
As you know, the most common topping for tonkatsu is the tonkatsu sweet and sour sauce. Some restaurants also add mustard and a couple of slices of lemon.
Most often, the pork cutlet is already cut into strips, so it's easier to eat. It's enjoyed with chopsticks in Asia or a fork and knife in Western restaurants.
Because the pork is deep-fried, it requires light side dishes that aren't heavy on the digestive system.
The most common side dish is raw shredded cabbage. But, many people also like to have short-grain white rice and some pickled vegetables (tsukemono).
Another common pairing for tonkatsu is delicious miso soup which is light and nutritious for the stomach.
There are also regional variations, and in these places, they eat tonkatsu differently.
For example, in some areas, the pork cutlets are topped with a serving of curry. This combines the sweet and spicy flavors of the curry with the crispy breaded pork.
In Nagoya, the tonkatsu is topped with miso sauce and ponzu (citrus) sauce.
Also read: Etiquette and table manners when eating Japanese food
Origin of Tonkatsu
The original tonkatsu was made with beef, and it was called Katsuretsu or katsu for short.
In the early 20th century, it was a popular Yoshoku food (Western-style Asian food). It was a re-interpretation of European breaded and fried meat recipes, most notably the Wiener Schnitzel.
But pork cutlet tonkatsu as we know it today was invented in 1899 in a Tokyo restaurant called Rengatei. It was served on their menu under the name ポークカツレツ Pohku Katsuretsuin.
Then, in the 1930s, it became "Tonkatsu".
Pork was a popular meat in Europe, and the Japanese were quick to turn it into a staple of Japanese cuisine.
During the Meiji restoration, it was common for explorers, travelers, and merchants to bring over new dishes from abroad and take their own recipes to new regions.
Thus, the late 19th and early 20th century was the moment when many Western recipes were discovered, modified, and popularized.
Next time you have some pork cutlets in the freezer, why not try this delicious crispy dish? It's the perfect main dish, and as long as you have it in moderation, it satisfies and makes for a yummy lunch and dinner.