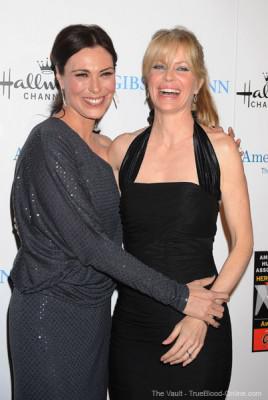 Kristin Bauer van Straten and Michelle Forbes will appear tonight on The inaugural American Humane Association Hero Dog Awards™, presented by Cesar Canine Cuisine.  The show airs on the Hallmark Channel tonight (Friday, Nov. 11) at 8/7c.
Every dog really does have his day. Or in this case, hers. Roselle, the guide dog who led her blind master safely down 78 flights of stairs following the 9/11 attacks on the World Trade Center, has been named the top American Hero Dog at the world's first American Humane Association Hero Dog Awards™.
Roselle, who passed away this summer, was honored at the Hero Dog Awards with her master, Michael Hingson, and Guide Dog Africa.
The star-studded awards, hosted at the Beverly Hilton Hotel on Oct. 1 by Carson Kressley, are a new and ambitious effort to celebrate the powerful relationship between dogs and people – and to recognize extraordinary acts of heroism performed by ordinary dogs.
During a nationwide search over the course of six months, hundreds of dogs from all 50 states were nominated and some 400,000 votes were cast by the American public, culminating in the selection of eight extraordinary canine finalists.
"Every day, across America, dogs protect, comfort, and give their unconditional friendship and affection to the ill, the infirm, the wounded veteran, and the frightened child," said Robin Ganzert, President and CEO of American Humane Association. "It was time to recognize the contributions of man's best friends and celebrate the heroic feats they have performed for us every day. Every dog nominated is a bona fide hero, and all eight finalists were winners in their categories. Now, after hundreds of thousands of votes by the American public and consideration by a panel of VIP judges, we are proud to announceRoselle as the top American Hero Dog for 2011."
The panel of celebrity judges included animal advocates and A-listers alike, including Betty White, Victoria Stilwell, Whoopi Goldberg, Prince Lorenzo Borghese, Christie Brooke, Travis Brorsen, Orlando Brown, Kristin Chenoweth, Wendy Diamond, Mark Hamill, Jillian Michaels, Tinsley Mortimer, Susan Orlean (author of the new book, "RIN TIN TIN: The Life and the Legend"), Jill Rappaport, Ashley Rhodes-Courter, Candy Spelling, Stealing Angels, Dr. Debbye Turner Bell, and Top Chef Fabio Viviani.
The eight finalists and their handlers were flown to Los Angeles with American Humane Association partner JetBlue Airline, where they were joined by Atticus, the evening's Grand Marshal Dog, who appeared on behalf of the nation's disabled veterans, and RIN TIN TIN Smith, a 12th in line descendant of the original RIN TIN TIN, the "National Spokesdog" for American Humane Association who received the first-ever "Legacy Award" from the charity.
These four-legged celebrities were joined by a raft of two-legged ones as they walked the Red Carpet with and posed for a huge crowd of reporters, video crews and "pupparazzi." The Red Carpet host was Robert Parks-Valletta, and Kira Lorsch served as Special Correspondent.
A stellar lineup of celebrity VIPS and presenters that included Paula Abdul, Kristin Bauer, Michelle Forbes, Peter Fonda, Faith Ford, Tara Harper, Julianne Hough, Joey Lawrence, Jason Lewis, Jake Pavelka, Pauley Perrette, Megyn Price, and Michael Vartan introduced the finalists, who were recognized with a special award created by sculptor Liza Todd-Tivey and a moving video tribute. The evening also featured a tribute film to the Hero Dogs of 9/11 narrated by Peter Fonda, and a tribute to RIN TIN TIN narrated by Mickey Rooney. Music was provided by John Ondrasik of Five for Fighting.
Each of the eight finalists received $5,000 to be donated to one of American Humane Association's charity partners, which include The Pine Street Foundation, Guide Dogs for the Blind, Dogs for the Deaf,National Fire Dog Monument,U.S.War Dog Association, National Search Dog Alliance, Canine Companions forIndependence, and Paws & Effect.Rosellewon an additional $10,000 for Guide Dogs for the Blind. 11-11-11
Read more about tonight's show by going to: northcountrygazette.org