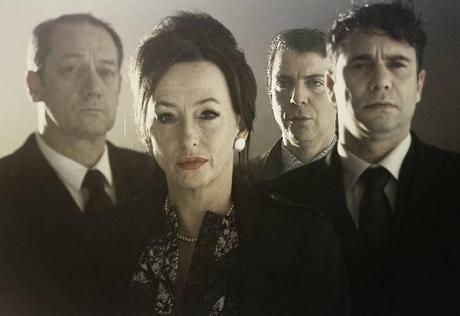 © Jan Versweyveld
Toneelgroep Amsterdam
How do you give your audience an amazing experience they'll never forget?
Choose a play by a four-time Pulitzer Prize-winning playwright who also happens to have a Nobel Prize under his belt.

Make sure the play has won a Pulitzer as well.
Did I mention that said playwright should be the father of realism and one of the greatest American playwrights?
Hire a super talent like Ivo van Hove to direct it.
Select a stellar cast headed by Gijs Scholten van Aschat.
Surtitle select performances in English so everyone can enjoy!
That's the recipe Toneelgroep Amsterdam used for their upcoming production of Eugene O'Neill's A Long Day's Journey Into Night.
The production will play at the Stadsschouwburg in Amsterdam from 25 August through 13 December, 2013.
During that time, the four-person cast will also travel to Groningen, Tilburg, Maastricht, Zwolle, Nijmegen, Arnhem, Den Bosch, Utrecht, Eindhoven, and Rotterdam here in the Netherlands, Antwerp in Belgium, and to Zagreb in Croatia for the World Theater Festival.
A Long Day's Journey Into Night depicts one day in the life of the dysfunctional Tyrone family. It's a story of self-deception, addiction, illness, struggle, and unfulfilled dreams. But it's also one of love, sympathy, and strong family ties.
O'Neill's penchant for drama and realism inspired Van Hove's nickname for him: "the American Shakespeare."
It was the playwright's wish that A Long Day's Journey Into Night not be published until after his death in 1953. Most likely due the great many parallels between the Tyrone family and his own.
O'Neill's most famous works include Mourning Becomes Electra, Ah, Wilderness!, The Iceman Commeth, and A Moon for the Misbegotten.
English surtitles will be part of all Thursday evening performances of Toneelgroep Amsterdam's production of A Long Day's Journey Into Night.
© 2013, Amsterdam City Tours Blog. All rights reserved. On republishing any part of this post, you must provide a link back to this original post