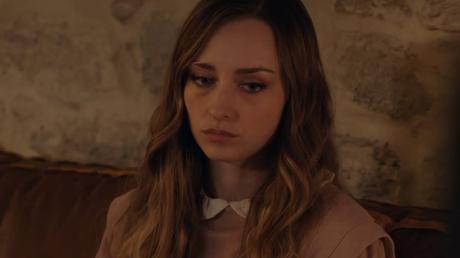 In the next episode of "Tomorrow belongs to us" ... While the Daunier family settles down with Samuel, Isam and Timothée take up Marianne's challenge. Alex confronts Sacha.
Attention, the following paragraphs contain spoilers on the episode of Tomorrow belongs to us broadcast tomorrow evening on TF1! If you don't want to know anything, don't read on!
Friday April 9 in Tomorrow belongs to us ...
THE DAUNIER FAMILY SETS UP AT SAMUEL
After spending the night with Samuel, the Daunier sisters rush home before their parents return from their guard. There, the two teenagers desperately try to get Quentin to open the door but he ignores them, preferring to take advantage of their apartment without any qualms.
When Aurore and William arrive at the foot of their building, Sofia and Manon quietly wait for them and tell them about the situation. In turn, the Daunier couple tries to convince Quentin. In vain. The young man then declares that he does not intend to leave the premises until they find him accommodation and then threatens to end his life if they try to return.
Refusing to take such a risk, William goes to the hospital and talks about the problem to Flore and Christelle. In order to support the housing request made by the social worker, Flore agrees to contact the town hall in the hope of speeding up the procedure.
Doctor Daunier then joins Samuel and tells him what is happening. As he intends to move his whole family to the hotel while the situation is resolved, Samuel invites him to come to his place instead. When evening comes, Samuel and Alma are delighted to welcome them. At the same time, Pascal and Hélène arrive with their suitcases at the Dauniers'.
ISAM AND TIMOTHÉE TAKE UP THE CHALLENGE OF MARIANNE
Isam and Timothée managed to solve the math problem given by Marianne. While they are glad they did, Marianne informs them that their answer is incorrect. As they do not agree on the solution of the problem, the teenagers call Olivier. For the math teacher, Timothy's reasoning is correct and Marianne's is therefore wrong. Deeply annoyed, Doctor Delcourt does not however intend to admit that she was wrong, which makes Anna laugh a lot.
ALEX CONFRONTS SACHA
At Spoon, Sacha tells Tristan about his coaching site project and invites him to become one of his sponsors. Although he doesn't have much cash, Tristan agrees to help him. Shortly after, Roxane offers to create his website for him at a lower cost, which Sacha accepts.
Later, Sacha crosses paths with Alex at the Spoon who reveals to have seen him on the road to Frontignan the day before when he was supposed to be in Paris to find sponsors. Insofar as he clearly implies that he has a mistress, Sacha retorts that he is wrong and that he is preparing a surprise for Clémentine without however telling her more.
Back home, Sacha tells his partner that he will run out of money to finance his project. Clémentine agrees to help her and Sacha thanks her before making a declaration of love to her. The couple embrace but Sacha obviously seems to have his mind elsewhere.