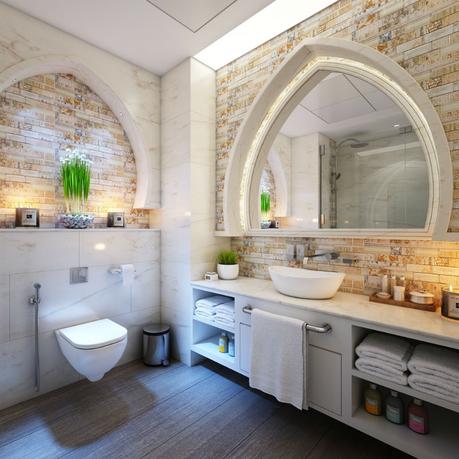 Your bathroom gets a lot of use and it is inevitable that wear and tear will take its toll on the fittings, so it might be time to freshen things up and give the smallest but busiest room in the house a bit of a makeover.
A good starting point would be to look at replacing those old fixtures and fitting a new toilet, sink, and vanity.
Here is a look at some ideas for giving your fixtures a second chance somewhere else and giving your bathroom a new lease of life in the process. There are some recycling suggestions and tips on how to get rid of all your unwanted items in an eco-friendly way.
Don't let it go to waste
We all have to try and be more environmentally aware these days and if you have decided to remodel your bathroom it would be good if you can find a way to get rid of what you no longer want in the best way possible.
The default option for many when they are doing a DIY project like a bathroom makeover is to just scrap the old vanity and other fixtures, but unless they are actually broken and beyond repair, there are plenty of far better options available than just throwing them away.
Aside from the environmental impact of simply trashing your old fixtures, there are options to donate, recycle, or even sell them to get some cash towards buying new ones.
If you are going to be removing the fixtures yourself you might find this site helpful when you are looking for the tools you need to take the items out safely and without causing any damage.
A new home for your bathroom vanity
If you have taken care to remove the vanity without damaging it and everything is in one piece there will be several options available to pass it on to a new owner.
Donating your fixtures is easy when there are no broken bits or missing drawers, although some places will still accept your donation if the item could be reused in some way or another.
You could offer your fixtures by placing a free ad on Craigslist but you could search for sites like Freecycle.org so that you can keep your old bathroom items from ending up in a landfill.
Most items are recyclable
Once you decide to go down the recycling route as a great way of clearing out your fixtures ready for the new ones, you will find that almost anything can be recycled from your bathroom.
You can donate your sink and faucets and even copper and steel pipes don't need to head for the landfill either, as they are often welcomed by a local recycler and put to work again in some capacity.
Porcelain and ceramics are good candidates for recycling and can be crushed ready for use again and anything else you have left over from your bathroom makeover will almost certainly be taken by someone, even a remodeler who is always on the lookout for something to do up.
It is exciting to think about how your new bathroom will look when it's installed, but also spare a thought for your old fixtures and materials so that you can do some good with them rather than just sending them to landfill.
**