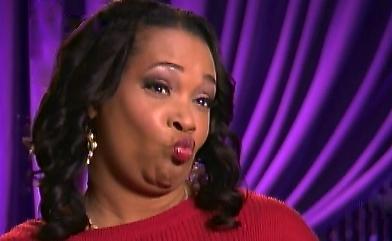 How 'bout you little nuggets grab a juice box and let Mama show you how it's done, mmmkay?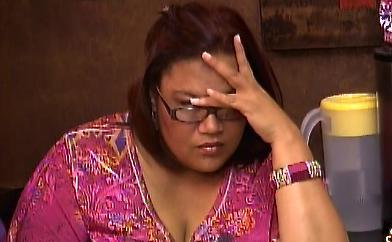 Lawd give me the strength to not pop off on that child and to not break a hip in the 2016 Olympic gymnastic trials.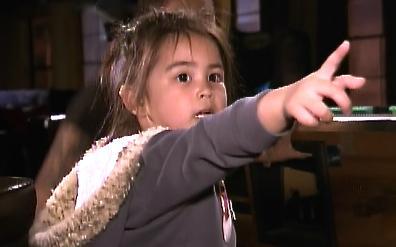 I see dead people…and the CEO of Pixar telling me to dress like Buzz Lightyear. And a Hooters Girl.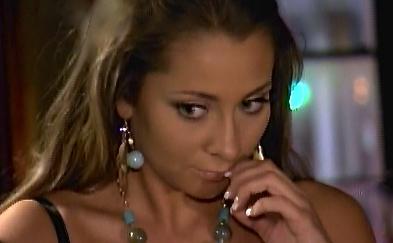 She better not be pointing at me or I'll kick that tiny a** to Infinity and Beyond.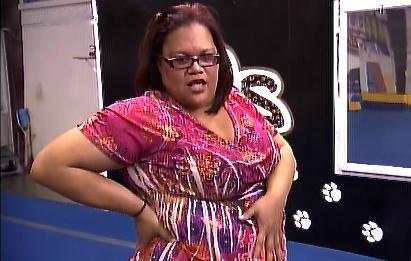 Twerkin' by the mats. Go NeNe.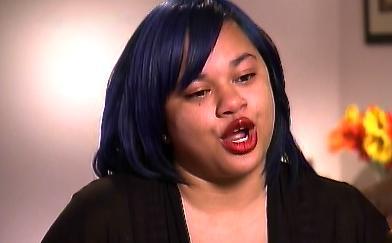 Every time a cowbell rings, an angel gets their wings. And a crown, or I'm gonna lay hands on some judge in the lobby.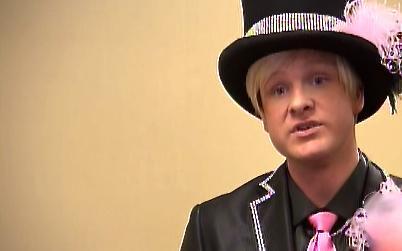 The continental breakfast was a nice touch, but the free circus hats? Hell, yeah I'm coming back next weekend.
Lawd have mercy.
Put your hands…and your photon laser beam guns…up in the ayah and testify with Toddlers & Tiaras.  Never underestimate the power of prayer and pixie stix.
Can I get an A-Hill?
That's right.  Annette Hill and the Universal Royalty Beauty Pageant took it to church this week.  Big Time.
Granted, that church was on Pluto, and the choir robes looked a little more like cupcake dresses and Science Fair solar system dioramas…but it was still a religious experience.
It was the Queen of the Galaxy competition and Pageant Director Annette wasted no time in explaining how this rocket was going to be launched into outer space.
Oh, Annette.  Where do I start?  As you know, it's been well documented over the last few years how much I love me some Annette.
I think it was way back during that Tribute to Motown Pageant that I first realized my girl was off the hook.  That was the episode where someone accidentally popped in a James Brown cd too early and Annette almost had to be airlifted out of the studio in a medical chopper.
Girlfriend does love her Motown.  Werk.
She was cray cray back when she was still rocking that librarian bun and those fancy Joan Rivers readers.  But now that Annette got her hair did and got rid of the chain on her glasses, she's unstoppable.  When we finally wreck the clubs together, I hope she's been saving some of that Good Morning America money, because bail ain't cheap.
The theme was Space.  The Final Frontier and all.  But with glitter instead of stars.
For some reason, Annette hoped that there would be a dancing astronaut, which was such a random statement that it was pretty much perfect.  Plus it gave her a chance to pop her head like like she was about to start a fight in Walmart while a cartoon flying saucer flew across the screen.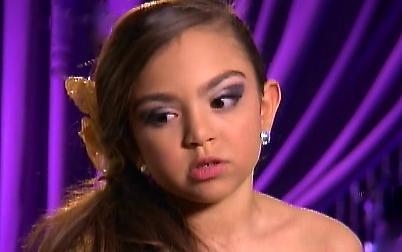 TLC…I bow to your awesomeness.
Annette also showed us her Space Face for some reason, which was a delightful combination of a pageant girl pouty face and a Kardashian Instagram selfie.
Our first little contestant was 4 year old Katlyn and Mom Kymberli.  Flashback.
This was not their first trip to Toddlers & Tiaras, and as soon as I recognized Mom I was 'bout to drop down and thank the Lord…but she beat me to it.
Lawd, Mom and Grandma Kelli were pretty much Everything.  Period.
Let's just say that I hope there's room in Annette's SUV, because you know I just found us two more BFF girlfriends for Klub Nite.  They are totally the ones who would make Annette stop the car in the middle of a four lane freeway to pray to Jesus for enough toll money so we could use the express lane.
Everything was Lawd this and Lawd that.
Lawd, help me get this Jane Jetson wig on straight.  Lawd, give me strength to open this damn pickle jar.  Lawd, strawberries are Buy One Get One at Sam's Club.
You name it.  Just make up a sentence, stick Lawd at the beginning or the end and there you go.
The last time we saw them both getting their gospel on, Kymberli had some crazy a** blonde weave that I'm pretty sure was glued on sideways, but this time around she traded up to a more colorful number that's a little more on trend for the season.
Imagine Katy Perry and Beyoncé having a Smurf baby Love Child at the VH1 studios and you pretty much know what I'm talking about.
Lawd, that's some blue hair.
Grandma Kelli, who likes to be called NeNe…as opposed to last week's Toddler Mom Naye Naye…had that loud Food Court laugh that I love so much.  From a mile away, I tell you.  Even over the Vitamix blender at Smoothie King.  When she's not trying to text the Lord, NeNe pretty much acts exactly how you would expect a Grandma named NeNe to act.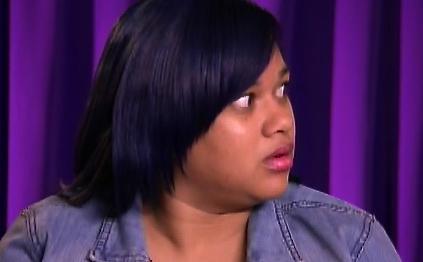 (Memo to self:  Get a sassy nickname asap.)
There was also another woman sitting on the couch who never talked.  And a dude that I swear was half of Milli Vanilli back in the day.  It was a full house.
Next up was 3 year old Ava and her cute Mom Ashley.  I know she was cute because she said it about a bazillion trillion times.
Ava was a paranormal ghostbuster and liked to shoot zombies, which was fine by Mom, who had already picked out a crop top, Nike high tops and booty shorts for the upcoming Apocalypse.
She said that.
Dad Mark was also living in the house, even though he had already signed the divorce papers and was dating other women.  Awkward much?  His upper lip looked a little sweaty when he tried to explain that one to America.
Sorry Mom, but Ava was also redoinkulously cute in that smiley Asian baby way.
So cute.  And her pageant coach was cute, too.  There was a lot of cute in the hizzle.
Cambrie Littlefield was back!
Unfortunately (…for her, right?…) I'm already committed to Pageant Coach Katie Boyer in my fantasy pageant coach pool, but Cambrie is a close second if Katie breaks one of her pretty feet and goes on the disabled list.
Every time I see Cambrie she looks like she should be in a country music video.  Not the twangy kind, but the Carrie Underwood kind.  With a wind machine, because if that is really all her own hair she must get hate mail from every Mean Girl in Jersey.
Cambrie's stunningly pretty and nice and I mean, c'mon…anyone who can wear thigh high boots while ghost hunting with a 3 year old deserves to at least sing back up for that guy on The Voice.
The third little princess was 7 year old Iyslah (…Pat, I'd like to buy a vowel…) and Mom Ruby.  All the kids this week were patooties, and Iyslah looked like a mini JLo playing Selena on the Disney Channel.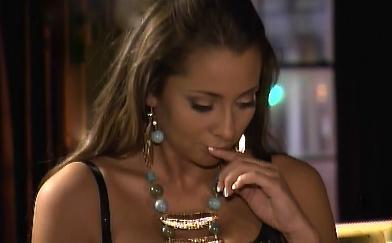 This was their first Glitz Pageant, so you knew where this one was headed already.  But with some practice, you know Iyslah will nail it.
Her Grandfather was some kind of commissioner or traffic cop or mayor and brought everyone down to city hall for National Iyslah Day.  Watching her speak like a Big Girl to all the town's elected officials made me smile.  Not as big a smile as hers, but pretty big.  If she doesn't stick to pageants, you know that Iyslah is going to be the first female sumthin sumthin in that town, because she owned that podium.
You go, girl.
Meanwhile, Pageant Prep was in full swing for Katlyn & Company.  After a drama filled trip to Weaves 'R Us for an orange Jane Jetson bob, it was off to the gymnastics center to practice her Space Wear routine.
Blah.  Blah.  All that really matters is that Grandma NeNe did a somersault.
Yeah.  That totally happened.
Lawd, have mercy.  It was like a slo-mo version of that "I've Fallen And Can't Get Up" commercial, and it pretty much made my entire year.  Why they felt it necessary to make a grandmother attempt a gymnastic maneuver with that much junk in the trunk, I dunno.
But thank the Lawd they did.
By the time she landed upside down with her legs spread wide up in the air, my cable reception got clearer and now I have free HBO.  I can't hear it over her laughing and all that thanking Jesus for not rupturing her spleen, but it's free.
Love.  Them.
While NeNe was doing her splits, Cambrie and Ava were at a pool hall seeing dead people.  I'm not really sure how they ended up at a former brothel turned pool hall, but there are so many pool stick and blue ball jokes I could make right now that my head hurts.
Ava saw some dead people and Cambrie posed by the pool table like she was on the cover of the cd for that music video she should already be starring in.  Don't make me say it again.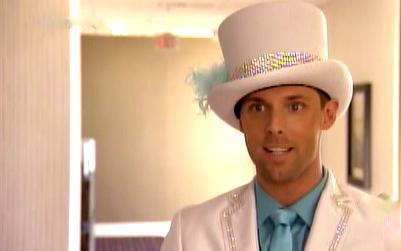 Iyslah's rehearsal was a little less dramatic, though she did do the same chair dance that I saw them do on the Pussycat Dolls Tour.
Finally, it was Showtime!  Well, after NeNe had to stop the car so Mom could run back in and get the makeup bag she had forgotten, that is.  Lawd, get me some ginkgo biloba before I forget my own name.
So.  Before we go any further.
Annette…you been holding out on me, girl.  Nobody told me that if (…I mean WHEN…) I finally get to judge on Toddlers & Tiaras that I get a free circus hat.  Excuse me?
A free top hat decorated with ostrich feathers and shiny stuff?  Yes, please.
Lawd, those two boy judges.  Just. Lawd.
Anyway.  Annette was all wound up and couldn't wait to give away a trip to Space Camp.
Umm, yeah.  Hello.  Space Camp.  Forget that gigantic 5 story pink Barbie condo that Tonya Bailey gave away last week.  We're talking NASA.  Get this prize and you can freakin' fly over Tonya's pink house.  Just make sure you wave hello.  She's a hoot.
Space Camp.  Not gonna lie.  The visual of some tiny little sparkly kid in a cupcake dress bouncing upside down in zero gravity as a stray wiglet floats by like a Star Trek Tribble did make me smirk.
But that prize is sweet.  Totz Jealz.
The Beauty portion of the competition went like they always do, except for the Top Hat Boyz who hated everything.  Not enough bling.  Too poofy.  Not poofy enough.  Too many cowbells.
I just wanted one of those hats.
(Memo to self:  Get a fabulous chapeau to go with your sassy new nickname asap.)
Space Wear is when the party started.
Ava hit the stage as Buzz Lightyear and whipped those airplane wings around so many times I thought she would cross into the hotel's No-Fly Zone.  Katlyn's orange wig stayed on her head during her front roll, which nobody thought would happen, and everyone breathed a sigh of relief.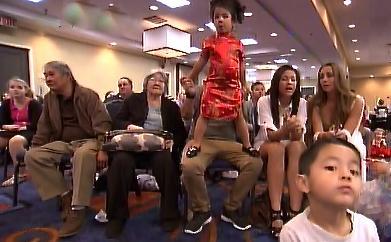 Thank the Lord and about 50 bajillion million bobby pins for that one.
Iyslah's outfit looked like a tiny tyke version of that Lady Gaga dress with all the Saturn rings dingling around it.  It was very cool, but one of the Top Hat Boyz felt it was too dark and, of course, not blingy enough.  Never blingy enough.
Apparently, in Space no one can hear you scream…or over accessorize.
NeNe clanged her cheering section cowbells in the air like she was back in Mayberry calling Opie home for lunch, which really irritated the delicate ear canals of at least one Top Hat Boy.
Then some kids won some stuff.
During crowning, Ava stood way up high on her Dad's legs wearing the cutest little Oriental costume that made her look like she was performing the finale of Miss Saigon.  If NeNe hadn't been laughing and clanging those damn bells so loud I swear you could have heard a helicopter land.
(That joke is pointless if you never saw Miss Saigon.  Don't over analyze it.)
Thank you, Lawd.  Katlyn scored Miss Grand Supreme and then almost choked to death on a straw during her final interview.
Unfortunately, poor Iyslah didn't get squat.  Hopefully Annette snuck her some stuff when it was all over, because she looked so sad.  I'm sure she hugged her for me.
And a special thank you to the Spirit World, for giving Ava the Ultimate Deep Dish Grand Supreme.  That's right.  Top Prize.  Space Camp, bitches.
Mom said Holy F*** (…nice talk, by the way…) and screamed and hugged Cambrie like they were at a Bieber concert.
(Memo to self:  Make a fan out of money like Ava was holding and start paying for everything with Liberace flourish asap.)
And then it was over.
As quickly as it had appeared, the Universal Royalty Shuttle was gone.  Back to wherever it is that they go to refuel, fix their hair and get ready for wherever the next round of Space Sparkle takes them.
But it's all good.  Tonight when you look up at the stars and see that twinkle, just know that all is right with the world and that somewhere out there Annette Hill is slow dancing with an astronaut to a James Brown groove.
Cuz that's how she do, mmmkay?