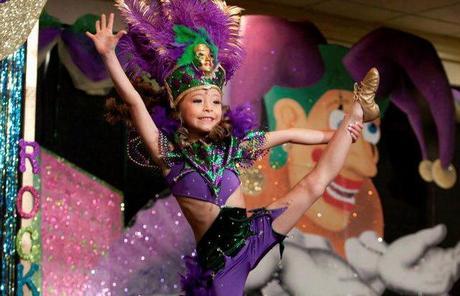 Well, it ain't no Booty Pop Cop, but whatever brings home the big a** crown, bitches.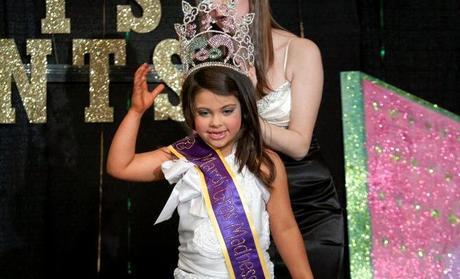 Whoa. Seriously. What the hell? When did it stop being all about me? This sucks like a Ni-Ni.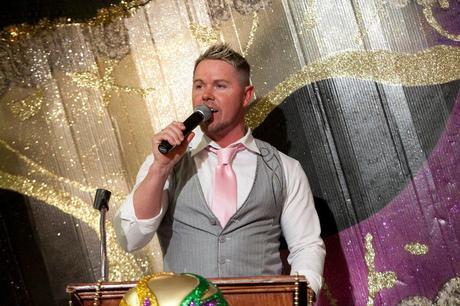 When I close my eyes at night, in my head I pretend I'm Ryan Seacrest and then I cry a little.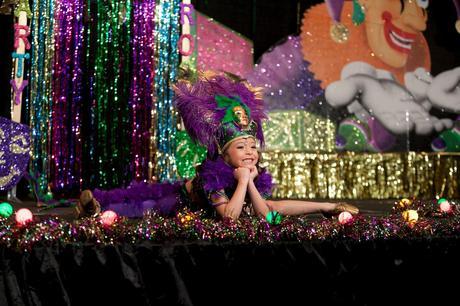 Watch and learn. This is how you put the ragin' in cajun. Any questions?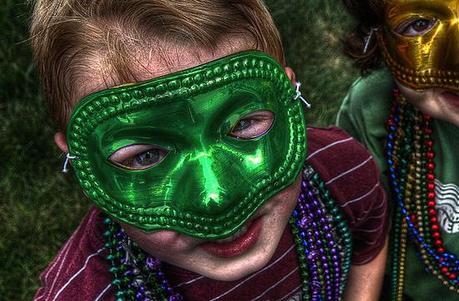 That's what I'm talking about. Toss me some beads and show me your flippers, girls!
Forget Fat Tuesday.
Been there.  Done that.
The party starts on Sparkle Baby Wednesday.
And who better than our favorite glittery guilty pleasure Toddlers & Tiaras to show us how Mardi Gras was supposed to have been done all these years?
This week it was all about the Miss Mardi Gras Madness Pageant in beautiful Shreveport, Louisiana.  And believe me, the South was ready to represent.
In case there was actually anyone alive on planet Earth who had never heard of Mardi Gras or T&T (…which, before we were even presented with any of the deets already sounded like it had the potential to be one of the most lethal, sparkly combinations ever…) Pageant Director Tonya Bailey came to our rescue to make certain that we all understood the guidelines and expectations of the event.
Tonya is a pretty big deal on the Glitz Circuit, what with having her own namesake Barnum & Bailey's Pageants biz, or whatever it is called.  But as impressive as that may be on her resume, she has quickly come to be even better known for some seriously crazy a** eyeballs that demand both unwavering attention and hourly Visine drips.
And then as if that pair of jumbo marbles wasn't enough notoriety, way back in an earlier episode, in a clumsy attempt at defending the pageant art form against all the haterz in the hizzle, Tonya took the adult lollipop out of her mouth and kinda sorta replaced it with her foot.
And I quote.  Almost…
"I think that it's easy for someone to say that beauty pageants are abusive.  You can see a girl in gymnastics all day long, and she doesn't even get to eat. At least these kids get Pixie Stix."
Defense rests.  Case goes to the Jury.
Oy.  Sometimes I swear Girlfriend is putting the drops in her drink instead of her eyes.  I think it might be time for somebody to start reading labels.
The first contestant's intro started out with quite a bang.  Actually, it was a bang that sounded more like a bean fart, but I think it was supposed to be a bang.
Victoria, who was someone related to 5 year old Tori and pretty much dropped into the first scene from a tree branch, totally nailed her own 15 minutes of fame before we even got a glimpse of the first pageant hopeful by running in front of every live camera shot carrying one of those Playdough cans that make butt gas noises when you poke them.
Vicky even attempted to mangle a few LMAO lyrics by declaring that "I'm gassy and I work out."
Nice try, honey.  But it's either "I'm gassy and I know it" or don't even bother.  I don't play when it comes to my dance tunes.  Mmmkay?
Tori was a little pageant cutie, but before she could even open her mouth and demonstrate that cuteness, Mom Ali had to go and open hers.
It was right around that point that I can guarantee you most of America probably did their first head slap, all on cue with the first nugget of Ali's observational wisdom.
Even though Ali's eyes were much smaller and less penetrating than Ms. Bailey's, she didn't seem to have as much control of them as they rolled and squinted and generally tossed their own attitude around the room.  She also liked to stick her tongue out a lot to add another layer of emphasis to all the wisdom she was spewing.
For starters, we learned that everyone who thinks her daughter is not the bomb diggity was ignorant.  So ignorant they deserved her deadly blaahhhh tongue.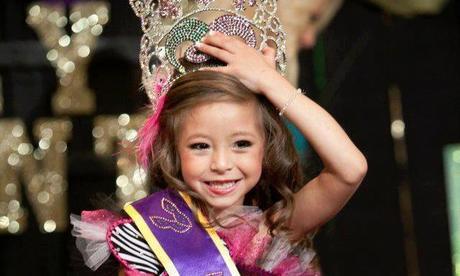 We also learned early on that you don't need to spend half your husband's paycheck on an expensive dress, because pretty kids don't need expensive dresses.
It's the ugly kids who need the fluffy dresses.  True dat.  The ugly ones.
The f**ing uglier the kid, the fuglier the dress, as the saying goes.
If you see a kid in a big, fluffy cupcake dress than you know even her Mama knows she's ugly.  And you can't fix ugly, you can only fluff it.
Gospel.  If I'm lying, I'm dying.  From the mouth…and tongue…of Ali.
As Ali went to check on how many big, fluffy dresses she had purchased from Kohl's in grown-up sizes, we scooted over to 10 year old Jasmine's crib.
Jazz…look at me, I just gave her a nickname whether she wants one or not…is going to be a long and lean Diva Machine when she grows up.  Not just because she kept telling us that she would, but because you could just tell.
Without breaking into the house and looking at her birth certificate, I'm going to assume she is on the late end of 10, only because she is getting pretty tall.  Mom Tiffanie better brace herself for some heartbroken boys in the near future, because Jazz is percolating some fierceness that is gonna need to be served up in a jumbo cup when it's hot enough.
Aunt Denetra, who also played the role of Pageant Coach and Giver of the Sass, had it all going on and put Miss Jazz through her paces during rehearsals.
Mom and Auntie were both a hoot, and you could totally tell that they tear out magazine photos and change their looks every time they go and get their hair did.
The only time I flinched was when Jazz went on and on about how much she loved herself.  She loved herself more than anyone else loved her.  Ever.  And there should be a reward for being awesome.
And someone should bottle it and call it Jazz's Awesome Sauce.
Better watch that, missy.  That kind of 'tude is cute when you're 5 and running around the house in your undies with a towel for a Superman cape (…Look at me!  I'm flying in my underwear and I'm freakin' awesome!…) but on the late end of 10 you're almost asking to get slapped on your 11th birthday by a girl in gym class.  Just be careful.
Contestant number three turned out to be everyone's favorite booty poppin' cop, 6 year old Amiya.
As Mom Laura explained, accompanied by a classic T&T flashback, Amiya is best known for the racy tube top booty pop police officer outfit she squeezed into for a previous competition.  The one where she stood on the hood of a Big Wheel cop car and shook what Laura gave her while handcuffed bank robbers threw ink stained dollar bills and did double duty as back up dancers.
(Part of that may have been fabricated, before you go and waste any valuable time Googling youtube videos.)
Pageants were Laura's way of helping Amiya break out of her shell.
I think we can check that one off the bucket list.
Prepping for the big day is always more fun to watch than the actual event, and almost always more fun for everyone involved as well.  But nothing can ruin that fun more than opening your FedEx box and hating your new glitz dress.  Just ask Tori.
Tori is a pint sized fashionista.  Kind of like Kim Kardashian without the big butt, adult teeth and sex tape.  So she knows what she likes and dislikes, and when Dad Michael came home with her new dress stuffed in a cardboard box, she wanted that thing returned to sender asap.
First meltdown of the evening?  Check.
Jasmine's practice sessions really cut into her ice cream consumption, but Auntie had the final say.  With her Game Face fully adhered, Denetra werked it up into a lather with young Jasmine, though at times it wasn't clear exactly what hip actions Auntie was trying to choreograph because she was wearing the oddest pair of high rise Urkel pants I've ever seen on a sistah.  But I loved her.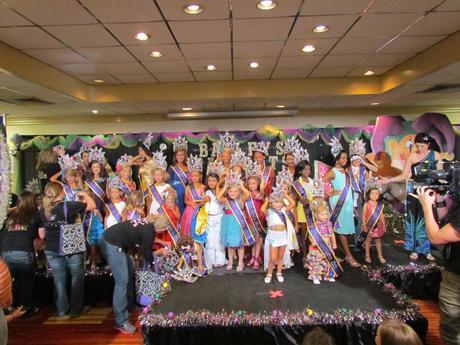 Amiya apparently had a better handle on her stage routine, because she could afford the time to hit the town for some age inappropriate French tips.  The nail tech was not a big fan of the idea, but nothing can change someone's mind faster than a bullying Pageant Mom and a full tip jar.
Acrylics adhered?  Check.
Someone needs to make a crown in the shape of a John Deere trucker cap so we can have a special award for Most Time, Effort  & Money Spent on a stage prop.  And then immediately give that bad boy to Tori's Dad, because Mike must have missed most of hunting season to build that monster truck float contraption she got to ride into town on.
What started out as one of those plywood boxes that you cover your sump pump with ended up morphing into one sweet motorized Mardi Gras float, thanks to most of Tori's first year of tuition and a hidden 4wheeler.
Not gonna lie.  I was kind of jealous.  My tongue was hanging out almost as far as Ali's.
Spray paint the BatSignal on the side and I can think of about ten places right off the top of my head where I would love to make an entrance riding that thing.  It even had a gas pedal that Tori got to step on to make it scoot across the highway in her Michael Jackson costume.
Seriously.  Once it was all decorated with balloons and glitter and tinsel you could totally take that bitch 4wheeling on Fire Island or plow through the wall of RuPaul's Drag U like a tucked wrecking ball.
I raise a glass of Jazz's Awesome Sauce to you, dude.  Well played.
Since it was cool, but not licensed for state highways, Mike had to figure out how to transport that monstrosity and then everyone was off to the pageant.  I'm going to assume Ali's tongue was flapping out the side window the whole way like a german shepherd.
There was, of course, the required drama in the hotel rooms before Miss Mardi Gras Madness was unleashed on the public.
Amiya's Mom never had time to get the cupcake dress actually fitted, so as Laura went all DIY spaz on the thing with staples and pins and a soldering gun, she broke the back chain.
Panic mode activated?  Check.
Dad Reginal (…I know, right?  Someone really has that name.  I thought it was just on sitcoms…) helped Mom channel her inner MacGyver, and through the magic of hair bows, safety pins and chewing gum they managed to keep the dress together.
As far as NOT keeping it together goes…that one was all Ali.
For reasons which she never fully divulged, Mom had hired Dane Dane McAlister to rat up Tori's hair.  Since I don't normally style my own 'do in anything remotely resembling Pageant Hair before I leave for work, I can't really speak to how big a deal Dane Dane is in the world of big hair.  But I guess she must be sumthin sumthin if she gets hired to do this kind of work work.
Or not.
Review the video tape.  I don't know what was going on up there, but it wasn't good.
Half curled.  Half straight.  Half flat ironed.  And the last half never even saw a comb.
Ali pretty much just repeated over and over how much she hated the hair and cried for the rest of the show.  She really should have just left early to beat traffic.
Emcee Todd Bailey was as hyped up about the show as the other Bailey was.  It can't be just a coincidence that they both have the same last name, but I'm too lazy to go find out the connection.  Since I don't feel like creeping Facebook to find out how they're related, in my head I'm just going to make up some story about him being her younger cougar lover.  I'm sure it's nothing as exotic as that.  Maybe someday when I have time on my hands I'll look into it.
Not to steal the spotlight from this weeks trifecta, but for me the highlight of the whole Mardi Gras thing was seeing my girl Makenzie Myers back from the dead!!
Where you been, girl? Hit me up.
Man, I miss her meltdowns.  You want me to what?  I'm sorry.  I'm not doing it.
Then the pageant happened, and some kids did some stuff.  Amiya got a little dingled up in her party streamer archway, and somebody off stage stepped on the power cord right when Jasmine's music was supposed to start.  After a brief freeze frame, she pulled it together and made Auntie proud.
Tori managed to keep control of her rolling army tank and didn't drive off the stage and crush anyone.
Then some kids won some stuff.
Oh, please.  Just like when I ramble on and on about Dance Moms, you ain't here for the judging transcripts.
It was madness, I tell you.
Mardi Gras Madness.