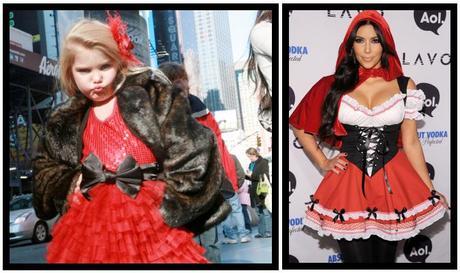 It's Toddlers & Tiaras meets Keeping Up With The Kardashians meets Project Runway meets RuPaul's Drag Race meets any Saturday morning cartoon show of your choosing…all on acid.
It's a Reality TV cocktail.  One stop shopping, as it were.
It's Eden's World, and we're all going to be living in it very soon.
As  the World already knows, Arkansas is dumping one of its most (in)famous exports in New York City this month, when Eden Wood and her Momtourage unleash their own private brand of clothing and crazy on downtown Manhattan.
After a Fashion Week showing…yeah, seriously…that Fashion Week…of her new pint sized glitter-poofed tu tu  Sparkle Baby clothing line, it became pretty clear that Eden and Mom Mickie had their glassy eyes locked in on some serious Kardashian territory.
To complete your weekend Ramada competition look, you can also stylishly accessorize those cupcake dresses with Eden's plush boot line that pretty much looks oddly like shoe shaped stuffed animals that yer Pa could win for you by popping three balloons at the State Fair.
When she isn't pimping out her daughter, Mom has also found time to sniff out Walmart and Target as potential spots for off loading more EdenStash.
All that comes after a bazillion Glitz Pageant crowns, book deals, music videos and a Vegas style look-a-like doll.
And now there's that Reality TV show.
Kardashian, much?
Eden, best known for owning the Pretty Feet Pageant Circuit until walking away at the questionably over the hill age of 6, has been coerced out of retirement just in time to take over the World.  She is also pretty well known for not always looking like she really knows where she is, answering every question with "I don't know" and dramatically choking on hair spray…so I feel some classic moments coming on.
Eden's Mom Mickie, best known for using the word "We" in every sentence involving her daughter…"We just won Most Photogenic"…"We just designed our own dress line"…"We just won another crown"…"We just cured polio"…is determined to make Eden the Universe's next UberSuperSupremeMegaStar at any cost.  Mom is also pretty well known for having a Southern drawl that increases incrementally the more famous she becomes.
("Ya'll love us!  You do!  We did it, baby!"  Think Elly May Clampett with bangs and a Costco card.)
For months I thought…it can't just be me.  Someone else must be thinking the same thing.
With each new promo for Eden's World the lines between Pageantry and E! News are blurring, and finally the truth is becoming clear.
It's exactly what I suspected.  Do the math.  There can't be any other answer.
Eden is the Lost Kardashian.
I swear I almost spit out my pixie stix.
Enjoy.  See ya'll at the premiere.
Sparkle, baby.