The single's debut doubles as a fundraiser for the Red Cross's Ukrainian Relief Effort. Read the band's statement on the song and the fundraiser:
This song is about revolution, change, and fighting for a better future. While it was written months in advance, the song took on a whole new meaning when we recorded the vocals only hours after war broke out in the Ukraine. We feel that it is fitting to use this song to support the victims of the war. That's why all of our profits from the 1st week of sales will be going directly to the International Red Cross's Ukrainian Crisis fund.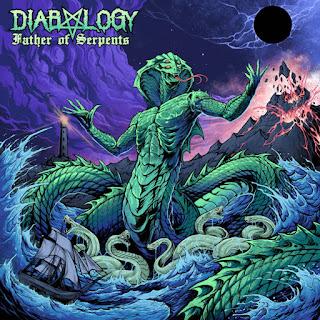 Los Angeles-based thrash metal trio Diabology is excited to announce the upcoming release of their sophomore album, Father of Serpents, recorded and mixed by Dave Kaminsky (Stone Healer, Fires in the Distance), with mastering by Ryan Williams (Kardashev, The Black Dahlia Murder) at Augmented Audio.The epic cover art for Father of Serpents was designed by Anditya Dita (Magic The Gathering, Rings of Saturn, Killitorous). The album will be released on October 7th through Dissonant Hymns Records. It is the follow-up to the group's well-received 2020 debut album, Nobody Believes Me.
Active since 2016, Diabology was formed by guitarist Jesse Bergen, in part due to the inspiration and encouragement of his metalhead parents who are musicians themselves. After a few years spent writing material and adding other members, the group released their debut album, Nobody Believes Me in 2020. A mere two years later, Diabology is ready to kick ass on a whole new scale with Father of Serpents. The album is a thrash metal whirlwind at its core, with inspiration, vitriol, and ambition drawn from death metal, black metal, and sludge/doom that takes it to the next level. Although they may be young, Diabology is not fucking around. Father of Serpents is a spirited effort from a group of up-and-comers eager to prove their mettle to the world.
Diabology - Father of Serpents band statement
"In writing Father of Serpents, we took the opportunity to explore different genres of metal and combine them in a way that would not alienate our following. Lyrically, the band explores a vast depth that encompasses mythology, fantasy, social issues, and having sex with cockroaches. In collaborating with producer Dave Kaminsky, we were pushed to musical boundaries beyond expectations. The result is 44 minutes of gut-wrenching, mind-blistering, in-your-face metal. Enjoy motherfuckers."
Diabology - Father of Serpents Tracklist
1. Father of Serpents
2. Writhe
3. The Softest Grave
4. Eat My Heart Out
5. Spoil
6. Blackblood
7. March to Sea
8. Ode to Ogtha
9. Chimera
10. Lighthouse Hymn
Diabology - Father of Serpents Line-Up
Jesse Bergen - Lead Vocals, Guitars, Bass
Jack Kleinman - Guitars, Bass (tracks 5 and 9)
Matthew Morales - Drums, Backing Vocals
Social Media Links:
Facebook: https://www.facebook.com/diabologyband
Instagram: https://www.instagram.com/diabologyband
YouTube: https://www.youtube.com/diabologyband
Spotify: https://spoti.fi/3QzqIgI
TikTok: https://www.tiktok.com/@diabologyband
Bandcamp: https://diabology.bandcamp.com
Twitter: https://twitter.com/diabology8
Merch: https://www.dissonanthymnsrecords.com
Official Website: www.diabologyband.com