Toast Box came up with Chili Crab Toast Sticks to celebrate our country's 52nd National Day in the month of August. They named it as "Tok Gong", a Hokkien slang meaning superb but is the Chili Crab Toast Sticks really that tok gong?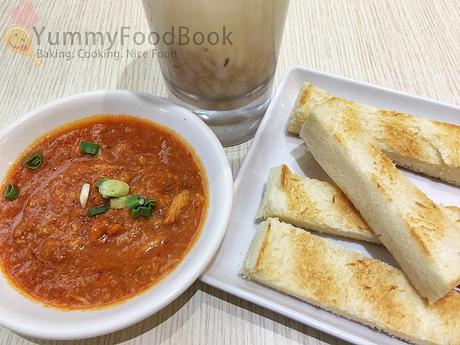 One set of Chili Crab Toast Sticks priced at $5.20 and it comes along with quite a big glass of homemade barley. There's quite a big amount of barley right at the bottom of the glass as well. The set came with a "big saucer", about 1.6 times larger than a EZ-link card. Of course, the chili crab sauce inside does not fill up to the brim of the "big saucer".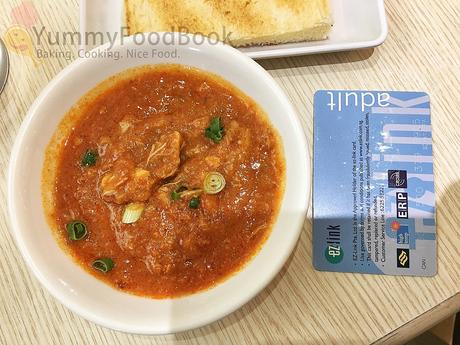 The chili crab sauce came in about the same redness as you would see in chili crab dishes. Garnished with bits of spring onions, small chunks of crab meat can be seen and other than that, it's all loose crab meat shreds and sauce. A quick taste of it reveals some spiciness, not too overwhelming, followed by a little sweetness as we would taste in chili crab dishes. It's like a spice to your tongue, went away on its own and the sweetness will end this entire sauce sensation. Okay, simply put it – it's close to the actual chili crab sauce.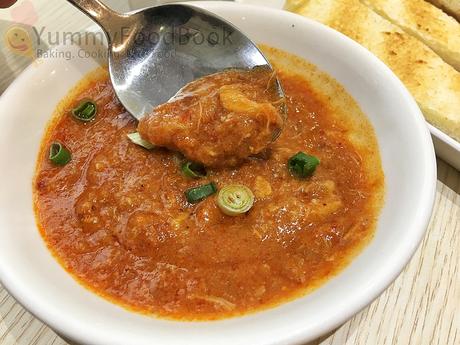 Now there is no mantou here. 4 toast sticks are what's served in this snack (I wouldn't call it a main meal, more like serving the same function as your kaya butter toast). It's really hard to dip your toast sticks as seen in their "Tok Gong" posters outside because you will get absolutely nothing out of the sauce. Here's the trick and this is what I did to maximize my Chili Crab Toast Sticks experience.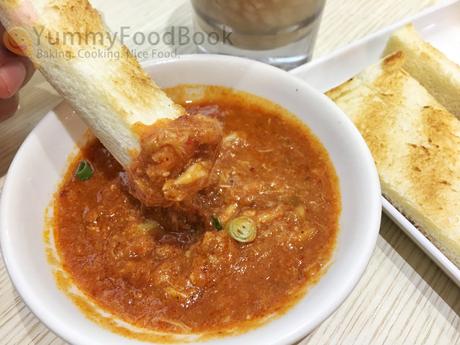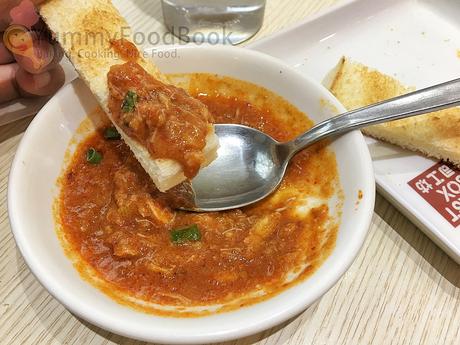 I get a spoon, scoop some chili crab sauce and lay it on top of the toast stick bite-sized portion by bite-sized portion.
Yup, like an English eating a scone for afternoon tea.
If you are giving the Chili Crab Toast Sticks a thumbs down because of being unable to dip, that will be very sayang. Like the mantou, the chili crab sauce and the toast sticks pair very well. As you lay out the chili crab sauce (and some crab meat) on the toast stick, ya, you would have realized the sauce just lay on top on the toast stick but no, the real "chemistry" starts when you take a bite together all in one. Toasts no matter in what state, it's still bread and it's still like sponge, porous with holes waiting to suck up any sauces it meets.
Unless you are the kind who sucks away the sauce in your mouth first then proceed to bite the rest, you should be able to enjoy the fusion of the sauce, crab meat and toast stick in your mouth. That's what I experienced and that's why I switched to the laying method over the dipping method.
The sauce looks little right? That's what I thought so too. Even though I made "mistakes" dipping for half a toast stick worth, by estimate, the amount of sauce given is sufficient for the 4 sticks and I had some decent amount left to just eat the sauce like that with my spoon.
The homemade barley paired with the Chili Crab Toast Sticks very well. Being a heaty spicy food, the drink cooled me down totally after I finished the sticks. I realized it also can calm your burning tongue down if you ever feel spicy. Unless you find it spicy along the way or just a snack to munch for your coffee talks, I wouldn't recommend downing the barley halfway through this snack. It sort of "disrupts the flow" from taste experience perspective.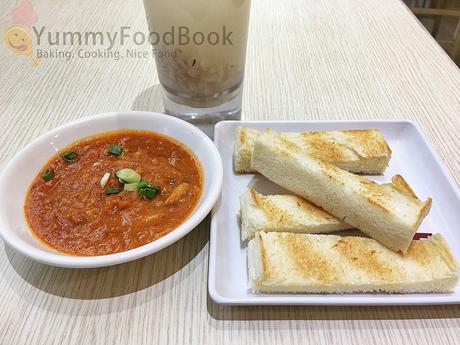 Nonetheless, barley is indeed a good pairing for the Chili Crab Toast Sticks.
Let's be fair on the mindset here (I went with this mindset too) – I recommend we should approach with the expectation to that of a snack and not a main dish, not comparing to the kilos of chili crab you had before at a Zi Char stall or seafood restaurant. If you are holding on to the expectations of a typical chili crab with the mantou and stuff, just by looking at the poster would've probably disappoint you.
I think this Chili Crab Toast Sticks is worth a try although the pricing, in my opinion, is a little bit steep. If you are looking for a break out of the routine of kaya butter toast for your afternoon tea break or coffee session, this Chili Crab Toast Sticks may be for you.