Article first published as To the Valour of the Filipino and American Soldiers of Bataan by The Lost Boy Lloyd on Blogcritics.
In the Philippines, April 9 is a national holiday to commemorate the Araw ng Kagitingan (Day of Valour). Ironically, it marks the day in 1942 when Maj. Gen. Edward P. King, U.S. senior commander in Bataan, surrendered his forces, all 76,000 of them, which included almost 11,800 Americans, to Japanese Maj. Gen. Kameichiro Nagano. What followed that fateful day was gruesome: the Bataan Death March.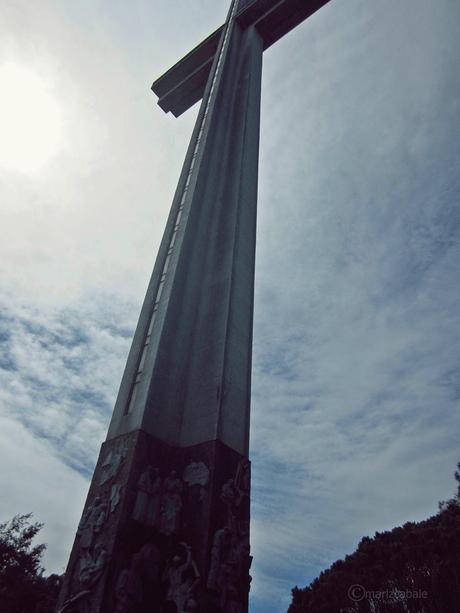 Mt. Samat Cross by flimsymissy
The Bataan Death March, considered a Japanese war crime, was a "march" of 60 miles from the Mariveles, Bataan to San Fernando, Pampanga under inhumane conditions. Reports asserted that the soldiers were given no food or water and those who would fall weak were driven over by trucks or killed altogether. Beatings and bayonet stabs, considered as random harrasments, were common too. The aftermath was appalling—American reports document that only 54,000 soldiers made it.
Surrendering the troops against orders could have put Maj. Gen. King under court martial, yet after his liberation, he was considered a hero and so were the thousands who risked or ultimately lost their lives until the liberation of the Philippines from the Japanese in 1945.
To celebrate the heroism of the Filipino and American troops who fought for Bataan, the Dambana ng Kagitingan (Shrine of Valour) was built in Mount Samat in Bataan. It consists of a colonnade and a 302-foot memorial cross, designed by Filipino artists Lorenzo del Castillo and Napoleon Abueva.
While the cross stands mightily, ruins in the nearby island of Corregidor are still preserved to remind everyone of that fateful day in Bataan and those soldiers who battled to safeguard our freedom.
Mabuhay ang magigiting na mandirigma ng Bataan! (Long live the valiant warriors of Bataan!)