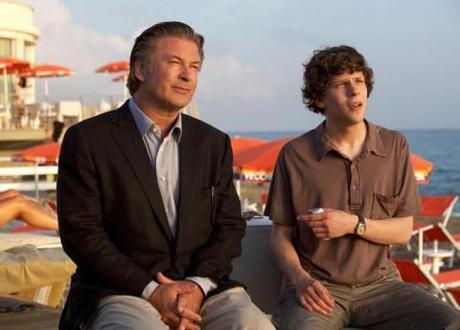 Alec Baldwin and Jess Eisenberg in To Rome With Love.
The story
Like many of Woody Allen's recent films, including Midnight in Paris (2011), Vicky Christina Barcelona (2008) and Match Point (made in 2005 and set in London), To Rome with Love plays homage to a great European city. Alec Baldwin, Penelope Cruise, Roberto Benigni, Judy Davis, Jesse Eisenberg, Ellen Page and Allen himself wander The Eternal City's beautiful streets and feature in four interweaving stories. These tales involve farcical comedy and Allen's trademark wit, while also referencing many of his favorite themes: love, infidelity, anxiety and aging.
No Annie Hall, but probably still worth a look
According to Peter Travers of Rolling Stone, To Rome with Love failed to reach the same heights of last year's  Midnight in Paris, but he did describe Allen's latest as containing 'pleasures galore' and gave it a decent three stars. Ryan Gilbey of the New Statesman likened the likelihood of Allen returning to his old form to that of the achievement of world peace: highly desirable but profoundly improbable.  Still, called To Rome with Love as his 'least-bad movie in a decade or so'. David Denby of The New Yorker agreed that it marked the best of his recent efforts, and reported that it contains 'some of the sharpest dialog and acting that he's put on the screen in years'.
Eminently avoidable – especially if you're Italian
Chris Tookey of the Daily Mail described To Rome with Love as 'a disappointment', even allowing for 'moments of wit and charm'. Robbie Collin of the Telegraph wrote one of the least favourable reviews, he gave the film one solitary star, and damningly described it as 'one of Woody Allen's worst'. He took issue especially with Allen's clichéd portrayal of Rome, which he determined was 'about as authentic as a ham and pineapple pizza'. The film was panned by much of the Italian media, with many reviewers less than impressed with his take on their capital. Denise Pardo of  L'espresso called it an 'embarrassing' film that relies on an old-fashioned and touristy view of Italian culture. Likewise, Martine Cristofoli of Cinema Italiano  criticised the characters, which she described as 'ridiculous' and 'cloying'.
Allen accepts criticism
Speaking to Oliver Burkeman of the Guardian, Allen responded to the film's lukewarm reception in Italy: "When I do a film in a foreign country, the toughest audience for me is that country…In Italy, they said: 'This guy doesn't understand Italy.' And I can't argue with those criticisms. I'm an American, and that's how I see Barcelona or Rome or England…I'm sure they're right."