Week 7: 52 Places to Go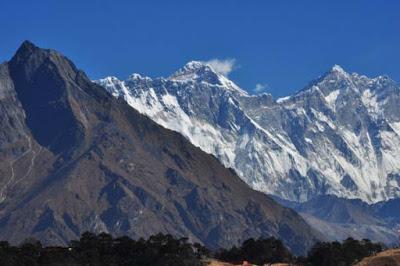 Mount Everest (in the middle) beyond the Hotel Everest View (in the trees)
My friend and fellow children's book author Caroline Hatton, one of the most adventurist travelers I know, went trekking in the Everest region of the Nepal Himalaya in November 2018. Here is her report of the trip. She took all but one of the photos in this post. For info about her books, visit
www.carolinehattonauthor.com
.
I didn't know that rooms are not heated, even in freezing November temperatures. When I had read about "tea house" lodging, I had pictured rooms above hot kitchens and warm dining rooms. But even the kitchen staff often wore insulated jackets and fleece hats. And dining room stoves were lit for only a couple of hours at dinner time, with people huddled around like Emperor penguins in an Antarctic blizzard. My sleeping bag, rated for 0 oF (~ -17 oC), saved my life.
Why go in November? Because it's the second most popular month, after October, for Himalaya treks. As the days pass, it's less likely to rain, but the clear weather grows colder. It was a good trade-off to avoid peak crowds.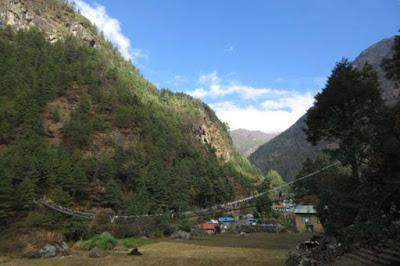 The trail crosses the river between Phakding and Namche Bazaar
My sightseeing itinerary along the only trail toward Mount Everest, through the homeland of the Sherpas, was standard. I flew from Kathmandu to Lukla, hiked to Phakding and Namche Bazaar, back to Lukla, and flew back to Kathmandu. Namche is ~13 miles (~21 km) from Lukla, or less than a third of the way to Everest Base Camp. Yet I saw Everest from one point near the trail between Phakding and Namche, and the following morning from above Namche.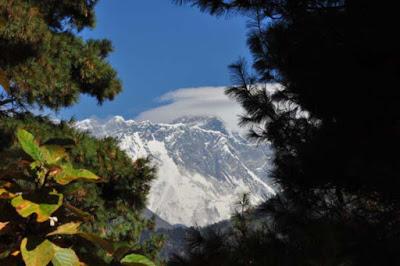 First glimpse of Everest (with top in cloud) between Phakding and Namche Bazaar
I slept no higher than 11,300 ft (~ 3444 m) in Namche, a familiar altitude after decades of California Sierra Nevada backpacking. No altitude sickness, no rock climbing, but also no wilderness or isolation on the ancient trade route between villages. This classic "Everest Panorama Trek"
takes at least five days round-trip from Kathmandu.
Hikers need at least 11 days round-trip to reach Everest Base Camp
(17,552 ft ~ 5,350 m), or longer for the Three-Passes Trek
past turquoise-colored Gokyo Lake.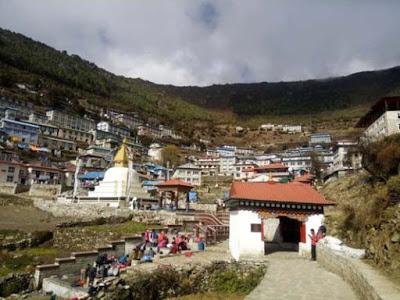 Arriving in Namche Bazaar. Photo courtesy of guide Sangam Shresta
In contrast to the nightly cold, my first "hot shower" was heaven, but the instant I turned the water off, I was plunged back in ambient room air, barely above freezing. Even though I dried myself and got dressed as fast as possible, my feet turned purple before I could get socks on. No more showers for me! Why bother anyway, since I had only one shirt and one pair of pants for six days? Thank goodness for wet wipes, perfect for keeping important parts sufficiently clean.
On several occasions when I was outside, teeth-chattering temperatures became forever associated with favorite sights: peak tips ablaze at sunrise, clouds on fire at sunset, or racing fog tearing open to reveal a snowy height in blinding sun. Then it seemed worth freezing to the bone in exchange for the hope of getting a good photo. My camera's Vibration Reduction Technology neutralized my shivering.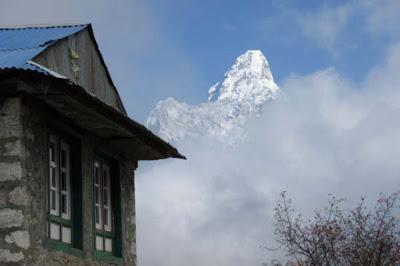 Mount Ama Dablam (22,349 ft ~ 6812 m) from the Sherpa village of Khumjung (12,402 ft ~3780 m)
The notion of hiking toward Everest, which had existed solely in my imagination as a reader, became reality. A thrill that had involved mostly brain cells became physical, from head to toes, skin to muscles to heart and lungs and guts, with the universe pressing against me with sun glare, gravity, and cold, shaping my experience, reshaping me.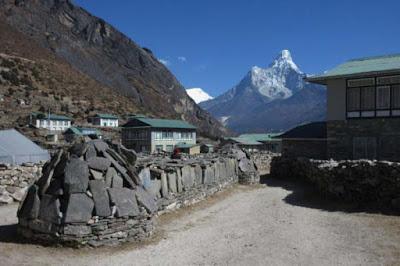 Buddhist mani stones (inscribed with mantras) in a Khumjung street
On my favorite day, I hiked a loop from Namche to the village of Khumjung. I saw Everest for the second time, when I stood by the statue of Tenzing Norgay, who summited it with Edmund Hillary in 1953. The trail soon led straight up a steep slope. Loaded yaks marched straight down without hesitating or slipping. At the Hotel Everest View, I sipped the obligatory tea on the terrace, taking in the clear sight of the top of the world. Onward through fir forest, with the snow capped panorama scrolling around me, I thought nothing could ever make me feel as exalted. Then I saw Khumjung, with its big gray stone houses and green roofs and stone-walled fields in between, spread in the warm sun.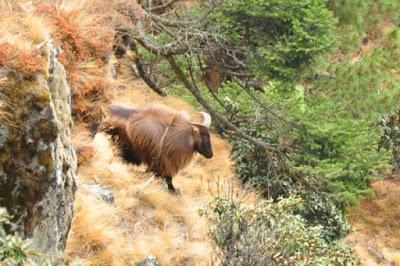 Wild Himalayan tahr (Hemitragus jemlahicus) or "lion goat"
On the way back to Namche, wild Himalayan tahrs (Hemitragus jemlahicus), nicknamed "lion goats" because of their mane, were resting on grassy slopes. That day, on that side trip, I didn't see too many other visitors.
In contrast, on the main trail toward and from Everest, traffic was lively with international athletes competing in the six-day Everest Trail Race
from Everest Base Camp down to Lukla (not to be confused with runners in the Everest Marathon
in May, also down from Everest Base Camp, but only to Namche Bazaar), climbers, photographers, plain old trekkers, yak or mule caravans lugging their stuff, or bringing food and fuel up the mountains, and assorted humans needing to find or lose themselves in the epic landscape.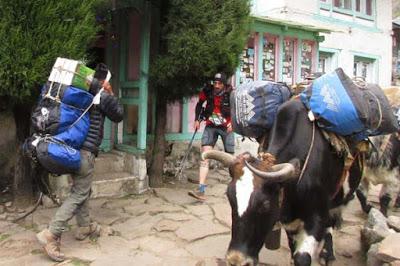 Yak, race competitor, and porter on trail through Jorsale
Trail noises were a mix of trekking pole taps on stone, gravel, or dirt, international chatter among walkers, the pastoral melody of yak and mule bells, the whistles and shouts of their handlers, bouncy popular Nepali songs squirting out of cell phones strapped to young porters speeding along with heavy loads, and helicopters pounding up and down the valley with sightseers, supplies, and perhaps the occasional evacuee. As a writer, I also noted smells: eggs cooking, stove smoke, incense, kerosene, and tourists and porters who skipped showers.
Back in Lukla, my bedroom was on the ground level, two floors below the kitchen and dining-room. The chilly temperatures must have dropped by an order of magnitude per floor. After dinner, facing this descent, one trip mate with gaze fixed and jaws set, the embodiment of unshakeable determination, said, "Down to the permafrost!" Another grumbled, "What do you call hell when it's freezing?"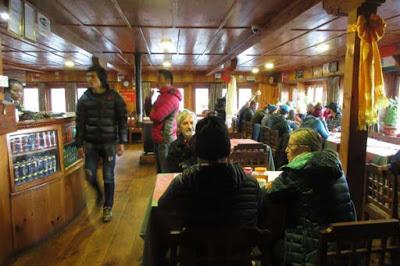 Lukla: lodge dining room with black stove
Still, compared to my Poon Hill trek below the Annapurna, the other most visited Nepal Himalaya region, I liked this Everest region trek better because I found it easier and prettier. Trails had far fewer stone steps, let alone extra-high ones, the higher altitude meant cooler days, more evergreen than deciduous trees, and yaks instead of buffaloes, though I love both animals, and the highest mountains looked closer, which was more exhilarating.
Back home in Los Angeles, the following winter I thought of the Sherpas conserving resources, and set my thermostat down to 60 oF (~15 oC) or turned the heater off. It's as if the stirring splendor of the Himalayas lit a fire inside me, which I can turn to for warmth and inspiration.
For more info
My excellent trip organizer, Adventure Treks Nepal
, provided an excellent guide, Sangam Shresta, and two fine porters for our group of four.
Detailed trail descriptions can be found in the Lonely Planet printed guide book, and the essential parameters and profile are available online:
https://www.hikingproject.com/trail/7022086/lukla-to-phakding
https://www.hikingproject.com/trail/7022087/phakding-to-namche
https://www.hikingproject.com/trail/7022088/namche-to-khumjung
Visit Nepal 2020, a video by the Nepal Tourism Board.
https://www.youtube.com/watch?v=j61j9X4xCnA
Visiting Nepal: the essential.
https://www.lonelyplanet.com/nepal/essential-information
More posts at
The Intrepid Tourist
about Caroline Hatton's trip to Nepal: THE OLD GURUNG MUSEUM IN GHANDRUK, NEPAL, Feb 11, 2019 A MOUNTAIN TEAHOUSE STAY IN NEPAL, Jan 14, 2019
All text and photos copyright Caroline Arnold 
 www.theintrepidtourist.blogspot.com