Laurel Ann Nattress (
a life-long acolyte of Jane Austen, the editor of the short story anthology 
Jane Austen Made Me Do It
, and Austenprose.com,) 
 and Syrie James (
bestselling author of eight critically acclaimed novels)
 are going to travel back in time on a very special quest in search of Jane Austen.  They will  in fact travel to England and visit 
the homes and estates of Jane Austen
 as well as famous film locations used for Austen adaptations. Do you wish to join them?  Read about their exciting  plans...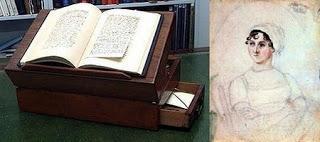 Thanks a lot to both of you, Laurel Ann and Syrie, for being my guests again here at My Jane Austen Book Club. Useless to say I envy you!  How excited are you to go on your September trip to England?
Laurel Ann  : I am thrilled beyond belief!
A Jane Austen Tour: Seascapes and Landscapes
is indeed a dream come true for me, and sharing the experince with my good friend and author Syrie James makes it even more special. When Maria Stefanopoulos invited us to craft the itinerary to our liking, it was akin to the moment in Pride and Prejudice when Elizabeth Bennet writes to her Aunt Gardiner,"give a loose to your fancy, indulge your imagination in every possible flight which the subject will afford." Amazingly, this Anglophile has never been to England before, so this excursion through
Ingenious Travel
is the perfect opportunity.
Syrie: It has been five years since I last visited England, when I researched my novel
The Lost Memoirs of Jane Austen
--and I had such a fabulous time, I can't wait to return!
We hope we have designed the ultimate Janeite fantasy trip! We
specially requested all the locations on this tour, because they were such important places in Jane Austen's own life. We will literally be walking in Jane's footsteps—and for a Janeite,it is an awe-inspiring and unforgettable experience!
Do you consider it more as an Austen pilgrimage to discover more about  the author,  a  visit to her places on the footprints of our beloved Jane,  the 18th century woman,  or as an exciting new adventure to discover new people and new places?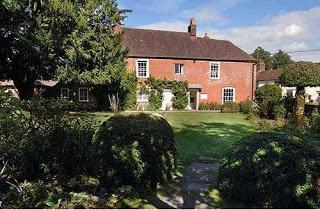 Laurel Ann: The tour is indeed a fantastic Jane Austen pilgrimage—visiting her home at Chawton, her favorite haunts like Lyme Regis, and the estates of her family at Godmersham—but to share the experience with fellow Jane Austen fans is the highlight for me. 
Syrie : This trip is indeed a pilgrimage on so many levels. I have written two Jane Austen novels so far, including
The Missing Manuscript of Jane Austen
, and am about to write a third—and with each book, I feel closer and closer to Jane. This tour will also be a wonderful research opportunity for me, since the new novel I'm writingtakes place in several of the locations that we'll be visiting.
What do you especially expect from this experience?
Laurel Ann: After seeing England only through movie adaptations and books, this enthusiastic Anglophile/Austenite is hoping that being there will surpass every expectation. With our tailor made itinerary and expert tour guide, how could it not?
Syrie: My last Austen tour was entirely self-guided. This time I look forward to having a tour guide at the helm, as well as the special events that are planned for us. I also look forward to seeing these locations again through new eyes—both mine (because I have learned so much more about Jane Austen since my last visit) and the eyes of others. It will be great fun to see the reactions of fellow travelers like my dear friend Laurel Ann, who will be experiencing all this for the first time, and to share their excitement!
What is the place you wish to visit the most? Why?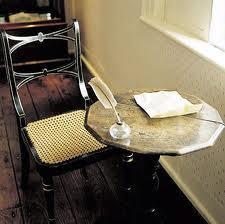 Laurel Ann: Our day at the Jane Austen House Museum and Chawton Cottage will be especially meaningful for me. Being in her final home and seeing where she either revised or wrote all of her novels will be so memorable, but, as an avid gardener, sitting on the bench in her garden, come rain or shine, will be so thrilling.
Syrie : I, too, love Chawton Cottage—my afternoon there five years ago is one of my favorite and most special memories. I especially look forward to visiting Chawton House Library and Goodnestone Park, which I've never seen, and returning to Godmersham Park, since much of my new book is set there. Walking through those rooms and strolling the grounds will be so helpful in setting those locations firmly in my mind. I'm also excited about seeing the Naval Academy and HMS Victory at Portsmouth, where I've never been, and to experiencing the costume parade at the Austen festival at Bath! Bring your Regency outfit if you have one!
What are your worries, if any?
Laurel Ann: If it is possible to worry about having too much fun and being exhausted, then yes, I have a case of Mrs. Bennet's nerves.
Syrie:
That I'll be so happy and excited to be there, I won't be able to sleep for days! Literally, that is what often happens to me when I travel overseas!
Are  there any famous film locations used for Austen adaptations in your trip plan?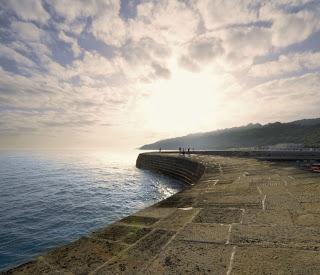 Yes, quite a few. We will visit the seaside villiage of
Lyme Regis
and walk the famous cobb where Louisa Musgrove fell on the stairs in Persuasion, travel to the Georgian city of
Bath
where Anne Elliot and Captain Wenworthtenderly reaffirmed their love for each other (Persuasion) and Catherine Morland danced in the assembly rooms with Henry Tilney (Northanger Abbey), and experience the Royal Navy port of
Portsmouth
where Fanny Price and her family resided in Mansfield Park. Each of these sites from the novels were filmed on location in many of the adaptations as actual places mentioned in Jane Austen's novels, but we will also be visiting the village of
Lacock
where the fictional location of her Meryton village was filmed in the 1995 adaptation of Pride and Prejudice.  
What special Austenesque luck- bringer will you take with you?
Laurel Ann : I don't have a Jane Austen "lucky charm" yet, but I might find one on this trip.
Syrie:
I'm bringing Laurel Ann Nattress with me—what could be luckier than that?
What special Austen souvenirs do you wish to take back home with  you?
Laurel Ann: Of course I will take lots of pictures and wonderful memories – but a book or two from the Jane Austen House Museum and the Jane Austen Centre bookshops will be very special to this bibliophile. I also hope to find some other special momento that strikes me during the trip – something I will not know that I must have until I see it!
Syrie:
Ditto!
Will there be any special Austen events you will take part in?
Our special Jane Austen tour ends in Bath with the opening of the annual
Jane Austen Festival
– the ultimate Austen celebration for any admirer of our favorite author. Watching the Grand Promenade down Milsom street and participating in all of the weekend activities will be so wonderful – a grand finale to what should be the most wonderful travel experience imaginable.
Are you meeting Austen Authors living in England?
Laurel Ann: Syrie and I hope to connect with many of the English authors who contributed to my short story anthology
Jane Austen Made Me Do It
: Amanda Grange, Monica Fairview, Jane Odiwe, Maya Slater and Elizabeth Aston. We are working out the details now so that each author can  join us on tour at a different location. It will be a special treat to meet them in person and share their insights.
Who are the people traveling with you? Is still possible to join your group and take part in the trip?
We hope that the tour will be a group of "clever, well-informed people, who have a great deal of conversation." It is open to everyone.
Ingenious Travel
has secured an expert Jane Austen tour guide who has conducted many of the annual Jane Austen Society of North America tours in the past. As two authors who have studied Austen and her novels for many years, we will also be happy to answer questions as we can. Booking for
A Jane Austen Tour: Seascapes and Landscapes
is still currently open, but make haste! The response has been amazing and we would not want you to miss out on the Jane Austen trip of a lifetime!
Author Bios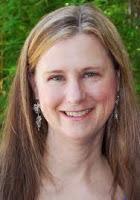 Syrie James
is the bestselling author of eight critically acclaimed novels, including The Missing Manuscript of Jane Austen, The Lost Memoirs of Jane Austen, The Secret Diaries of Charlotte Brontë, Dracula My Love, Nocturne, Forbidden, and The Harrison Duet: Songbird and Propositions. Her books have been translated into eighteen foreign languages. In addition to her work as a novelist, Syrie is a screenwriter, a member of the Writers Guild of America, and a life member of the Jane Austen Society of North America. Syrie lives with her family in Los Angeles, California. Connect with her on her 
website
,
facebook
, and
Twitter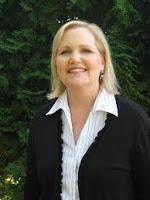 Laurel Ann Nattress
is a life-long acolyte of Jane Austen, the editor of the short story anthology Jane Austen Made Me Do It, and Austenprose.com, a blog devoted to the oeuvre of her favorite author. She is a life member of the Jane Austen Society of North America, a regular contributor to the Jane Austen Centre online magazine. An expatriate of southern California, Laurel Ann lives in a country cottage near Snohomish, Washington where it rains a lot. Visit Laurel Ann at her blog
Austenprose – A Jane Austen Blog
, on Twitter as
@Austenprose
, and on Facebook as
Laurel Ann Nattress
Visit the offical online home of A Jane Austen Tour: Seascapes and Landscapes