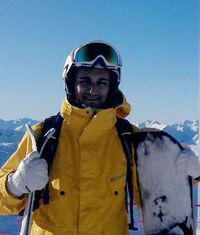 Steve Pangli of Powder N Shine compares and contrasts the merits of buying your own ski equipment.
As the spring/summer sun threatens to break through the long-standing cloud and rain, sales are bound to hit specialist ski and winter sports shops, prompting many to consider buying last season's lower-priced kit and equipment. Here I give my opinion on what to buy for next year's ski trip. Firstly, I will highlight the pieces of equipment/skiwear that I believe are essential to own yourself – and the order in which I would recommend building up your kit collection: (More info on pricing etc can be found on a previous blog entry at http://www.powdernshine.com/essential-equipment-for-a-first-time-skier/786/)
Ski pants/jacket (buy):
This is mostly from a fashion/recognisability point of view, and many perennial skiers/snowboarders like to change their basic look as often as possible (maybe by having a couple of outfits at once), but for a beginner on the slopes, it is important to feel comfortable and happy with your "look". It is possible, of course, to borrow these items of apparel, but with shops like TK Maxx widely available and selling well-priced items of clothing, you can kit yourself out reasonably cheaply.

Gloves (buy):
A very personal item of clothing – some people prefer standard gloves, others mittens which are often warmer – I would never want to share or borrow gloves from someone else. These are like a pair of comfortable shoes that to a certain degree mold to your hands. You can team warm, waterproof outer gloves with thin base-layer gloves (the more technical of which now come with a finger pad for use on touch-screen smartphones!) if you are prone to having cold hands.
Thermal(s)/Base layer (buy):
Not an item you would want to share or borrow, these can be found quite reasonably in large sports shops.
Helmet (rent first):
From this point on, my advice would be to rent initially, then to buy when you are sure you have something that fits, suits your style of riding and that you like. Most ski shops have a reasonable range of helmets that you can try out – either for your week's skiing holiday, or just in the shop to ensure you find one that fits well. Initially most manufacturers tended to create more neutral colours such as silver, black and white, but these days you can almost match a helmet to any color combination of your clothing.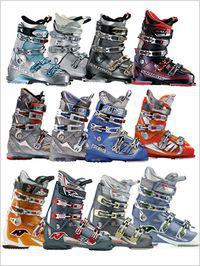 Boots (rent for your first couple of holidays): The most important part of your larger outlay on equipment – more so for skiers than 'boarders as 'board boots tend to be more comfortable and slightly less crucial in overall performance. Hire boots are fine for learning the basics of snow sports, but once you are sure that you will return as often as possible, you should invest in a pair of boots. You can get great deals for boots online, though this can be risky and my strong advice if buying online would be to try the boots on in-store to make sure you get the right-fitting boots before considering an online purchase.
Certain manufacturers cater for particular shapes and sizes of feet – for example Atomic now have a (ski) boot specifically designed for wider feet (the Atomic B range), Dalbello, Head and Fischer also have a good selection for wider feet, whilst Lange, Scarpa and Solomon are known for typically making (ski) boots for narrower feet.
Finally, for those buying ski boots, I would recommend considering buying specialist footbeds. Some boots these days come with a slightly mouldable in-sole in the boot itself, but boot-fitters such as Armando Podo in Les Menuires or Sole Boot Lab in Chamonix can build highly personalised footbeds that ensure your feet are held in the correct position, reducing injuries and ensuring most comfort.
Skis/Board (rent first, buy later):
And so to the holy grail for ski equipment junkies – the decks themselves. I hear countless hyperbole about whether you should buy your own skis/board, with the pro "you only need to use them 3 times for the costs to be covered versus renting" and the con "but technology changes so much that next year they'll be out of date".
Quite honestly, I tend to agree with both, though I do congratulate the manufacturers on how much the general public seem to think technology evolves year on year. When deciding on whether or not to buy the skis or board, you should first examine the purpose of a potential investment – do you ski more than 2 or 3 weeks per year? Have you had bad experiences with the price/quality of equipment from hire shops in the past? Do you have a particular discipline that you would like to focus on that dictates that you will require certain equipment (off-piste/park/touring etc.)?
If any of the above apply (are you sure?!), you should try to find a shop that will let you test out equipment (for a small fee if you do not end up making the purchase) before making a final decision. Then you can let the sales people give you all the information about cambers, rockers, edges and flex (boards); rockers, shovels, twin tips and width underfoot (skis). The most important thing to consider if you are testing out equipment is whether or not you have enjoyed using that particular piece of kit. Many more people than would probably care to admit it buy stuff simply because it is new and/or they like the color. Sure, what it looks like is important, but it should not cloud your judgment on ensuring the basic spec you are looking for (off- vs on-piste, freestyle vs classic style, more rigid vs more flexible).
My final word of advice would be to always try to push for a discount – shops have a bit of a degree of flex that they can show in pricing up equipment – you should always at least ask if they could go any lower - £20 or £30 can buy you a few drinks to wet the head of your flash new equipment!
Thanks for the advice Steve! Check out Powder N Shine's catered chalets in Les Menuires in France's legendary Three Valleys.