TLC Has Fired One Of The Duggar Sperm Donors For His Transphobic Tweets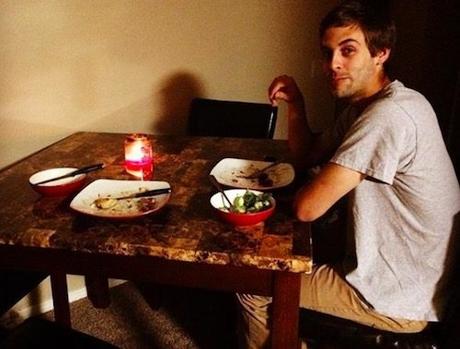 You must have done something pretty bad when the network that was seemingly A-OK with keeping the Duggars' horrifying overpopulation cult around axes you. Either that or they realized that people were confusing their show with Fear The Walking Dead due to this guy's appearance. TLC has announced they are no longer working with Jill Duggar Dillard's husband Derick Dillard. Derick tweeted transphobic bullshit about transgender TLC star Jazz Jennings on multiple occasions so they finally did something right. (His Q-Rating must have already been "nil.")
UsWeekly has their official statement.
"We want to let our viewers know that Derick Dillard has not participated in Counting On for months and the network has no plans to feature him in the future. We want to reiterate that Derick's personal statements do not reflect the views of the network," a statement shared on TLC's Twitter account on Saturday, November 11, read. "TLC is proud to share the story of Jazz Jennings and her family and will continue to do so."
Older brother Josh Duggar pioneered the "Expose Celebrity Pervs" movement when it was revealed that he had molested four of his sisters. This led to TLC canceling the Duggar family show 19 Kids And Counting, but then bringing some of the Duggars back with the show  Counting On. (19 Kids… was one of their top performing shows so money obviously trumps incest for the network.) Jill and Jessa Duggar Seewald are supposedly the focus of Counting On, and Jill's husband Derick was featured prominently. Unfortunately for the Duggars "Jill's husband is a bigot" has joined "incest", "adultery," "creepy religious views," and "womb torture" on their "Redemption Action Items" list.
Derick, who has two sons with Jill, is particularly insidious because he tries to make his tweets sound all sympathetic towards the transgender teen star of I Am Jazz. This is while addressing her by the improper pronoun of "him." Does Edible Arrangements send rotten fruit in the shape of upraised middle fingers?
I pity Jazz, 4 those who take advantage of him in order 2 promote their agenda, including the parents who allow these kinds of decisions 2 be made by a child. It's sad that ppl would use a juvenile this way. Again, nothing against him, just unfortunate what's on tv these days.

— Derick Dillard (@derickmdillard) November 9, 2017
Despite TLC's firing Derick, a fan noted on Twitter that this probably wouldn't affect Dick's I mean Derick's wallet.
"And yet you still are technically financially supporting him, Jill and their kids! Taking him off the show WILL NOT prevent him from making these hateful statements. Pull the money and pull the plug on his bigotry!"
And what did Jazz have to say about this?
In the face of constant ignorance and hatred I prefer to disregard negative opinions and continue moving forward with love

— Jazz Jennings (@JazzJennings__) November 11, 2017
Jazz is one of those "they go low, we go high" types. Good for her. I'm not, which is why I work for this blog. *bows*
Pic: Instagram
Source: TLC Has Fired One Of The Duggar Sperm Donors For His Transphobic Tweets
8 total views, no views today