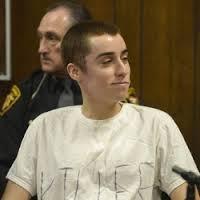 Huffington Post reports
Wearing a T-shirt with "killer" scrawled across it, a teenager cursed and gestured obscenely as he was given three life sentences Tuesday for shooting to death three students in an Ohio high school cafeteria.
T.J. Lane, 18, had pleaded guilty last month to shooting at students in February 2012 at Chardon High School, east of Cleveland. Investigators have said he admitted to the shooting but said he didn't know why he did it.
Before the case went to adult court last year, a juvenile court judge ruled that Lane was mentally competent to stand trial despite evidence he suffers from hallucinations, psychosis and fantasies.
He belongs in a mental hospital not a state prison.  Naturally,
his granddad didn't even receive a reprimand
for leaving his guns available to the disturbed young man.
What's your opinion?  Please leave a comment.