On April 15, 1912, Titanic, the world's largest ship, sank after colliding with an iceberg claiming more than 1,500 lives and subsequently altering the world's confidence in modern technology. 100 years later, the Fort Worth Museum of Science and History will pay tribute to the tragedy which continues to resonate through Titanic: The Artifact Exhibition, where more than 250 legendary artifacts conserved from the Ship's debris field are showcased offering visitors a poignant look at this iconic Ship and its passengers.  Indulge your inner "Rose" and experience the Centennial Anniversary of the maiden voyage of Titanic than through the authentic artifacts that have been recovered from the wreck site that can only be seen in Titanic: The Artifact Exhibition.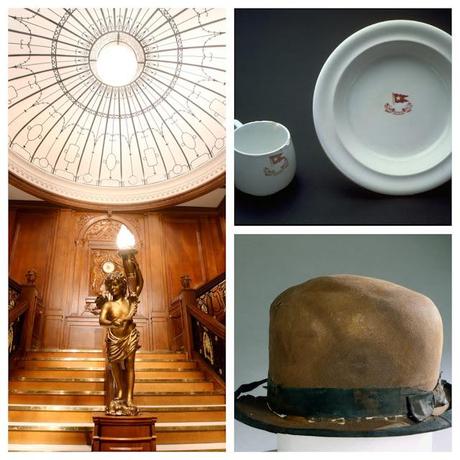 The exhibition has been designed with a focus on the legendary RMS Titanic's compelling human stories as best told through 250 authentic artifacts and extensive room re-creations. Perfume from a maker who was traveling to New York to sell his samples, china etched with the logo of the elite White Star Line, even a 26-gem bracelet that has the name "Amy" in script that may have been left behind by one of the wealthy first-class passengers -- these and many other authentic objects offer haunting, emotional connections to lives abruptly ended or forever altered.
You will be drawn back in time to 1912 upon entrance, as you receive a replica boarding pass of an actual passenger on board Titanic. You will then begin a chronological journey through the life of Titanic, moving through the Ship's construction, to life on board, to the ill-fated sinking and amazing artifact rescue efforts. Be prepared to marvel at the re-created first class cabin and third class cabin/hallway, and press their palms against an iceberg while learning of countless stories of heroism and humanity. In the "Memorial Gallery" guests will take their boarding pass to the memorial wall and discover whether their passenger and traveling companions survived or perished.
WHEN:
October 13, 2012 – March 24, 2013
Monday-Saturday 10:00 a.m.-5:00 p.m.
Sunday 12:00 p.m.-5:00 p.m.
WHERE: Fort Worth Museum of Science and History, 1600 Gendy Street, Fort Worth, TX 76107
TICKETS:
$26 for Adults (ages 13 – 65)
$18 for Children (ages 4-12)
$19 for Seniors (age 66 and over)
$6 for museum members
Tickets are now on sale for this exciting exhibition at the Fort Worth Museum of Science and History and can be purchased at www.fortworthmuseum.org or by calling (817) 255-9540.