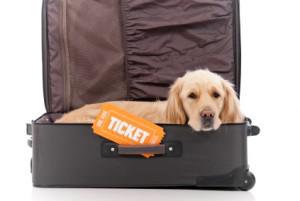 If you're going on a trip but can't bear to leave your beloved pet behind, then why not take them with you? It may be uncommon, but it's not entirely unheard of to travel with a pet.
More and more airlines and hotels are beginning to cater to people traveling with pets. At this point, the question is not "can I take my pet on vacation?" – it's "when should we leave?"
Before you embark on your vacation with your pet though, here are several things you should definitely take care of ahead of time.
First and foremost, you need to determine where you are going and what you will be doing. If you plan to spend most of your vacation holed up in museums and restaurants, then you might as well just leave them at home since you'll just be leaving them in your hotel room or at the kennel anyway. On the other hand, if you're going to be spending your time outdoors with Mother Nature, then your pet will probably be able to accompany you most of the time.
The next thing you need to do is get your pet ready for traveling. Your pet is going to need to stay inside of a kennel, carrying case or car seat while traveling, so start getting your pet used to being confined ahead of time. Put your pet inside of their carrying case for short periods of time at first and gradually increase the amount of time they spend inside the case. You may also want to consider visiting your veterinarian and getting a prescription for a sedative, especially if your pet tends to get aggressive or anxious when cooped up in a kennel for long periods of time. If you do choose to use a sedative, make sure to test it out ahead of time to make sure that it works and that your pet doesn't react badly to it.
If you are going to be traveling via airplane, you need to give yourself plenty of time to book a flight, just in case something goes wrong. For example, not all airlines will accept animals, while others do but make you fulfill a variety of requirements before accepting the animal. Give yourself enough time to shop around for the right airline for you and your pet. Also remember that several airlines do not accept animals flying as checked baggage during some parts of the year due to temperature issues in the cargo hold.
Before you depart, you need to visit your veterinarian and make sure all of your pet's vaccinations are up to date. Also get a copy of their vaccination records so if you are required to prove your pet is disease free, you have proof. Make sure to inform your veterinarian of your vacation plans – the vet may have some important advice regarding the best way to keep your pet healthy while traveling.
Ryan Embly is from the cheap rental car website Car Rental Express. He loves travelling and learning about other countries and cultures.