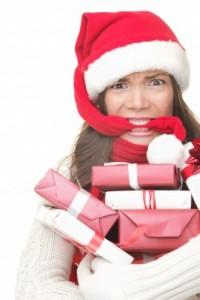 As the holidays approach, the differences between how men and women think and act shine as brightly as Rudolph's nose. From Thanksgiving to New Year's Day, feeling stressed is as traditional as trimming the tree, lighting the Menorah or kissing under the mistletoe.
How many times have you vowed, "Next year will be different!"? So let this year set a new record and  have your marriage be a positive influence in decreasing stress. Use each other for support instead of more conflict.
For women, being the  caregivers that they are, they tend to worry much more about keeping everybody happy.  Of course it's an impossible task, but nevertheless, it's one most women refuse to relinquish. This means that even the simplest details become monumental (as if hanging ornaments exactly six inches apart brings true joy).
If guests are expected (or worse, unexpected guests appear) women as hostesses want their houses to sparkle, tables to groan, and enough holly to deck the halls with wild abandon. Women usually assume the role of lead shopper too, which can cause angst as gift lists grow longer every year. Throw in a few holiday parties and stressful chaos is sure to result.
Then there's the wrapping, cooking, baking, decorating, card sending, and a thousand other things to do. At some point, women feel overwhelmed, usually when the calendar countdown marches to the Nutcracker Suite in double time.  
For men, they can be seen sitting in the big brown recliner, relaxing.  Sometimes they're accused of being holiday slackers. They just don't get all this fuss and rush. These guys can be heard pleading, "Slow down!" as they watch their wives racing around the house like a crazy cartoon caricature. They care little if the holiday napkins are made of paper instead of damask. What's the big deal?
Honestly – most men just want their old wives back without the theatrics.
But, beneath the relaxed pose, masculine stress is building. Who's going to pay for all this? What football games should be watched, and what about a betting pool? What to do if Mom criticizes dinner like she did last year? What if we run out of beer and the stores are closed?
One overwhelming stressor affects most husbands – what to gift their spouse. Practical stuff isn't romantic, shiny baubles are expensive, clothes are always the wrong size, and gift certificates are impersonal. (Take a hint, don't buy her a fruitcake!)
Men, generally being fixers, tend to come up with practical solutions when dealing with stress. They simply "do it," without discussion, worry, or second thoughts.
So, in the midst of all of this chaos and stress, how do you keep your marriage bright and in the holiday spirit?
Simply be kind to each other.
Accept and embrace imperfection; it's what makes life interesting (and what makes for the more memorable holidays)! Touch each other often with conviction.
Accept help when offered, even if it's not the way you'd do it. Hang mistletoe in every doorway and use it! Enjoy a quiet night without the kids. Drive around town and marvel at the lights. Sing holiday songs and  watch holiday movies as a family.
Most of all, know the season is short and life will soon be back to normal. So enjoy it in the moment, as moments lead to memories.
Blessings of the season to you and yours!