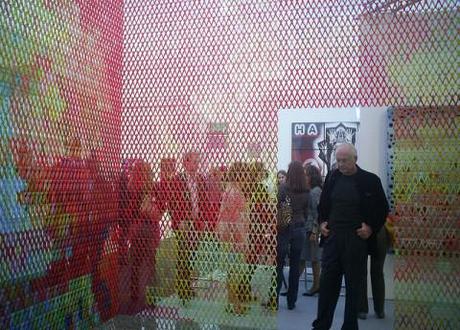 Frieze Art Fair, 2006. Photo credit: CatFunt
Autumn in London sees the art world kick into action, and a plethora of art fairs pop up almost every weekend – it's almost impossible to keep up. These fairs provide an amazing, unparalleled opportunity to discover new art by established and emerging artists and are dynamic platforms from which to get a comprehensive overview of the contemporary art landscape right now. But often the frosty atmosphere of white space galleries recreated in multiple, en masse can seem horribly intimidating, especially if you've ever entertained the notion of buying some art. The key to overcoming this is, in part, is knowing what to expect from each fair on the agenda, and holding dear several valuable principals when you come to making your decision on what, and whether to buy.
Whilst Frieze (13-16 October), as the biggest, flashiest, most mega-watt of the art fairs, might not be the right place for a collector on a more modest budget, it is the place to see the most cutting edge art by the 'hottest' artists, both established and emerging. This year there are 173 of the world's top contemporary art galleries, from 33 countries (from South America to Mumbai, and everything in between), showing work by over 1,000 artists. One of the most exciting areas at the fair, and possibly the most accessible, is The Frame, where 25 galleries under six years old showcase work by a single artist. This broader trend for high calibre art fairs hosting 'special projects sections' or providing a platform for emerging galleries or artists is worth making a note of – it's often here that you'll see the foremost cutting edge art, some of the freshest new ideas, and works which may often be priced more affordably.
Frieze is the place to see the most cutting edge art by the 'hottest' artists, both established and emerging.
It's at the smaller, more accessible satellite fairs to the behemoth art fairs like Frieze – for example the Affordable Art Fairs (20-23 and 27-30 October) and Multiplied at Christie's (which focuses on prints and multiples) – at which real people (as oppose to gazillionaires and movers and shakers prioritized by high end galleries, who buy up art at the grander fairs' exclusive previews) not only have more opportunity to buy art, but to do so enjoyably, in the main thanks to lower prices and more approachable galleries. Last year the starting price for works was £10.
Head to the Affordable Art Fairs and Multiplied to buy affordable art in an enjoyable atmosphere.
An interesting addition to London's autumn art calendar is The Other Art Fair (24-27 November), an opportunity for art enthusiasts to buy art directly from 100 emerging, but as yet unrepresented, artists who have been carefully selected by a respected panel of curators and art experts, including Geoffrey Worsdale from the BATIC centre. 'Relaxed and unitimidating' is the vibe they promise. This opportunity to directly engage with artists and talk to them about their work is hugely exciting – both intimate and involving. Prices here start for as little as 99p.
And if you are thinking of visiting these fairs with an eye for purchase, what might have been a museum-esque cultural experience becomes, because of the participatory element, something altogether more vital and exciting. But it's important not to be intimidated by the process, or feel pressured into buying something you aren't sure about. Some key tips include:
Buy pieces you love
It's a favourite saying, but it doesn't become any less true for being often used. Trust your own tastes and while by all means listen to the opinions of friends and gallerists, make sure the final decision is your own. And never buy purely for financial gain – it's generally frowned upon, and for good reason. If you buy for love, if it goes up in value then that adds to the thrill, but if it doesn't you still are left with a work you treasure – it's win win. Not so if your investment is purely financial.
Get talking
Make chatting to the gallerist or artist a priority. Ask about the artist, how long they have been painting, and where they've had shows to get an idea of their standing in the art world and what their influences and interests are. Find out how pieces were made, or the inspiration or story behind them – it can really bring works to life. If the price isn't displayed, don't be afraid to ask. Not displaying the price can often be a way for the gallerist to engage in conversation with potential buyers. You can also ask about alternatives – pieces that may be smaller and less expensive or draft or unfinished sketches which capture the essence of an artists style, but which cost less. It's also worth mentioning that prices aren't always fixed, so, if you are feeling confident it can be worth asking about discounts, especially if you are buying several pieces, are a loyal customer or are a student, for example.
Take risks
Don't always go for the obvious. A piece that catches the eye may prove one which loses its lustre with a similar speed. Like that minor track on an album which is initially skipped over, but which becomes your favourite, sometimes the art that initially is overlooked proves to hold a quiet charm that takes time to be noticed, and which grows. This might be the piece you looked at last, or the one you first rejected. Also take time to look at 'trickier' pieces. The cut and thrust of cutting edge contemporary art in essence seeks to engage viewers in a challenging dialogue rather than a placatory one. Allow yourself to be part of that dialogue. Make time to look at pieces that provoke rather than stroke the senses, which perhaps challenge, puzzle, intrigue or unsettle. The conversation you end up having with challenging works may just turn out to be that bit more rewarding. Mistakes may happen, but you are likely to learn valuable lessons from them.
There's something for every budget
You can buy some amazing work at very attractive prices if only look out for the right things. If unique works seem a bit pricey, look for artist editions, original prints and multiples. These multiple versions of original art are often priced lower than one-of-a-kind works and can be a really accessible way to invest in big name-artists, take risks on new artists and support cultural institutions (who often commission and sell editions to raise funds).
Seek out work by emerging artists.
Before an artist is established, their prices will be lower (and if they become successful they may skyrocket). Supporting an artist that you believe in at the start of their career is also enormously rewarding. Look for a clear, identifiable, unique style, a cohesive body of work that makes an impact as a whole and if you can, ascertain their commitment to their craft. The Graduates Section at the Affordable Art Fairs can be a great place to start.
Supporting an artist that you believe in at the start of their career is also enormously rewarding.
Sign up to gallery mailing lists.
If you particularly like a gallery's particular selection of displayed works but perhaps don't want to buy something then and there, sign up to their mailing lists – you'll be kept in the loop about upcoming exhibitions and new works and it might be the start of a beautiful relationship where they help you to buy more pieces in the future.
Beatrice Hodgkin's book Affordable Contemporary Art: a guide to buying and collecting (Vivays, £19.95) is out now. You can buy a copy here.