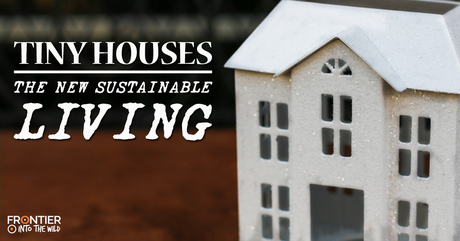 As we grow more environmentally aware so too does the want for an off-grid lifestyle but materials, land costs and legislation can all be dissuasive factors in establishing a green homestead. However, in recent years a trend has boomed across the globe blending sustainable living with ingenuity and mobility.
The Tiny House Movement came about when conventional house size increased despite the fact average modern family size was getting smaller; taking up an unethical amount of land for the few people who use it. Hence the movement is all about going back to simple living and maximising the space you have.
Tiny houses are usually less than 500 sq ft, with some as small as 90 sq ft. You may be thinking you'd have to sacrifice comfort (a misconception in off-grid life too) but this is not the case, as innovative solutions can be applied to almost any space.
Goose-neck trailers, sheds, horse boxes, school buses and even crane cabins can all serve as tiny houses, with home comforts and appliances cleverly incorporated through multi-functioning furniture or utilising vertical space. Repurposing and upcycling old objects into new, useful items are also a key part of a happy tiny house.
Many people also build tiny houses themselves, but if you don't consider yourself a structural engineer or lack the architectural know-how, there are plenty of builders out there selling their own projects as well as companies selling pre-fabricated, modular tiny houses, such as Tiny House Scotland's NestHouse.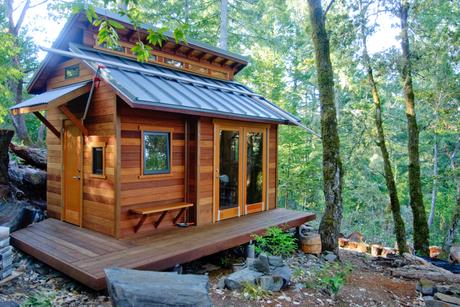 Obviously the main motivations for downsizing to this scale are to not only live sustainably, but to also minimise costs. Tiny house dwellers have no need of a mortgage and if done to be completely self-sufficient with green energy and rain catchment, don't even need to pay for utilities. Tiny houses are very much a one payment package for a fraction of the cost of conventional housing, and significantly reduce your carbon footprint.
On average a conventional home will set you back around £280,000. Compare that to the average price of a tiny house, both build-it-yourself and pre-fab; between £15,000 and £40,000. However, reclaiming and upcycling materials can make it much cheaper; for instance tiny house builder, Gregory Kloehn, builds unique, quality structures from dumped, recycled and reclaimed materials for an estimated $40-$100.
The tiny house on wheels was popularised by Jay Shafer, who since released a DIY book on how to build and live small. Tiny house trailers are usually 120 sq ft and are the most common type of tiny house, as they don't need a building permit and provide a nomadic lifestyle.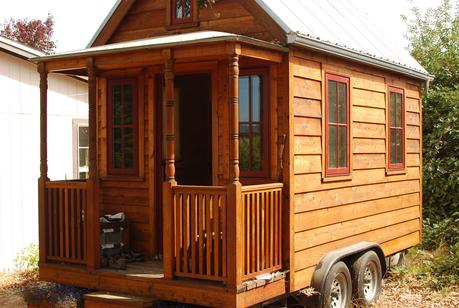 Whether it's for a more ecological lifestyle, to save money, or to even hit the road comfortably, a tiny house is well worth considering. And there are plenty of annual tiny house expos and fairs taking place around the world to inspire your own tiny house.
NOTE: Tiny houses are not well received in some states, counties and countries due to planning laws and regulations, so always be sure to check.
By Thomas Phillips - Online Journalism Intern
Frontier runs conservation, development, teaching and adventure travel projects in over 50 countries worldwide - so join us and explore the world!
Get more from us on social media with Facebook, Twitter , Instagram and Pinterest.