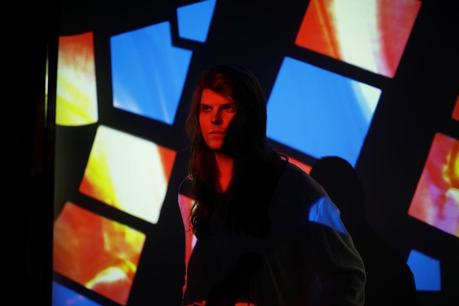 Photo credit: Lauren Carnell
Tigercub have made a welcome return with the announcement of second album 'As Blue As Indigo' (out via Blame Recordings on 18 June – pre-order here). Written over two years, the album was inspired by a video lecture frontman Jamie Stephen Hall watched that discussed how the notion of color can be subjective, depending on an individual's eyes. This led to him introspectively examining and exploring important themes including mental health, mortality and toxic masculinity.
To mark the announcement of the new record, the Brighton three-piece have shared a video for brilliantly titled new single 'Stop Beating On My Heart (Like a Bass Drum)', a song that opens with a groovy, soulful and tender edge before veering into something louder with its boisterous Black Peaks-esque riffs. It then expertly heads back into the quieter sound as Jamie looks back on past experiences ('Oh baby when you start, you make me disappear into the smoke').
Jamie says the song is about the negative effect others and their actions can have on him: 'There are people in life that seem to bring a cloud of toxicity and conflict along with them wherever they go. When they come into my world it's like storm clouds have formed over my head and, there is only a matter of time before the first rain drop falls and the storm erupts… The storm opens up old wounds, I'm left rudderless and disorientated from it and as I start to pick myself back up I know it's only a matter of time before it happens again. In 'Like A Bass Drum' I am begging for it to end, stop beating on my heart like a bass drum.'