Tiger Woods is becoming the "humpty dumpty" of the golf world according to Johnny Miller, while Elin Nordegren is reinventing herself as a possible candidate on Dancing with the Stars!
Johnny Miller's comments came soon after Woods lost his match against Thomas Bjorn in first round action at the WGC Match Play event this past week. In a comparison to Mike Tyson, TV Announcer Miller said that, like Tyson, Woods was "way above all the other players, and had a great fall, and there's pieces all over the place trying to put them together."
Like pieces of Holyfield's ear Johnny? More than a bit of exaggeration in Miller's comments which are usually stated with bit of flourish, don't you think?
The comparison made between Woods and Tyson is ridiculous at best. Woods, although terribly unfaithful, was always a gentleman golfer on the course as opposed to Tyson's disgraceful antics which eventually led him to jail time.
On a more positive note, Elin Nordegren began dusting herself off soon after her split from Tiger Woods with a cover shoot for People Magazine and a number 60 spot on AskMen.com's 2011 list of "Most Desirable Women". Although a boyfriend did appear on the scene, sources say Tiger Woods' jealous nature keeps suitors at bay.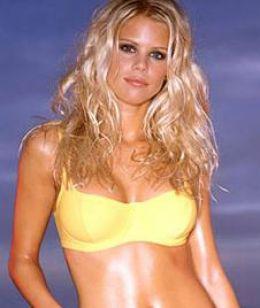 Credit: Hubpages
In an effort to keep picking up the pieces of her life, rumors are coming in that Elin will appear on Dancing with the Stars. 12th season cast announcements will be made tonight on The Bachelor.
It appears that Nordegren is having less trouble rebounding than Tiger Woods!
Now if only Tiger Woods would start dancing on the golf course. Fans are still waiting for history to be made!
Voice your opinion on Golf4Beginners on Twitter!
Read Golf for Beginners blogs
Posted via email from stacysolomon's posterous