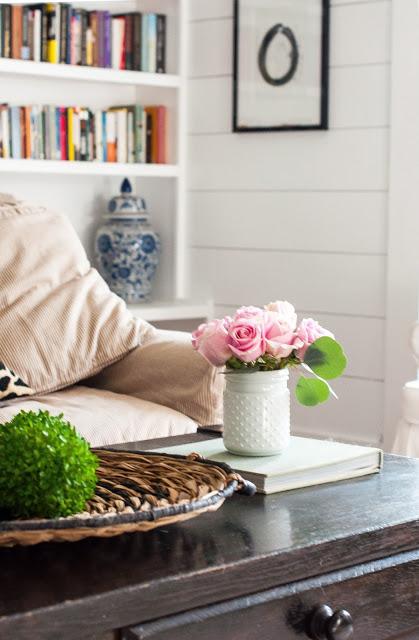 Hello friends! It's been awhile since I invited you into my home and shared some pictures, but today is a special day. Yep, I'm beaming through my computer screen in case you can't tell because you'll never believe it.
But I hit the jackpot on Craigslist.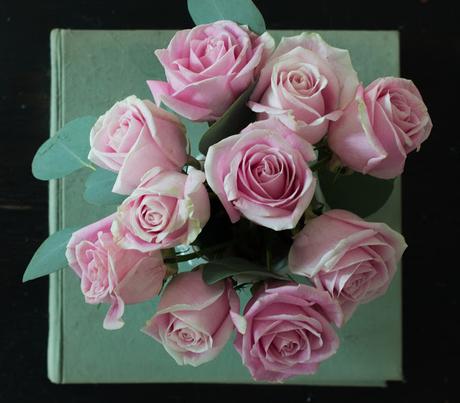 And the first thing I wanted to do was write this post to encourage anyone else out there who might be currently and faithfully checking Craigslist for that ONE piece of high-end furniture that you really-really want. 
You know, one of those great finds that you know is so improbable that you give up checking for months because the chances are so low that you'll find the right thing in the right size and in the right color. 
 Don't give up, it can happen.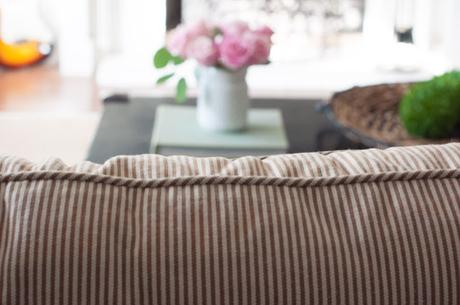 In my case I was looking for a neutral colored Lee Industries sectional that would fit in our living room.
I'm not sure if I mentioned it, but I had finally agreed with the men in my life that when it comes to sheer comfort and space, we are truly a sectional family.(Honestly? They hated the RH down couch I got at their outlet store) The problem was that I didn't want to pay the price tag for the brands I wanted. So I started looking on Craigslist several months ago for fun, typing in words like Lee Industries, Barclay Butera, William Sonoma, Mitchell Gold, etc..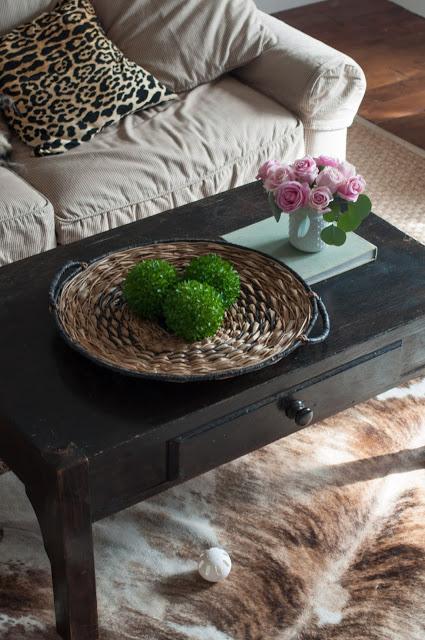 Eventually, I stopped after seeing gazillions of sectionals that would never work.
Until last Friday.
When I absently typed in "Lee Industries" into my phone and a very blurry picture of a sectional covered in clear wrapping popped up. For a ridiculously low price.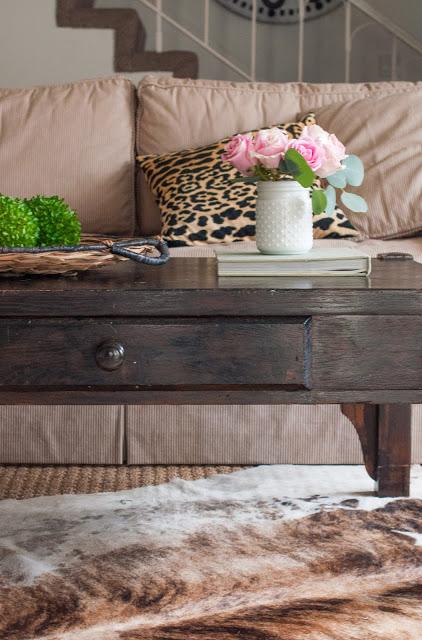 Turns out a young nanny was selling some furniture for her boss and when I met her at the storage unit and she opened it, I was stunned to see high-quality furnishings stacked to the ceiling. 
I bought my Lee Industries Sectional without even taking all the wrapping off, I was so incredulous that the measurements were perfect. 
Apparently this sectional had been in an extra house purchased solely for the English mother-in-law whenever she came to visit the States.
Mostly it sat unused in a beautiful Newport Beach home.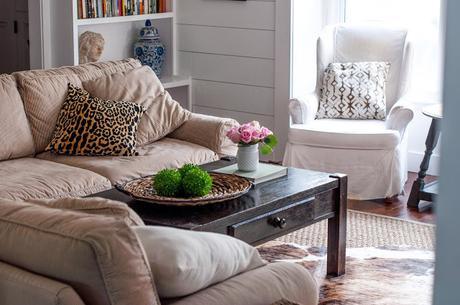 I really love the coziness of a sectional.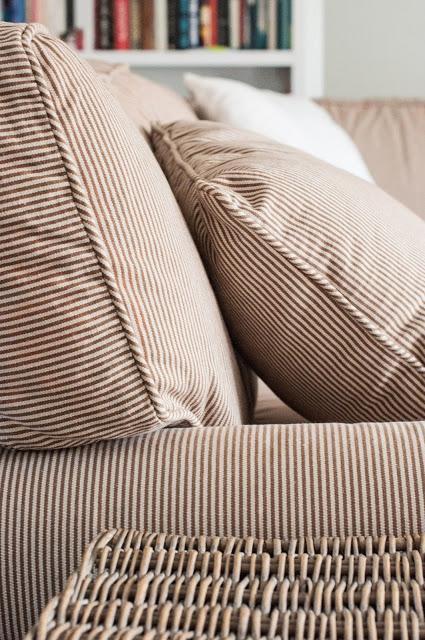 Even though I think of our home as a beach cottage, I've discovered that I gravitate more toward warm neutrals rather than blues.
These pin stripes are a more practical choice for our family  than white. We do have a white couch in the other room and while I love the look, I'll need to eventually get slipcovers made for it, it's just too hard to keep it clean.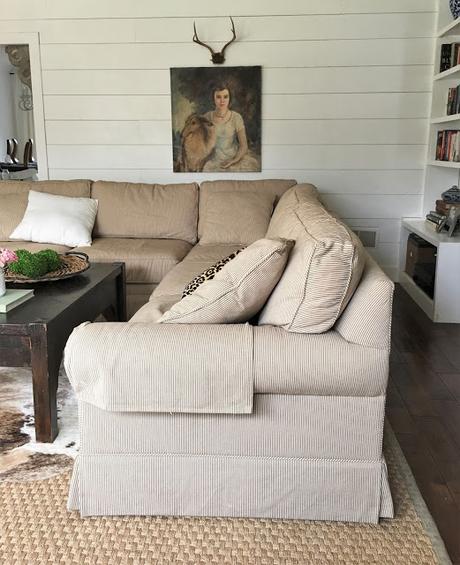 There it is, the coveted sectional 'corner' loved by all.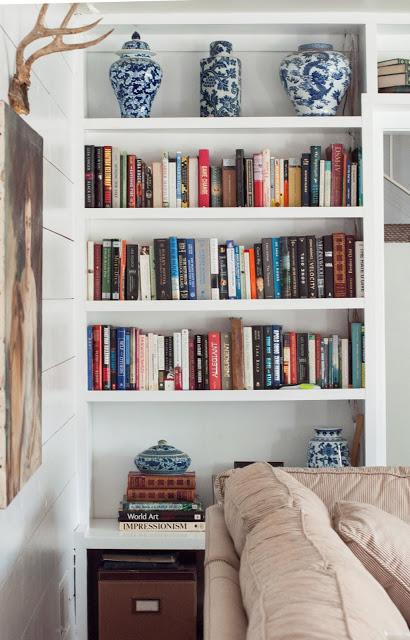 T

he old gallery wall is gone for now, part of my need for uncluttering. But I've got a new DIY project to show you soon. Another place for my old oil paintings.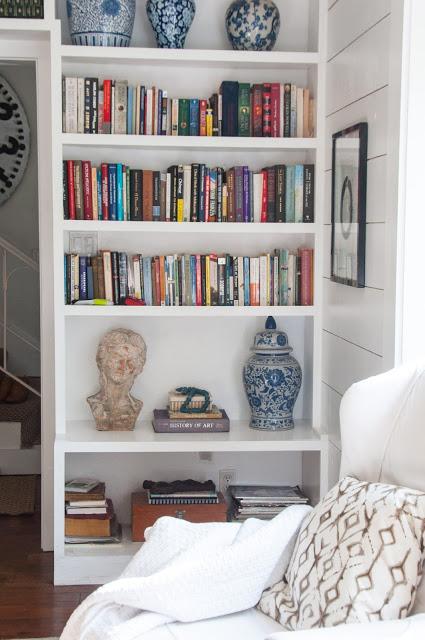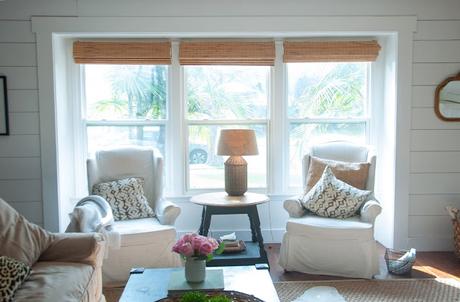 I decided to keep the chairs in white canvas slipcovers, and I have the fabric to re-cover these whenever I get the motivation to unroll all that fabric and pre-wash it.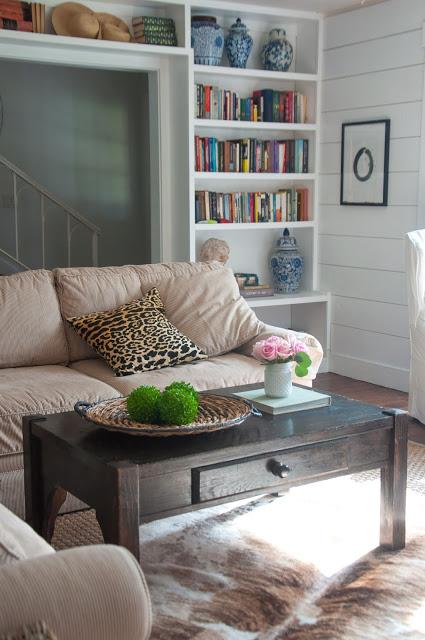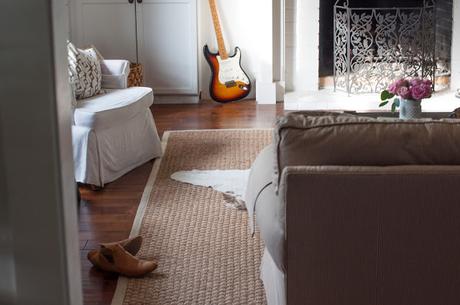 What's your opinion?
Are you a sectional person or couch person?
ox
Leslie
sharing this with friends:
The Scoop
Inspire Me Tuesday