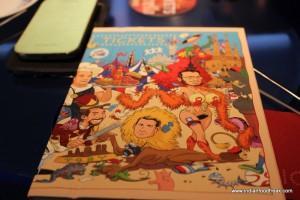 A common dilemma faced by thousands of Indians traveling through Europe and Americas has been the lack of easy availability of vegetarian local cuisines. Surely pizzas, sandwiches and pastas are easily available, but when it comes to local cuisines, many European and American places do have a certain lack of vegetarian options.
Indian Food Freak took it upon itself to discover the immense treasure of vegetarian cuisines available in Europe. We decided to flag off this adventure from Spain where the obvious choice was to start from the kitchens of the gods of modern cooking. The enigmatic El Bulli (now converted into El Bulli Foundation) and its torch bearer in Barcelona – Tickets Bar and Restaurant, owned by the Legendary Adria Brothers- Ferran and Albert, hosted a phenomenal vegetarian tasting menu only for us over a three hour session of pure eating.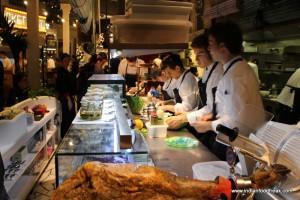 The final plating line at Tickets
Tickets is a beautiful Tapas restaurant located in Avinguda Parallel of Barcelona where there is a two to three months' waiting. The lines outside the restaurant start forming an hour before the restaurant is to open and the gracious multi-lingual staff makes sure that each and every patron is attended with maximum passion and care.
When IFF contacted Albert Adria's team and told them of our intentions to showcase their vegetarian prowess, Albert pulled all stops and created a vegetarian tasting menu for us which was too good to be true. Even though we can't bring the dishes to your table, we try and recreate each dish through our words as follows to give you a flavor of all the wonders that one can taste during their visit to Barcelona and a must visit to Tickets Bar.
We started with a platter of Sea Weeds topped with toasted sesame seeds and toasted rice to give it a look and feel of crispy pork skins. Very light and crispy, the feel of a classic chicharron (fried pork skin) albeit 100% vegetarian.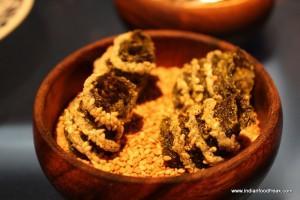 Nori seaweed starter
Classic El Bulli Tempura Pistachios. Pistachios lightly dusted with flour and quick fried and served in their individual bags.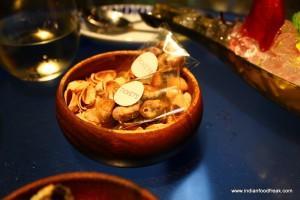 Pistachio tempura
Mimetic Peanuts. Peanut dust and honey mixed and dehydrated; served in the shape of peanuts in a shell, placedon top of a bowl full of real peanuts. While they looked exactly like peanuts, the taste was a bit like chikki.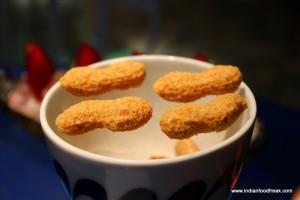 Mimetic Peanuts
Cocktail of Green Apple. Green apple infused with hibiscus flower, tequila and a tart salt. This was an amazing dish, the gelatinous coating was very crisp and had the same crunch and bite as that of a fresh apple. Inside you could feel the tartness and saltiness of a tequila cocktail.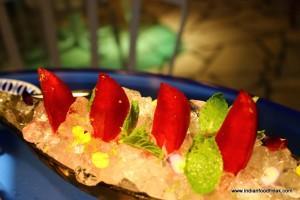 Green Apple Cocktail
Gordon Olive sphere infused with lemon zest, star anise, and cinnamon. Spherification is an Adria invention and here they used it to their advantage by creating two different kinds of olive spheres which by the looks would look like an olive, but when you pop the wobbly sphere in your mouth, it would burst with the flavours of lemon zest, star anise and cinnamon.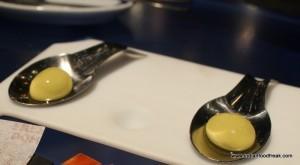 olive spheres
Cantabric Olives, same as above, infused with roasted garlic and a bit of extra virgin olive oil, tomato seeds and chillies. An amazing burst of flavours in the mouth.
Mini pizza with grated Parmesan cheese, topped with caviar of small chillies, caviar of basil oil, tomato and oregano dust. Paper thin pizza with all the above ingredients, it's hard to explain the mix of flavours in the mouth.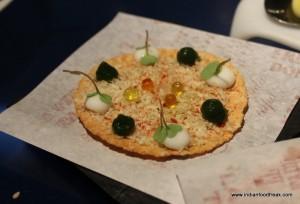 Mini Pizza
Nordic journey of tofu with smoked cheese infused with Honey and Vinegar served on special spiced bread and served on a bed of vinegar dust.The server guided us to lick the vinegar dust as we were quite amused at the whole presentation. The tofu was extremely silky, and the cheese with the honey and vinegar infusion provided a certain kick. This was definitely a dish that would convert any tofu haters into lovers.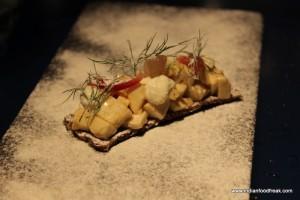 Nordic Tofu
Mini airbags (that is what they call our paanipuris) filled with a foam of manchego cheese, covered with a slice of manchego cheese, caviar of hazelnut, drops of hazelnut oil garnished with toasted skin of hazelnut. The airbags missed the crispiness of our paanipuris, but other than that the soft cheesy foam and the hazelnut dust on top provided for a very palatable experience.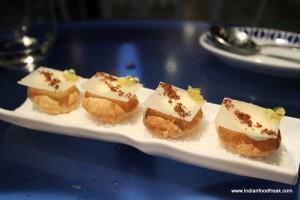 Mini Airbags
This dish was simple and had an egg in it. Strict vegetarians can request the same without the egg where it will be replaced by one of the many Olive spheres. Caramelized and smoked artichokes were served with a quail egg and brought in a bowl of mushroom smoke.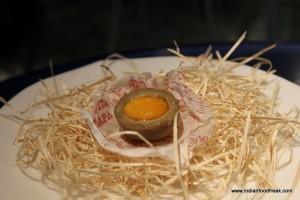 Caramelized and smoked Artichokes
Paper thin toast topped with a tofu ceviche, white corn milk, and white corns, a bit of flan and lemon zest. I think I have never in my life enjoyed tofu as much as I enjoyed it here at Tickets.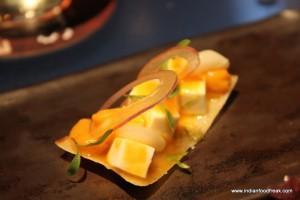 Tofu Ceviche
Long white asparagus from the region of Navarra infused with almond water, served in a sauce of almond mild and garnished with caviar of pumpkin seeds. A very wholesome dish with crunchy meaty pieces of asparagus, mild almond milk and interesting pumpkin seed caviar. Definitely a dish to be repeated over and over again.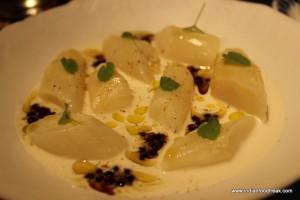 Asparagus in almond milk
Kimchi salad of fermented pokchoy with mini gherkins and finely sliced Nobu Daikons. Surprisingly the base oil in this salad was mustard oil which was a start contrast with the subtle and mellow flavours of the previous asparagus and almond dish. A bit sharp, a bit pungent and bit spicy, this was a dish closer to the Indian palate.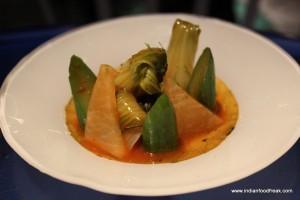 Kimchi salad
Canneloni of avocados filled with tofu cream mixed with sour cream, coulis of Romesco Sauce, topped with dill gel and Greek yoghurt. The most amazing part of the dish was the cannelloni of avocado which was fresh avocado slices rolled into a cannelloni shape. It is no easy task to slice and then roll a soft creamy buttery avocado and then infuse it with all these flavours. Certainly Adria's classic finesse  was at its best in this dish.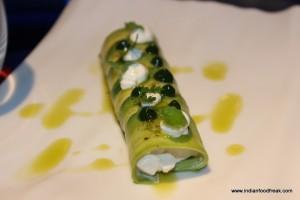 Avocado Canneloni
This was by far the most simplest and the dish that threw us off the most. The server called it the false spaghetti, when we bit into it, we discovered that it was pure mushrooms julienned or cut in a way to make it look exactly like spaghetti. The dish was prepared in a mushroom sauce served with parmesan cheese on the top to be sprinkled as per taste.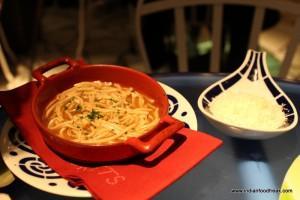 False Spaghetti
Veg Spring Roll (of course, why not!). Classic vegetarian spring rolls in rice paper filled with cucumbers and topped with a lime juice and chilli sauce. Nice clean flavours, but by this time we were spoilt by the uniqueness of the dishes and this came as quite a surprise.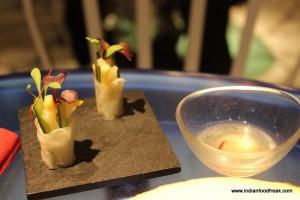 Veg Spring roll
Here on the meal ventured into desserts, where the first dish was a Seaweed Sushi: Marshmallow and mango gel rolled in a sweetened Nori and topped with toasted white sesame seeds.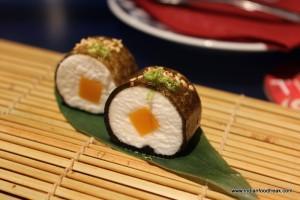 Sweet Seaweed Sushi
A fluffy brown merengue topped with raspberry sorbet and bits of fresh herbs.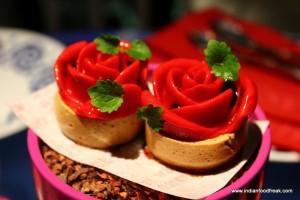 Raspberry Sorbet
A cinnamon and chocolate cornetto filled with lemon cream, topped with lemon ice cream and a bit of merengue which was finished with a slight brulee on top. A very delicate dish which broke in my hand while I tried to pop it in my mouth.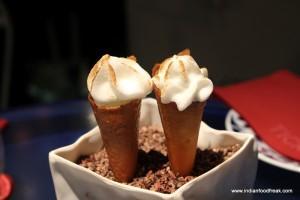 Cinnamon and Chocolate Cornetto
And finally the edible cork. Yes it was a very fluffy airy sponge cake roll filled with Hazelnut mousse to give it an appearance of a cork complete with the logo of Tickets.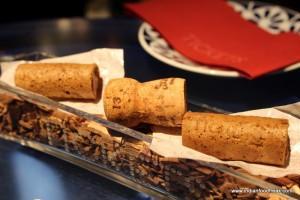 Edible Cork
Though the restaurant carries an extensive a la carte menu, it is advisable to go with their tasting menu which changes every day and if you are lucky, they may also include classic dishes from El Bulli and the other restaurants of the chain. If you are a vegetarian, it is always helpful to inform them of your preferences at the time of making the reservation and they will make sure that you are served exactly as per your requests as was in our case.
Dear Albert, with the amazing array of tapas and a three hour meal ecstasy you did covert this hard core carnivore into a vegetarian for a day and that in itself is no small feat. Tickets and Albert, please take a bow!
The Beverage Area
Some of the sweets
Fancy display at the restaurant
Men in action
Diners at the bar
The Kitchen and the fresh produce of the day
Plating of the oysters
Pistachios close up
The Wine we paired our meal with.
The menu
Cinnamon and Chocolate Cornetto
The Cornetto in the making
The lights inside
Alien attack
Oranges and tomatoes