Inside Olivia Chantecaille's French-Chic SoHo Loft
The creative director of her family's cosmetics line gives us a tour of her art-filled, French-infused loft in New York's SoHo.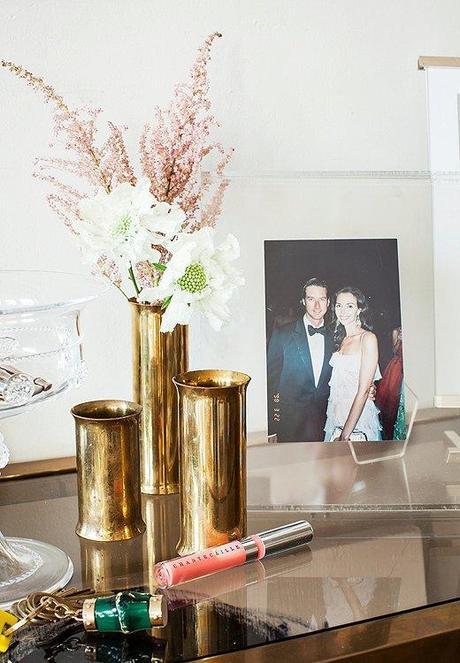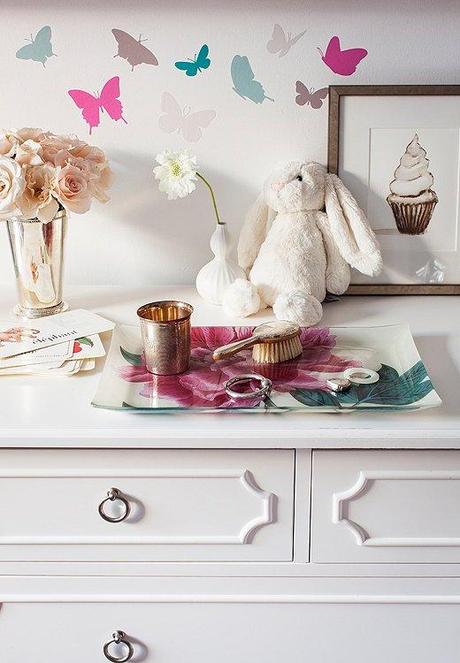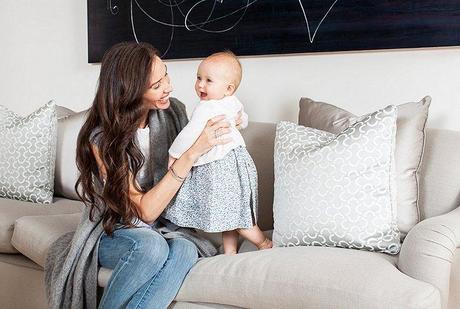 True to the legacy of New York in the 1960s, when SoHo lofts were inhabited primarily by artists, the home of Olivia Chantecaille and her husband, Ren Grady, reflects their passion for and connections with the art world. As modern-day collectors, they've befriended artists and worked with gallerists to amass a collection that confidently mixes Richard Serra and Will Cotton without sacrificing certain family-life realities. Their sitting room, dining room, and kitchen, all elegantly plotted onto a huge open floor plan a few stories above a quiet SoHo street, accommodates both entertaining and everyday living—which includes playing with their 10-month old daughter, Delphina.
Olivia may now be a New Yorker, but she's also very French in both her day to day (she speaks to Delphina only in her native language) and her approach to decorating. Growing up steeped in French antiques and heavily influenced by her grandmother's Parisian apartment, Olivia confidently blended classical pieces into a decidedly nonclassical space without missing a beat. Such design aplomb called for further inspection, and we were thrilled to be invited over for a visit.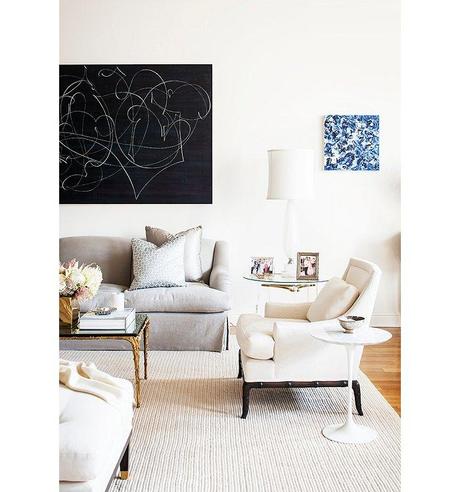 THE LIVING ROOM
As the creative director (and face) of her family-run cosmetics line, Chantecaille, Olivia is a leading expert on color—including how and when to use it. "I approach decorating the same way I approach makeup," she explains. "I love a very clean, natural palette as the base, which in an interior means whites, creams, and grays. And then I add touches of color through art and books instead of wallpaper or big fabric patterns. The art floats above the natural colors, so it really stands out." Case in point: the main sitting area, where the white and gray furnishings are elegant, inviting, and begging for the graphic jolts of energy delivered by the art on the walls, including a piece by friend Elliott Puckette. While some parents might hesitate about so much white, Olivia thinks of the space as a soft, inviting landscape for Delphina as she crawls around. "Nothing is too precious," she points out, "my main thing is just keeping everything really clean for her."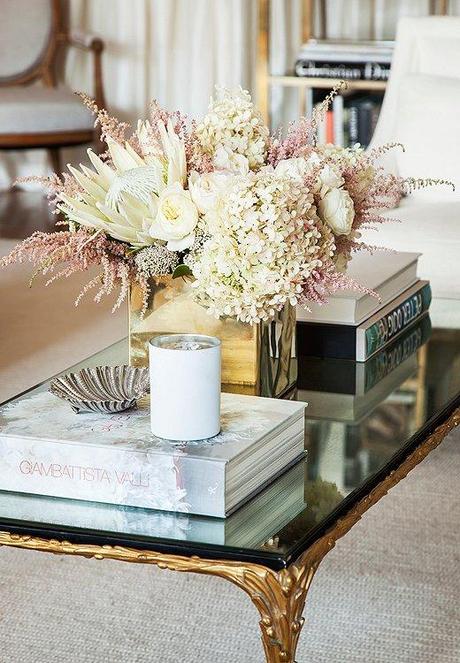 In addition to the dramatically pared-down color palette, metallics consistently run through the home's design. Here, a bold geometric vase plays off the stylized leaflike motif along the gilded coffee table.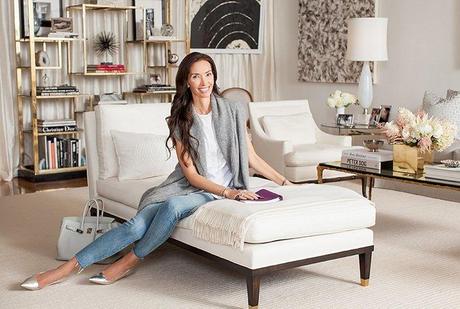 The custom-made oversize chaise is layered with a white cashmere throw. Underfoot, the white wool rug, custom-ordered from Peru, looks like a thick woven sweater with wide loops. Even the Murano blown-glass lamps are white!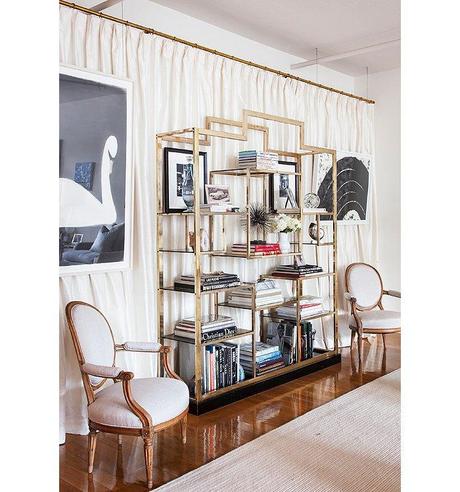 THE BOOKSHELVES
Along with art, books play a leading role in the family's loft. Grand-scale bookshelves are sculptures unto themselves, and monographs on artists including John Singer Sargent, Cy Twombly, and Peter Doig are prominently on view alongside lush fashion and lifestyle books featuring the photographs of Cecil Beaton, Slim Aarons, and others. Each shelf is like a lesson on how to make a perfect vignette: Pile books by color, and perch one strong accent atop each stack. You'd never guess it, but behind that elegant white curtain is a "secret closet," which Olivia's husband built with Home Depot supplies to house her racks of clothing and shelves of shoes.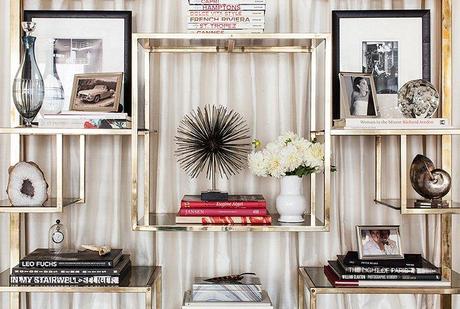 "I'm not afraid to mix metals in a room—I don't consider it a decorating don't. I'm the same with jewelry!"




—Olivia Chantecaille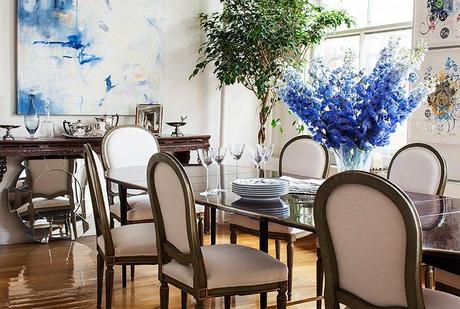 THE DINING ROOM
Olivia's French heritage really comes out at mealtimes. She believes in setting a proper table, even for casual family evenings, and Delphina, perched in her high chair, is slowly getting used to longer meals when Olivia's entire family is gathered. "We really put away phones and banish technology. And no plastic containers or paper napkins!" The room's key pieces are the Louis XVI chairs, some of which were a gift from Olivia's grandmother, who grew up in Paris; Olivia found the others in the same style to complete the set. To bring a bit of nature into the urban space, she makes regular trips to Chelsea's flower district. "We use lots of natural botanicals in Chantecaille products, and I do the same at home," says Olivia. As for the large ficus tree in the corner, it's also serving a secret function: "Plants are the best air filters in the city!"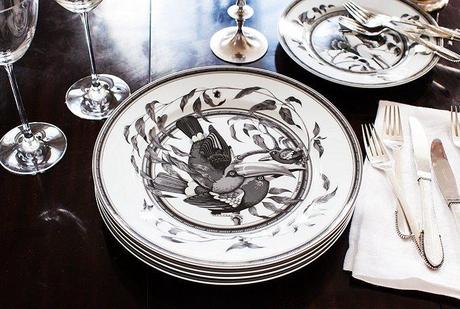 For fancier evenings, Chantecaille pulls out her set of Hermès
china
. The shades of gray complement the loft's tones perfectly—and let the food shine.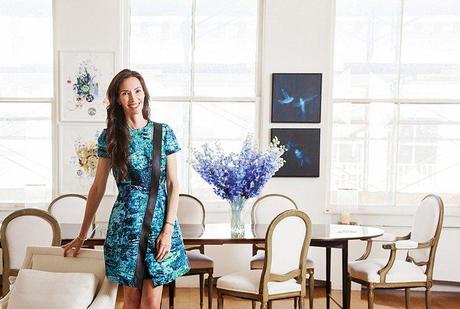 Chantecaille takes a refreshingly casual approach to placing serious pieces of art. On two narrow strips of wall space in the dining room, she hung works by Ryan McGinness (left) and a pair of bird paintings by Ross Bleckner, both art-world luminaries.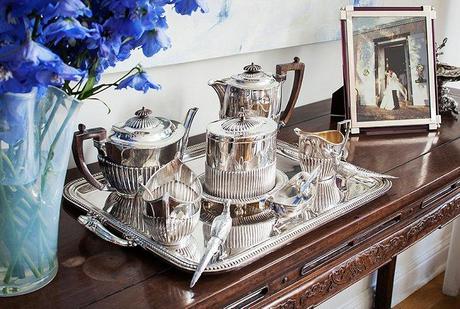 "For me, a great dinner party is good friends, family, tons of flowers, delicious food, and nowhere to be in the morning."




—Olivia Chantecaille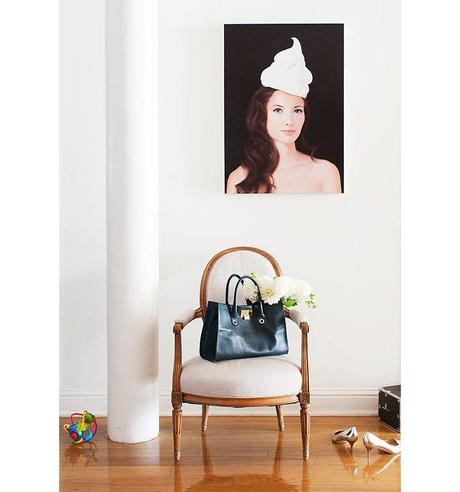 THE HALLWAY
A striking portrait of Olivia by New York painter Will Cotton, a close friend of hers who's known for portraits that eschew reality in favor of candy-fueled fantasies, energizes an otherwise simply decorated portion of the hallway. The detritus of daily life is contained by well-placed drop spots throughout the loft, such as this Louis armchair. On the entry table, snapshots of the couple and family are mixed among mini brass vases and, of course, handy Chantecaille lip glosses.
"I work with my family—including my mother, who founded Chantecaille, and our offices are also in SoHo. So there's some fluidity between work and home!"




—Olivia Chantecaille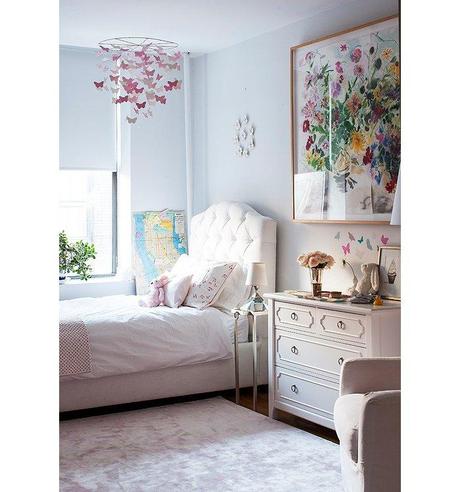 THE NURSERY
Delphina's bedroom is unabashedly feminine, but it's worth noting that the same palette of grays and whites used in the living room extends to the nursery. In an homage to summers spent outdoors, butterfly decals climb the wall, a cluster of roses and silver shoes gather on the dresser, and a larger flower pastel by Alex Timchula, a family friend, dominates the room. "I love flowers, and this was my way of having an indoor garden that blooms year-round," says Olivia. The idea of a nursery as an imagination-fueling, transporting world comes from Olivia's own childhood. "My parents painted the most magical scene filled with jungle animals all along my bedroom walls. I wish I had been able to keep it in some way to share with my daughter now." A vanity for the littlest lady of the house: a decoupaged John Derian tray holds Delphina's little silver brush, while a cupcake illustration by Will Cotton leans against the dresser.
"My style can be summed up as lots of light, art, and flowers. I want you to take a deep breath when you walk in the door."




—Olivia Chantecaille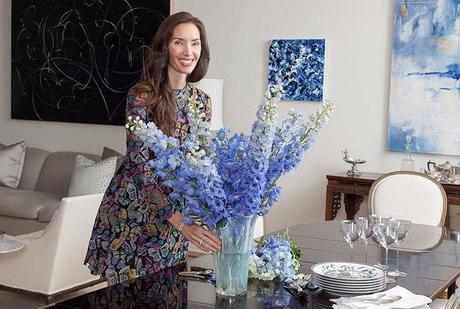 Olivia (wearing Valentino's fall butterfly dress—divine!) sets down a vase of Delphiniums—one of her favorite flowers and the inspiration for her daughter's name. Behind her, a blue abstraction of her wedding dress, painted by her husband Ren. PHOTOGRAPHY BY 
LESLEY UNRUH
The Workbook:
Steal Olivia Chantecaille's Chic Style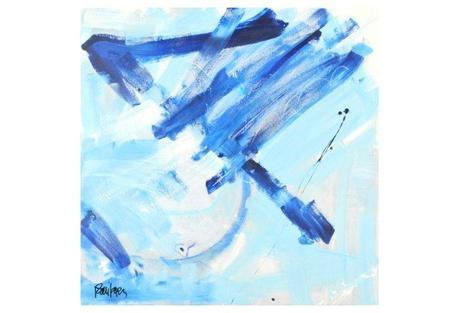 ---
Blues Square w/ Curve by Robbie Kemper
SHOP NOW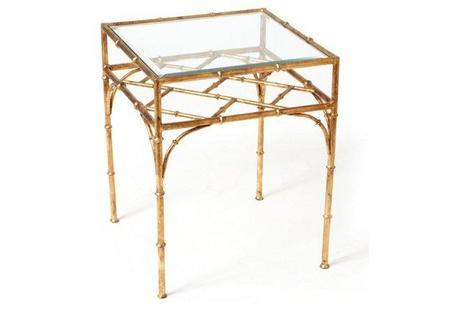 ---
Woodmont Glass-Top Side Table, Gold
SHOP NOW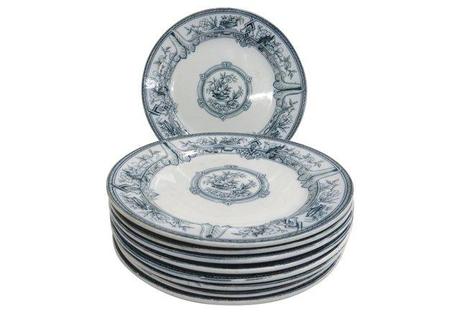 ---
19th-C. English Ironstone Plates, S/9SHOP NOW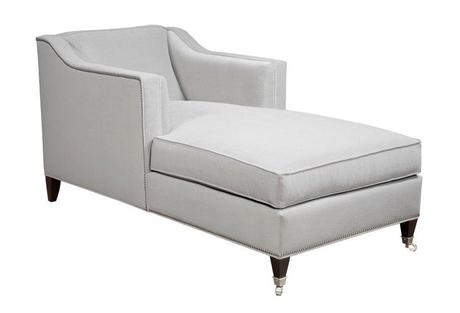 ---
Lois Velvet Nail-Trim Chaise, WhiteSHOP NOW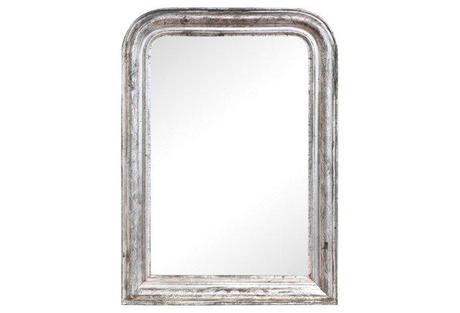 ---
Louis Philippe-Era Silver Leaf MirrorSHOP NOW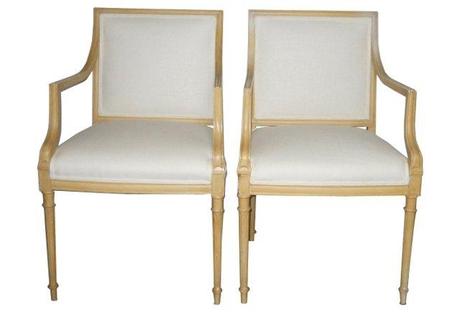 ---
1940s French Chairs, PairSHOP NOW
Shop Olivia's Hand-Curated Selection
___________________________________________________
6 Scary-Good Halloween Decorating Ideas
Embracing the spooky spirit of the season just got easier with these six easy and elegant ideas.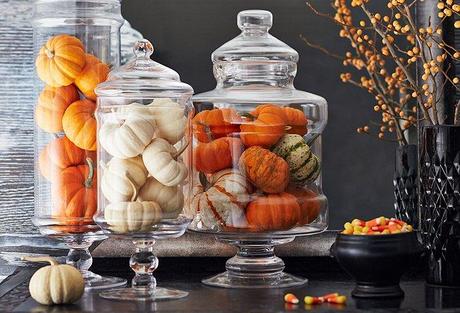 1. PUMPKINS ON DISPLAY
A clear canister, such as an apothecary jar, makes for an instant Halloween display with the help of those undeniably adorable mini pumpkins you've been eyeing at the market (we're right there with you). The range of colors they come in means there's a look to suit any style. For something more elegant and understated, go with all white pumpkins; for a classic look, opt for all orange ones. We love to mix things up, so went for a grab bag of colors.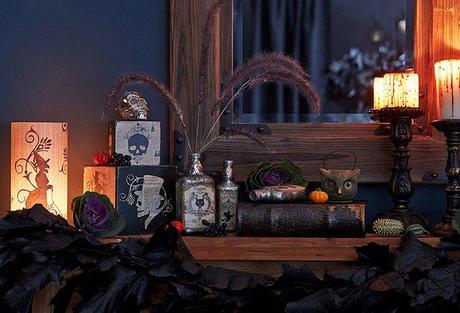 2. MACABRE MANTEL
Group together all your black decorative accessories such as candlesticks, vases, and books with a few festive yet frightening touches such as skulls, and suddenly it looks like a scene out of a haunted mansion. A few coats of matte-black spray paint turns a holiday garland into a Halloween-ready touch, and "bleeding" candles are easy to create by holding a lit red taper candle over white pillars and letting the red wax drip down the sides.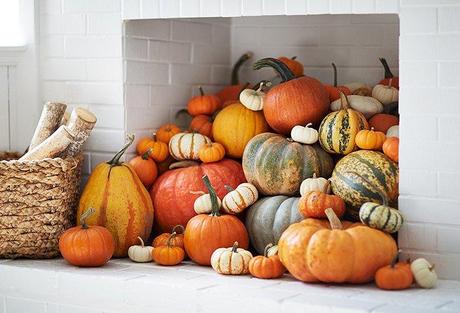 3. AT-HOME PUMPKIN PATCH
Why not turn a nonworking fireplace into a grab-and-go pumpkin patch for guests, inviting each person to pick his or her favorite to take home? For larger hearths, cheat this look by inverting a wooden crate underneath the pumpkins in the back to create the illusion of a huge stack, then filling in the holes as needed. It's simple, original, and a total seasonal showstopper.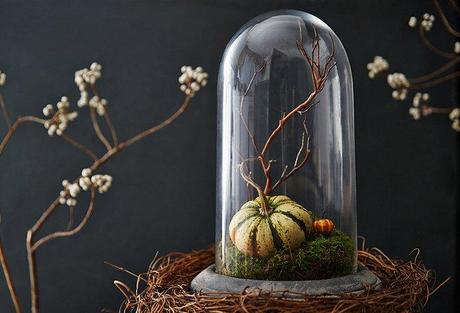 4. SPOOKY-CHIC CLOCHE
Encased within the confines of a cloche, anything feels rarefied, even a miniature pumpkin. Look for an extra-special specimen, and add a mossy bed to give the display a terrarium feel. Place it on an entryway table or a mantel for a touch that celebrates the season in an oh-so-chic way.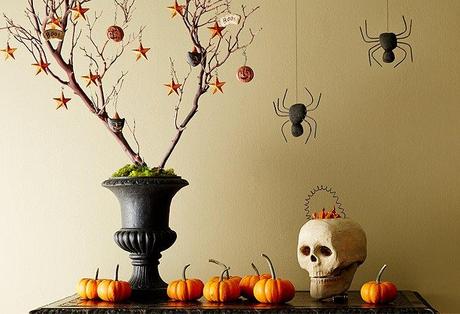 5. ALL HALLOWS' EVE ENTRYWAY
Planning to hand out candy on the big night? Why not focus your decorating energies on the entryway? Bare branches, available at most floral-supply stores, have the right haunted-forest feel, and their height makes a statement as soon as you open the door. Add some ornaments, or stretch out cotton balls for the classic cobweb display. Mini pumpkins en masse make the setup feel full and festive. If you decide to mix in some larger pumpkins, be sure to place a protective layer between them and your wood surface to avoid staining.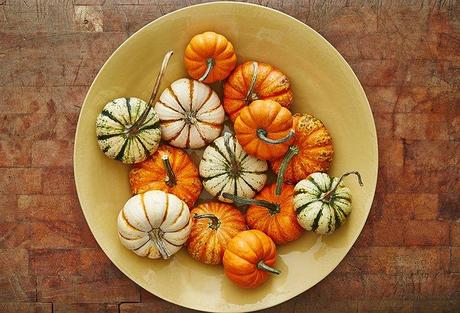 6. SIMPLE YET SPIRITED
Love Halloween but don't have the time to tackle a full blown decorating effort this year? No problem. Pick up a few mini pumpkins, pile inside a large salad bowl, place in the center of your table, and call it a day. This simple idea will make you happy every time you walk by and function as a great reminder to savor every second of this magical season. PHOTOGRAPHY BY TONY VU


___________________________________________________



 6 Hot Bedroom Styles. Which One Are You?
Discover you perfect bedroom style and see which pieces from our newest bedding collections are your ideal match.


The Romantic Bohemian
Believes Bedrooms Should Be: iPhone-free zones Design Crush: Jenni Kayne Currently Reading: newest issue of Kinfolk Bedside Table Must-Haves: wildflowers, Tibetan prayer beads, and lavender essential oil Dream Travel Destination: Marrakech

The Artsy Aesthete
Believes Bedrooms Should Be: a place to experiment with color combinations Design Crush: Jonathan Adler Currently Reading: Not That Kind of Girl by Lena Dunham Bedside Table Must-Haves: vintage eyeglasses, iPad mini, and Malin + Goetz lip balm Dream Travel Destination: Miami for Art Basel

The Luxury-Loving Urbanite
Believes Bedrooms Should Be: comparable to staying at a five-star hotel Design Crush: Mary McDonald Currently Reading: The Bone Clocks by David Mitchell
Bedside Table Must-Haves: iPhone 6, silk sleep mask, and hand balm Dream Travel Destination: Paris, Paris, Paris!

The Enchanting Globetrotter
Believes Bedrooms Should Be: a reflection of all the places you've traveled Design Crush: Peter Dunham Currently Reading:  In Patagonia by Bruce Chatwin
Bedside Table Must-Haves: incense sticks, a potted succulent, and a stack of Condé Nast Traveler issues Dream Travel Destination: India for the Holi festival of colors

The Ladylike Classicist
Believes Bedrooms Should Be: a place to flex your flirtatious feminine side Design Crush: Windsor Smith Currently Reading: Lila by Marilynne Robinson
Bedside Table Must-Haves: sterling-silver alarm clock, monogrammed water carafe, and peonies Dream Travel Destination: the Cotswolds

The Laid-Back Minimalist
Believes Bedrooms Should Be: clean and quiet for clearing your mind Design Crush: Sibella Court Currently Reading: The New York Times Magazine Bedside Table Must-Haves: sandalwood soy candle, meditation journal, and white-noise machine Dream Travel Destination: Kyoto, Japan
SHOP THE ENTIRE COLLECTION >
"Your bedding doesn't need to feel heavy or dark because it's getting cold outside. It's about embracing that joy associated with warm weather and bringing it to the coziest place in the home."

—Maira Almeida, head designer
PHOTOGRAPHY BY CHENG LIN Thank you so much for the guest content One Kings lane!!