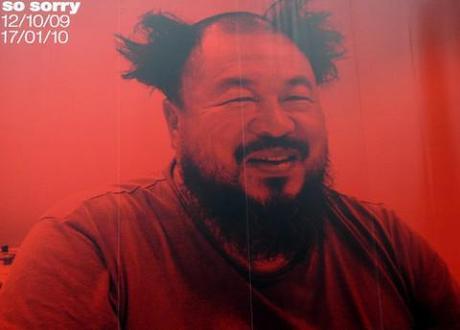 Ai Weiwei, exhibition poster. Photo credit: sanfanmedia.com, http://flic.kr/p/7nNE4v
Thousands of people are donating money to pay Chinese artist and political activist Ai Weiwei's £1.5 million tax bill. The Chinese authorities hit the 54-year-old artist with a demand for 15 million yuan earlier this month, giving him two weeks to pay up. According to the BBC's Michael Bristow, supporters have raised almost five million yuan so far.
Air mail. Bristow reported that the internationally renowned artist has received money by post, bank transfer and by yuan notes folded into paper planes and thrown into his compound. "These donations are not just about money, they're an expression of people's feelings about what's happened," Bristow quoted Ai Weiwei as saying.
Challenge. The £1.5 million bill relates to overdue tax and fines for Beijing Fake Cultural Development Ltd, a company that manages the artist's affairs. Tania Branigan reported in The Guardian that the company was registered by Ai Weiwei's wife, and that he insists he is only a designer for the firm and has no knowledge of the accounts. Branigan said that the artist intends to challenge the tax bill, but that Chinese authorities won't allow him access to the relevant documents.
Detention. Ai Weiwei was detained by the authorities for almost three months earlier this year. The official charge was "economic crimes", but the artist and his supporters say the arrest – and now the tax bill – was motivated by his political and social activism. Ai Weiwei was ostensibly released for good behaviour, but many believe the international outcry against his detention was a major factor. Writing for The Daily Beast at the time, Melinda Liu and Isaac Stone Fish argued that the Chinese government's decision to free the artist was just a "minimalist gesture", and that the human rights situation in the country is actually getting worse, with reports of physical abuse of prisoners and lawyers prevented from representing their clients: "Under such circumstances, people like Ai can only hope things get no worse," they wrote.
Chinese response. According to an editorial in China's state-controlled Global Post, the people donating money to Ai Weiwei are "an extremely small number when compared with China's total population" and "the mainstream public" do not support the artist. What's more, the editorial suggested that Ai may be guilty of "illegal fund-raising" by accepting money from the public.
Repayment. Malcolm Moore reported for The Telegraph that Ai Weiwei intends to repay his supporters, and that he dismissed the "illegal fund-raising" allegation: "Perhaps China will outlaw people from lending each other money in the future," Moore quoted the artist as saying.
Absent. Meanwhile, an exhibition of Ai's work, entitled "Absent", has opened in Taiwan. Reuters suggested that the name is apt, given that the Chinese authorities have imposed a travel ban on the artist.