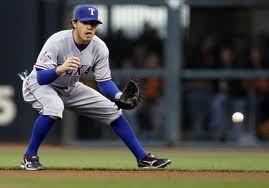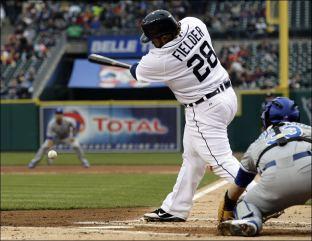 Last night became a big deal with the Detroit Tigers and Texas Rangers agreed to swap overpaid stars.  The Rangers will send 2B Ian Kinsler to Detroit and in return, the Tigers are send big, bad vegetarian Prince Fielder.  The Tigers are also sending along $30 million to help offset the ginormous contract he signed before the 2012 season.
Why this deal happened: The Rangers were eager to move Kinsler and his contract so they could give superstar prospect Jurickson Profar an every day job at a fraction of the cost.  While Kinsler is still a 2 win player, his defense isn't what Profar can offer and he's on the other side of 30.  For the Tigers, this is an admission that the 9 year, $214 million dollar contract they handed Prince a couple of off-seasons ago was a mistake.  Prince regressed hard this year, and while I'm sure he won't be that bad this year, a down year coupled with a bad postseason and a few comments after the playoffs that didn't endear him to the fans left him on the chopping block.  The question was, how the HELL were they going to move that contract?  Thankfully, Jon Daniels and the Texas Rangers came to the rescue.
What I like: Change of scenery will do most folks well.  I've always liked Kinsler and this move allows the Tigers to shift Miguel Cabrera back to first base where he won't endure the wear and tear of third base.  Moving him to 3rd was a terrible idea in the first place.  Despite somewhat positive metrics at the hot corner, Miggy's true value is his bat and with injuries hindering him toward the end of this past year, the Tigers need to make sure they have their superstar healthy all the time.  Fielder will have the opportunity to start over on a team that needed a big bat.  He'll hit in front of speedsters like Elvis Andrus and Profar and have protection from the insanely consistent Adrian Beltre.  He'll also get to hit in the hitter friendly park down in Arlington.
What I don't like: The money.  Quite simply, I don't make this deal if I'm the Rangers unless $100 million is coming back.  Well, that's what I tell them at the start of the negotiation process.  $30 million just isn't enough and here's why.  Kinsler is on the books for four more years and $62 million.  Fielder was on the books for 7 more years and $168 million.  So even after Kinsler's contract has finished, Fielder will still have three years (in his late 30s as an overweight, hit only player) at $24 million a pop.  That $30 million barely covers the first year after Kinsler becomes a free agent never mind the next two.  I probably would have settled for something in the $60-$70 million dollar range, but definitely not $30.
What I would have done:  7 years and $138 million (what the Rangers will pay Fielder) is a lot.  Experts have mentioned that you could probably get Ellsbury, definitely get Choo or get some combination of players for that price.  I don't disagree, but if I was the Rangers, here's what I would have done.  I'd have kept Kinsler and explained to him that from here on out, he was going to play X number of games at 2B, X number of games at 1B and some DH when needed.  Hell, you might even find yourself in the outfield at times, so stretch yourself out.  Profar would become my go to 2B moving forward.  I'd sign a lefty 1B/ OF/ DH type to form a beat of a platoon at 1B/DH with Kinsler.  Maybe a Justin Morneau or Mike Carp and maybe bring back Mike Napoli for a fraction of the cost. Think about that group for a minute; Carp could be your all everything guy.  Morneau could be your DH and split time with Napoli and Kinsler in the 1B rotation.  Not that all of those guys would necessarily go for it but for a fraction of the price they could get just as much if not more production.
Fielder's contract is an albatross that will haunt Jon Daniels and the Rangers in 2019 and 2020 if not earlier.  Kinsler would have provided solid numbers most likely through the rest of his deal and will do so in Detroit at a fraction of the cost.
Overall, the Tigers get salary relief that will allow them to re-sign their pitchers and add depth to an already solid line-up and the Rangers get the power hitter they craved.  I see it as a Win for the Tigers and a very risky push for the Rangers.  That money could have been used elsewhere to make this team better and who knows if Prince can rebound from last year.  The Tigers just got better.
Here's a take on each side of the trade from Dave Cameron at Fangraphs, who I think says it about 1 million times better than I do.  Rangers / Tigers