Many years ago,
during our childhood,
we met for the first time.
I don't know what flashed in your mind,
in the foggy face of the evening,
what did you feel, that
you secretly held my hand
very innocently
and we sat down in a corner, on the terrace boundary,
silently,
without any effort of listening or understanding
the silence between us,
and within.
Someone came and asked you
"What's going on?"
you answered innocently
"Oh! I thought it was him."
I still remember that long time,
which, in a few moments,
said a lot, so silently,
and then vanished in a void.
Do you remember that till now?
If yes, call me
from your window sill
shake the branch of stuck flowers.
Another memory of yours
emerged,
same childhood,
me and you,
outside a room,
stuck to
the window bars
in the back lane
holding with innocent hands
peeping inside with
utter silence, and astonishing eyes
soaked in the aquarium kept in the room,
having different colors
of little fish
dancing in a rhythm.
How long we stood there,
mesmerized, I do not remember,
when my eyes turned away from the fish
and got stuck on your face.
Life became finer in those moments.
I could see
colorful fish
on your face, in your eyes,
wavy and glittery.
Do you remember?
That was our second
and the last meeting.
If you also still remember,
go to your window
having flowers outside,
just shake the twigs lightly
and the flowers that have fallen on the ground,
place them in a corner,
by the wall,
and let
those flowers dry,
I will wait
to meet you,
or lose.
All three of us together,
at our respective places,
will wait.
I neither remember your face,
nor your name.
But I still remember those little caring
hands and that innocent touch.
That silence and those colorful fish
on your face.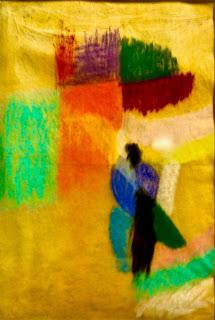 Photo credit: pedrosimoes7 on VisualHunt
I am taking my blog to the next level with Blogchatter's My Friend Alexa