Review Based on Vintage 2013 brewed in aprox December 2013 released late 2014 and consumed on April 28th, 2016. Central City is one of the few breweries to age their Barleywine in house for a year before releasing. I am guessing a little on these dates as There was a 2011 Vintage, unlabeled that was 2013 and a 2014 (The dates on bottles make no sense). 2015 still has not been released from what I can see (Well at least not the non bourbon barrel aged version). I wish they would get their dates straight for this beer!
From Central City Brewing (Red Racer Brewing) in Surrey BC comes "Thor's Hammer Barley Wine (Vintage 2013)" a bottle conditioned beer that has been aged for almost a full year before release! The beer pours a cloudy amber/brown colour with a tan head. The aroma consists of dark fruits and maybe cherry, candied sugar, toffee and and overall smoothness. The flavour is of dark fruits, cherry, brown sugar, toffee, earth, ash, leather, bitterness, resin but not a lot of alcohol. I am really surprise at how smooth this beer is tasting and it is my first beer in three days (not a thing you expect from a barleywine). Thor's Hammer has a commanding alcohol content of 11.5% which like his hammer, it should not be taken lightly! Barley Wine's should be aged as they reduce the alcohol flavour and increase the other flavours of the beer and this bottle may just have hit its sweet spot.
Commercial Description: Matured for almost one year, mahogany in colour, this award-winning barley wine is crafted from fine barley malt exuding deep, rich notes of dried fruit, plum and candy with a walnut ester.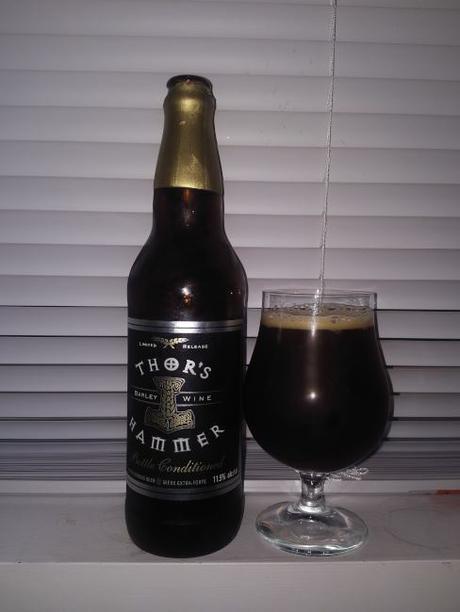 About Mike
I am an avid outdoors man and hobby photographer who loves to spend as much time as possible exploring the beautiful backcountry of the Province of British Columbia and everywhere else! When not exploring nature though I am exploring Craft and Micro Brew beer locally and from around the world. If you love beer like I do please come on a journey for your taste buds. Who knows you just might find your next favorite beer!
This entry was posted in Barleywine Ale, Imperial and tagged 2013 vintage, aged, ash, barleywine, bc, bitterness, bottle conditioned, brown sugar, canada, cellar, cellared, central city brewers & distillers, central city brewers and distillers, cherry, craft beer, dark fruit, dark fruits, earth, imperial, leather, resin, surrey, thor's hammer, thor's hammer barleywine, toffee. Bookmark the permalink.