This Saturday will be a huge day in enhancing people's lives in Cagayan de Oro.  I will talk about two events, the first one is for us grown-ups, and the second is for teenagers.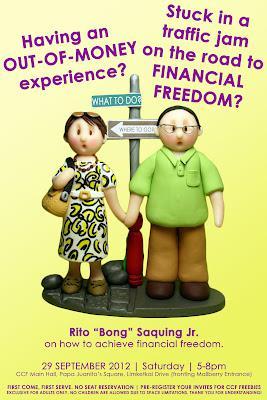 Okay, first of all: How is your relationship with your wallet?  When you think about your finances, do you smile, or do you cry? 
If you're often having an out-of-money experience, and you feel the need to manage your cash better, then you're in luck: a FREE seminar (yup, that's not a typo, it's free) on managing money.  It would be given by a fantastic speaker in Rito "Bong" Saguing, Jr. who was very into fishing for lots and lots of cash in the business world before God called him to fish for something else.
If you believe that the Bible says money is the root of all evil, you're mistaken.  If it was, then why did God bless so many great men of His with great wealth?  Here are just a few examples:
He blessed Isaac with great wealth even in famine:  "Then Isaac sowed in that land, and received in the same year an hundredfold: and the LORD blessed him."  (Gen. 26:12)
He blessed Joseph to be, in the greatest power of the ancient world, 2nd only to Pharaoh: "Thou shalt be over my house, and according unto thy word shall all my people be ruled: only in the throne will I be greater than thou." (Gen. 41:40)
Solomon was easily in Bill Gates' territory when it comes to wealth:  "God said to Solomon, Wisdom and knowledge is granted unto thee, and I will give thee riches, and wealth, and honour, such as none of the kings have had that have been before thee, neither shall there be any after thee have the like." (2 Chron. 1:12)  

The truth is, it's the LOVE of money that is the root of evil.  Money is neutral, but if we put it in the wrong perspective, we can be pushed to do evil things. 
"For the love of money is a root of all kinds of evil. Some people, eager for money, have wandered from the faith and pierced themselves with many griefs." (1 Tim. 6:10)
So, again, the seminar on How to Achieve Financial Freedom will happen this Saturday, September 29.  To be exact, it'd be 5:00-8:00pm at CCF, which is right across the street from the Mallberry car park entrance.  Mr. Saguing is such an excellent speaker that it makes the free admission almost a crime.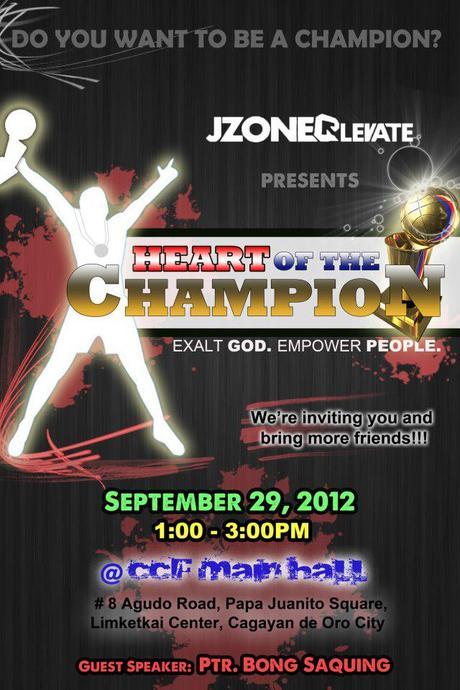 But before he speaks to us, he will speak to the young people about how to gain the
Heart Of A Champion.
My kids are growing up in a generation that has more freedom and more distractions than any other time in history.  How can we produce excellence at such a time as this? 
Would you want your kids to stand out
(especially in a moral and spiritual sense)
in the generation of Lady Gaga, Eminem, and 9gag? 
I would; and if you're a Cagayan de Oro resident with a high-school or college age youngster, then you'd be wise to have him or her attend
Heart Of A Champion. 
Knowing JZone, the host for the event, there'll be cool music and fun games in store for the attendees as well.  It's the same venue, and the start time is 1pm.
This Saturday is truly a busy day…but it's a very valuable one. 
I hope to see you as you start your road on how to achieve financial freedom; and if you have teens, bring them to learn the Heart of a Champion.