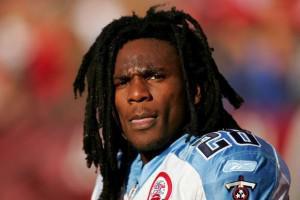 Last Sunday, Chris Johnson had a decent game. He ran for 64 yards on 14 carries, putting up a  respectable 4.6 yards per rush. (This brings his season average to an anemic but exact 3 yards per attempt.) Unfortunately, rumors also surfaced last Sunday that the Titans may cut Chris this March if he doesn't improve.
Whether Chris stays in Tennessee or becomes a free agent remains to be seen, but one thing is constant: the insanity of Chris Johnson's Twitter feed. Here are his five best blasts of craziness from this past week.
The Tweet: @ChrisJohnson28 Basketball game & free toy giveaway this Saturday at The Northwest Community Center at 3pm!! Be there.lockerz.com/s/154365198 (Retweeted from @ThaCockyKind)
The Analysis: Maybe with his recent and very public failures, Johnson is turning to philanthropy for a sense of self-worth. Oh, wait. Look at the poster for this event. It prominently features a sexy woman holding a basketball and swathed in flames. And it's hosted by a guy named G Money. If you squint closely at the fine print, you'll see that there's also a toy drive for kids happening.
The Tweet: Watching film on the panthers gettin some extra film in
The Analysis: Once every couple of days, Johnson throws a tweet into the mix just to let you know that he still plays football. They're usually pretty half-hearted and forced. It's easy to picture his agent pulling him aside at a sexy charity basketball game to say, "Hey Chris, maybe you should tweet about, you know, football. That thing you're paid a lot of money to do." This is Johnson's obligatory football tweet of the week. He even name-checks the Panthers just to prove he knows who the Titans are playing this week. Take that, haters!
The Tweet: Yessir RT @wristgamegone: Chicken box me! @ChrisJohnson28 I still owe you! (Insider)
The Analysis: I have little to no idea what this means. When in doubt of what Chris Johnson is trying to say, there's only one resource I turn to: Urban Dictionary. From what I can gather, a chicken box is exactly what it sounds like.
Per the most popular definition, posted by Big Slim on February 10, 2004: "A cardboard or styrofoam box containing 4 to 5 fried chicken wings and french fries. Some chicken box replace the french fries with western fries. Some chicken boxes are sold as combos, adding a half and half."
Example (Once again, per Big Slim):
Me: Let me get a chicken box 
Korean Clerk: What'chu want on it 
Me: Salt, peppa. ketchup 
Korean Clerk: You want largey "alf and alf" 
Me: Yeah 
Korean Clerk: Six dala
Big ups to Big Slim for his eloquent definition and example. Truly the poet laureate of Urban Dictionary. So anyway, either Chris Johnson owes @wristgamegone some chicken, or vice versa. I can't really tell, nor do I understand why this conversation had to happen on Twitter.
The Tweet:   Was at dinner with d will and marlon Waynes funny guy http://lockerz.com/s/155715803
The Analysis: This is a fantastic celebrity name/picture drop. One of the best, actually. Organically integrating a friendship with a celebrity into a tweet is supremely difficult. It requires subtly and finesse. You don't want your followers thinking that you're bragging just for the sake of bragging. That's why I admire Chris for just throwing caution to the wind and dropping that name. Johnson offers no context for his celebrity name drop. He just says, "Here is a celebrity that I had dinner with." Boom. Pick that name up off the floor, Chris!
The Tweet: In Charlotte got a little down time before meetings it feel like I'm n Greenville, nc #GOPIRATES
The Analysis: It's like the Beach Boys once sang: be true to your school. See, Johnson is an alum of perennial football non-powerhouse East Carolina University, located in Greenville, North Carolina, and Johnson and the Titans were in Charlotte this weekend to play the Titans. Apparently being within the same state as his alma mater gets Chris' spidey sense a-tinglin'. Charlotte is about four hours away from Greenville. It must've killed Johnson that he couldn't be there to watch his beloved East Carolina Pirates lose to that storied program, the UTEP Miners, 22-17.