Me Mondays:
There are many days that I wish I could be a member of the Real Housewives of enterprise...on Bravo. The makeup, the hair, the clothes and of course, the houses! I'm a huge fan of the original The Real Housewives of Orange County and The Real Housewives of Beverly Hills, their lives seem so different than this real housewife back in DFW...
Or is it?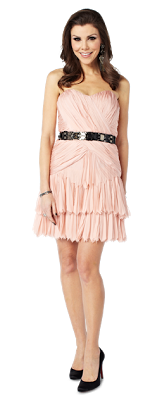 Heather Dubrow from RHOC
(photo: Bravo)
I recently had the chance to chat with Heather Dubrow, the only beautiful brunette from the RHOC. She's married to a plastic surgeon's wife, a mother of FOUR kids, a TV actress (she's been on several sitcoms on primetime), and oh yeah, a reality star. So it was hard to think what this gal and I could possibly have in common except brown hair. However, after only a few minutes, I was totally at ease chatting with her. She was a likeable girl and we had a nice chat on just being a mom and women!
Here's a little bit of what I learned from our call: 
About the Show: 
Her husband, a plastic surgeon, has also been on reality TV shows like The Swan, really wanted her to do the show. Now she's glad she did and she's happy to have met the girls. "Tamara, Gretchen and Vicky are great gals." 
[Ok, my hubby isn't a surgeon on TV, but he's a real cut up...tee-hee!]
About her Personal Philosophy: 
"I'm not perfect - I have a beautiful life that I am thankful for, but I am a real person." 
[I hear you sister!] 
On Family: 
"Our family go-to meal is one of my favorites to make - it's breakfast for dinner with biscuits, eggs and bacon. It's great because we all come together and enjoy it as a family." 
[Did you read the part about her making the food and no chef? In the winter I love to make breakfast for dinner. What's your favorite go-to dish in a quickie?]
On Her Looks:
"I'm an active person with a healthy eating. And to keep fit, I have a trainer 2 times a week." 
[I try to be this girl everyday. I think we all do, right?]
On Her Must Haves: 
One thing she must have is her mobile phone and a big bag of Twizzlers! 
[I HAVE to have my Iphone and I bet I can always find a bag of Goldfish!]
***
Season 8 of The Real Housewives of Orange County is set to premiere in late March! So make sure to check your listings for more info or follow them on Facebook.