I was at a party the other night when I got a notification of new comments on a post I wrote last fall. It was about my restraining order against my ex-boyfriend, which was about to expire after three years. I opened the comments, and wow: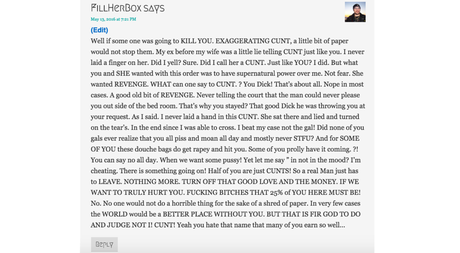 I responded as I usually do- by taking a screenshot and immediately forgetting about it. It wasn't until I opened my photo app the next morning that I remembered reading them. Honestly, it's not that unusual for me to receive dissenting or judgey feedback. I get plenty of tweets, comments, and emails from people who disagree with my decisions or opinions. There's even an entire forum out there devoted to discussing whether I'm a horrible daughter or some kind of life champion. I don't usually have enough time or interest to respond because I'm too busy living a life that upsets strangers on the internet.
Plus, people are allowed to disagree with me. They're allowed to not like me. They're even allowed to project their own issues onto me. But this is something different.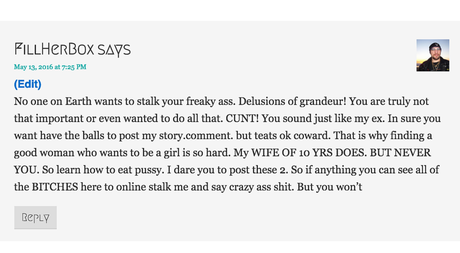 I couldn't help wondering: What kind of person takes the time to write something like that? Well. We all know answering questions like that is what I do best.
I'm not sure I want to know what " FillHerBox" means, but his real name is Mike Mills and he lives in Milwaukee.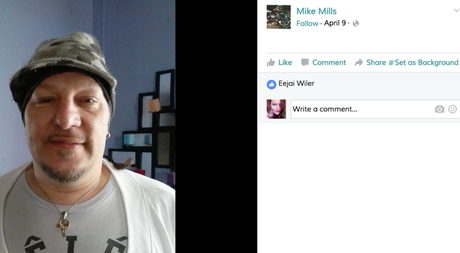 Apparently he owns a motorcycle repair shop.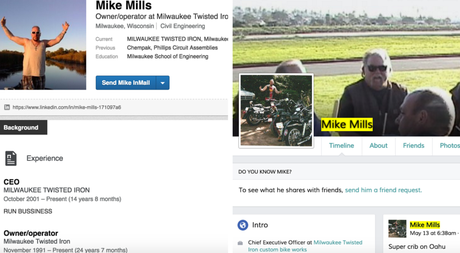 Mike is also an avid asker of questions on Yahoo Answers. No one should be surprised by the fact he follows Donald Trump on Instagram.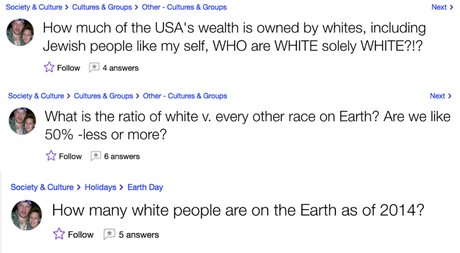 Here's what does surprise me: How many people go out of their way to leave hateful comments on a strangers' personal blog.
I rarely reply. I often laugh. But I can't laugh at what this guy said and I don't think I can follow the advice I usually give others (just ignore it) because online harassment and intimidation of women is a very real problem and one that should be called out:
"And for SOME OF YOU these douche bags do get rapey and hit you. Some of you prolly have it coming. ?! You can say no all day. When we want some pussy!"
No woman "has it coming." Ever.
"the WORLD would be a BETTER PLACE WITHOUT YOU."
Is this a death threat?
"No one on Earth wants to stalk your freaky ass. Delusions of grandeur! You are truly not that important or even wanted to do all that."
Being stalked or abused isn't a sign that you are important or wanted.
"In sure you want have the balls to post my story.comment."
Oh, Mike. I don't need balls. I have ovaries.
When people say horrible things to you it rarely has anything to do with you and EVERYTHING to do with their own issues. I won't speculate on why a complete stranger would feel the need to tell me I probably deserve to be raped, that the world would be better off without me, and I'm not important enough to be abused. Instead, I'm going to show him some compassion and help him out by editing his comments to something a little more positive: